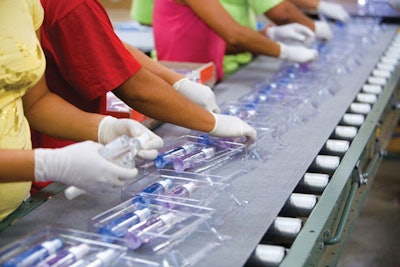 INTRODUCTION
This survey was developed as a joint effort between Contract Packaging magazine and Saddle Creek Corp., a third-party logistics company offering warehousing, transportation, and secondary packaging services. The goal was to compile trend data for users of secondary packaging services and provide credible information on secondary packaging's impact on contract packaging.
Saddle Creek and Contract Packaging conducted the online survey in May 2009 and received 494 responses. They represent the perspectives of both large and small companies that are Contract Packaging subscribers. The data presented in the following report includes analysis of responses for 203 survey-takers who already outsource some or all of their secondary packaging.
Contract Packaging acknowledges the contributions of Robert Pericht, senior vice president of warehouse operations at Saddle Creek. He assisted in preparing the survey questions and also provided analysis of the data.
How pervasive is secondary packaging among contract packaging services, and is it growing in importance? Which product segments are using outsourced secondary packaging services the most, and why?
Those who responded to a targeted survey say the outsourcing of secondary packaging is a growth industry. Consumer packaged goods (CPG) companies in a variety of product segments see value in the practice, primarily as a way to increase their production flexibility and reduce costs, and some product manufacturers plan to increase their reliance on outsourced secondary packaging soon.
Following are top-line results from the survey data.
• The survey data supports the adage that your best prospects might be your current customers. As the economy is expected to slowly and moderately begin improving in coming months, CPG companies' reliance on contract packaging services for secondary packaging will increase. Nearly 25% of respondents who outsource at least some of their secondary packaging needs say their reliance on contract packagers will increase "somewhat" or "substantially" during the next 12 to 18 months (see Fig. 1).
• Asked for the top three benefits they derive from outsourcing secondary packaging operations, the respondents most often cited "increased flexibility" (65%), "reduced costs" (62%), and "help in meeting increasing customer demands" (48%) (see Fig. 2).
• Products that most often require secondary packaging (see Fig. 3) are in food and beverage (26%), health and personal care (24%), and medical-pharmaceutical (22%) segments. Products least likely to require secondary packaging are games/sporting goods/toys and pet supplies (both at 4%).
• 48% of responding CPG companies use three to 10 co-packers for secondary packaging operations (see Fig. 4), and a few rely on more than 10. But 39% use just one or two providers.
Defining value in the strategy
The results and an analysis of the data by Saddle Creek suggest that many CPG companies view the outsourcing of contract packaging services as a value-added strategic move. Benefits such as increased flexibility and reduced costs seem to be a catalyst for expanding the outsourcing of secondary packaging. Those who indicated plans to increase their use of contract packagers "somewhat" or "substantially" identified "increased flexibility" as a benefit about 76% of the time, and 69% cited "reduced costs" as an advantage.
Achieving flexibility in outsourced secondary packaging operations is important because requirements for such packaging often are seasonal. The ability to find a partner that accommodates demand fluctuations can ease the need to react quickly to changing market requirements.
The right packaging partner also can provide a CPG company the option of delaying production configurations, from a back-to-school point-of-purchase promotion to wrapping rainbow packs of sports drinks, until the last minute. This capability enables product manufacturers to meet current demand and also control the cost of carrying and managing inventory.
Hand-in-hand with flexible operations, CPG companies' desire for reduced costs is to be expected in the current economic conditions. Companies are seeking ideas for offsetting or counterbalancing rises in transportation, labor, and energy costs. Product manufacturers that work together with contract packagers can reduce costs in each of these areas. Providers such as third-party logistics companies (3PLs) that offer integrated transportation and warehousing services, as well as packaging services, also are effective in reducing costs.
By reviewing supply chain processes, a contract packager can help to identify and eliminate downtime and reduce the number of touches required in packaging a product, says Robert Pericht, senior vice president of warehouse operations at Saddle Creek. "Forecasting, the order mix, the way the materials are brought in—all of these variables can cause challenges downstream," Pericht points out. "If there are 10 lines running, streamlining processes can have a significant impact on the total cost of the operation."
Trends spotted
The survey identifies two key trends: an increased use of outsourcing by product manufacturers that already are using the practice and also the expansion of the role that packaging service providers play in the supply chain.
Though only 6% of the respondents say they will begin outsourcing secondary packaging operations in the next 12 to 18 months, 24% of companies that already enlist contract packagers for this purpose expect to increase their level of outsourcing. Some 54% expect their outsourcing activity for secondary packaging to stay the same.
Interest in increased outsourcing suggests that contract packaging is perceived as one way to control costs.
Interestingly, respondents who expect to increase their outsourcing of secondary packaging already are more likely to outsource a larger percentage of their secondary packaging. Some 51% say they already outsource at least half, compared with 43% overall. These results indicate that they find value in the outsourcing arrangement.
Respondents in this group also were more likely to mention management's involvement in selecting the packaging services provider—43%, compared with 25% overall.
A look ahead
The survey results show that companies across industries see value in bringing contract packaging into the secondary packaging mix or further increasing the use of external packaging partners for this purpose.
Product manufacturers' responses also indicate they desire to work with service providers that can extend the scope of secondary packaging services along the supply chain to create efficiencies and streamline the outsourcing process. The integrated offerings of full-service 3PL providers position them well to perform in this expanded role.
The author, Jim George, is the editor-in-chief of Contract Packaging magazine.
Companies in this article