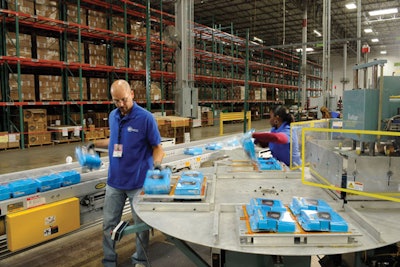 Like many electronics marketers, TomTom's navigation devices, as well as some accessories, are manufactured in China. Kit assembly on TomTom products also is performed in China. But being a mapping specialist didn't help the company get its products from China to North American markets faster, especially during the fourth quarter of the year, when 55% of the electronic devices typically are sold. Complicating matters were product returns, necessitating shipping the units back to a Chinese original equipment manufacturer (OEM) for repair and refurbishment, and then returning them to the U.S. Furthermore, the time requirements for shipping products over great distances made last-minute software upgrades to the GPS devices nearly impossible.
As a first step toward lowering transportation expenses, TomTom hired ATC Logistics & Electronics (ATCLE, www.atcle.com), Fort Worth, TX, to handle its outbound shipping of packaged products. But the relationship quickly evolved into much more, requiring ATCLE to become TomTom's North American "all-in-one" source for handling everything except manufacturing the units. The expanse of services that ATCLE provides has allowed TomTom to focus instead on its core competencies of creating, improving, and marketing GPS devices.
TomTom markets vehicle navigation systems that provide digital mapping and routing. Founded in Europe in 1991, the company has offices in Concord, MA, the Middle East, Africa, and Asia Pacific, employing more than 3,300 people. The company has realized phenomenal growth. Its market share for navigation devices in Europe has reached about 50%; in North America, the share is 25%. The 2008 acquisition of Tele Atlas adds detailed street-level and interconnecting road networks for 80 countries.
Distribution channels
TomTom's products include Portable Navigation Devices (PNDs), fitted in-dash navigation solutions, and software for use on PDAs and smartphones. Through the Tele Atlas unit, the company also supplies digital maps that enable routing guidance. TomTom has a worldwide installation base of 20 million GPS units, and its navigation products are sold in more than 30 countries (in 20 languages), primarily through retailers, who buy from distributors. Some products and services also are sold online.
ATCLE, founded in 1994, specializes in third-party logistics (3PL) and supply chain services. The company, a division of ATC Technology Corp., Downers Grove, IL, performs both forward and reverse logistics services, product tracking throughout the entire supply chain, same-day fulfillment, kitting and packaging, and test and repair of high-tech devices. ATCLE handles 53 million serialized products annually, including 10 million that are kitted and packaged. In addition, five million products are tested and repaired each year. The company's Fort Worth facility encompasses more than 1 million sq ft and employs 2,500 full-time workers, plus seasonal employees, when necessary. ATCLE's fully integrated IT platform is provided by Red Prairie's warehouse management systems and Oracle's enterprise software.
Moving kitting on-shore
In August 2006, TomTom hired ATCLE to handle the outbound shipment of kitted and packaged GPS units to distribution centers and retailers in the U.S. and Canada. In November of that year, ATCLE also took on the testing and repair of returned units, which are then sold as refurbished products. Because the company keeps an inventory of parts and accessories on-hand, the refurbished units can be back in the retail market in two to five days, where previously it had taken two to five weeks to return the units to the OEM in China.
But ATCLE's capabilities extend much further, and TomTom eventually decided to make the best use of those proficiencies. In January 2008, kitting and packaging of the GPS units and accessories, such as mounting pads and cables, moved to ATCLE's Fort Worth plant. According to Mike Simpson, director of operations, ATCLE ramped up production quickly to meet TomTom's needs, increasing output twentyfold between January and October 2008. As a result, ATCLE was able to handle product returns without another lengthy ocean voyage to and from China, and TomTom could implement software and suite upgrades on the fly.
ATCLE utilizes its materials planning tools to reduce turnaround times and inventory levels, and uses its software configuration tools to install newly released software upgrades to manufactured GPS units. But the most significant benefit of moving kitting and packaging to ATCLE was the cost savings, compared with shipping packaged products to the U.S.
"They were shipping a lot of air," explains Simpson, referring to the packages from China, which were five or six times larger than the GPS unit itself. Shipping costs have been slashed in half because the packaging is now sourced and packed in Texas. What before required five pallet loads of Chinese-packaged products now needs only 2.5 pallet loads of GPS devices and accessories (one for the units, 1.5 for accessories). This change significantly streamlines movement of finished products within the supply chain, expediting delivery of the units into the retail market for quick revenue gains. Also, over the course of one year, ATCLE reduced the on-shelf footprint of the packaged products by 35%, a sustainability benefit to TomTom. In addition, damage and scratches on the packaging from its long transit across the ocean have been eliminated.
ATCLE sources the packaging materials and as many of the accessories as possible in the same city, which further saves on transportation costs and also makes TomTom "greener." Simpson says it also ensures a tighter control of package quality.
Maintaining brand identity
Package quality is a hallmark of TomTom, says Wayne Arena, operations manager at TomTom. "We dictate the design of the product, all accessories, and the packaging. They are all exclusive to TomTom." Tight control across the supply chain is key to maintaining its brand image. TomTom gives ATCLE a list of approved vendors for acquiring packaging materials, as well as packaging specifications and a proof of the carton, right down to the tiniest details.
"We want the same look everywhere our products are sold. We are very consistent and have very set standards," Arena says. Even the retailers are given setup guidelines so that the products look the same on-shelf.
"We allow some flexibility," Arena admits. But that flexibility is provided through the label design—announcing a new launch, special promotions through different retailers, or holiday offers.
Tracking product through to sale
Tight quality control also is practiced at ATCLE by tracking the serial number on each product. "We know who packaged it," Simpson says. "We know every person who handled the product. If there is a mistake or error, we know who probably needs more training. It allows us to tighten our quality. We've had only one error in the past year."
The packager's software scans the product number and the pallet number, then records when and where the product is moved and who handles the movement operation.
Inside ATCLE's plant, several packaging lines run using a combination of automation and manual operations. Though Simpson says full-time employees are the backbone of the operation, ATCLE partners with a temporary employment agency to staff up quickly when demand requires it, even working 24-hour operations, if needed. The company's flexibility enabled the launch of several new products for TomTom last year in the span of one week each—a stellar record in the retail market.
The author, Mary Ann Falkman, is a packaging industry veteran who is a respected writer and editor. Contact her at 630/653-5950 or maf184@aol.com.
Companies in this article