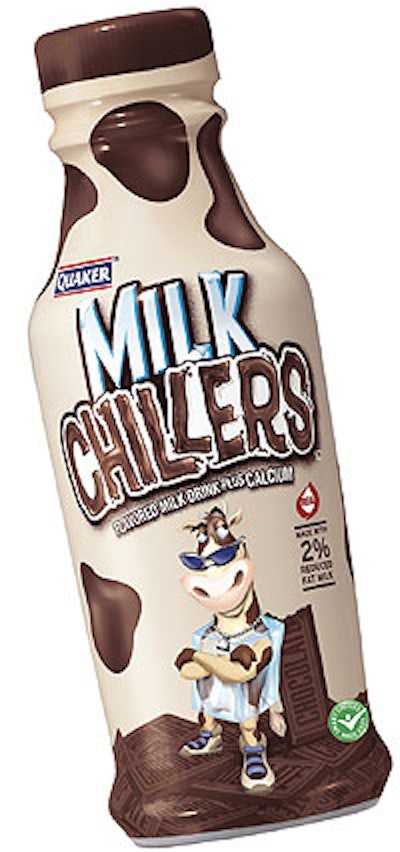 Quaker Milk Chillers from Purchase, NY-based PepsiCo began reaching store shelves in mid-August in the Northeast and Mid-Atlantic states. According to industry sources, the 16-oz plastic containers are aseptically filled by Jasper Products, Joplin, MO. That's the same contract packager that produced Raging Cow, the 14-oz aseptic milk product launched March of 2003 by Dr Pepper/SevenUp. Raging Cow—whose shape, full-body shrink-sleeve label, 6-month unrefrigerated shelf life, and cartoon-cow graphics are all eerily similar to PepsiCo's Milk Chillers—lasted about a year before being pulled from the marketplace.
Sweetened with a blend of no-calorie sweeteners including sucrose, sucralose, and acesulfame potassium, Milk Chillers have a nutritional profile similar to 2% milk. "In addition," says a PepsiCo press release, "because they are produced using leading-edge aseptic technology, Milk Chillers have a six-month shelf life."
Milk Chillers will be stored and shipped at ambient temperatures and then displayed, singly, in a refrigerated cabinet. Suggested retail price is $1.55.
See the story that goes with this sidebar: Aseptic and ESL packaging keeps evolving