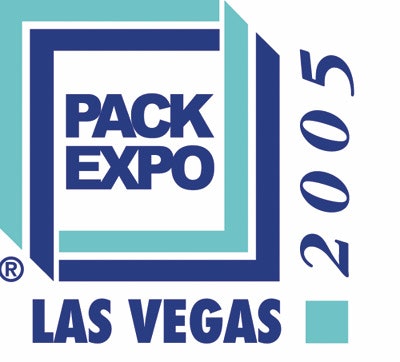 The latest advancements in packaging machinery, components, materials, and services will all be on display at Pack Expo Las Vegas 2005. Put on by the Packaging Machinery Manufacturers Institute and taking place September 26-28 at the Las Vegas Convention Center, the show is expected to have more than 1ꯠ exhibiting companies occupying more than 450ꯠ sq'. That's a 9% increase in size from the 2003 version of the show.
Brand new this year is a program called My Pack Expo. Available free to all registered attendees, it's a personal, password-protected Web page that can be accessed 24/7. This powerful software tool intelligently mines the show's database of contacts, products, services, and conference sessions to generate a custom report tailored to individual needs and interests. Using secure My Pack Expo servers, attendees will even be able to set up appointments with exhibitors and other visitors to the show.
"My Pack Expo helps make the show individually relevant by guiding attendees and making sure they get the focus and attention they need for a successful event," says PMMI president Chuck Yuska.
Also debuting at Pack Expo Las Vegas are the Contract Packaging Pavilion, the Radio Frequency Identification Pavilion, and the Packaging Security Pavilion. Returning to the show are two pavilions that were popular two years ago: the Containers and Materials Pavilion and the Showcase of Packaging Innovations. At the innovations pavilion, winners of some of the most prestigious awards competitions in the packaging field will be on display.
Pack Expo Las Vegas 2005 will once again sponsor the Conference at Pack Expo, running Monday, September 26 through Wednesday, September 28 (see pages 60–62 for complete listings). And as in years past, the Food Processing Machinery Expo, sponsored and produced by the Food Processing Machinery Association, will co-locate with Pack Expo Las Vegas.
An alpha listing of exhibitors at Pack Expo Las Vegas begins on page 64. To register for the show or the conference, visit http://pelv2005.packexpo.com
Companies in this article
Videos from Universal Labeling Systems, Inc.