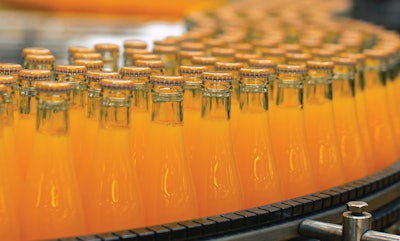 PMMI Business Intelligence: 2023 Purchasing Plans and Priorities
Business is booming on the beverage front, with companies reporting expansion in every metric of the beverage industry purchasing index in 2023.
That's according to PMMI Business Intelligence's 2023 report, "Purchasing Plans and Priorities." The industry's growth comes at a slightly slower pace than the overall market, but it is a significant improvement compared to the contractions from the most recent Q2 2022 measurement.
Beverage industry purchasing index posts growth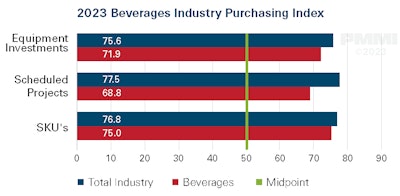 The 2023 purchasing index measures industry performance based on three main metrics, all aligned with CPG responses to a survey conducted for the report. It measures equipment investments, scheduled projects, and the number of SKUs manufactured. An index of 50 represents no change.
This year's equipment investment activity shows expansion at 71.9 points, as does the metric for scheduled projects at 68.8 points and new SKUs at 75 points.
Interviewed companies expect moderate growth in 2023, and most indicate plans to move forward with investments. Although inflation impacts some beverage sector niches, most companies expect demand to continue growing, although at a slower pace than in years prior. "Soft growth" is the mean expectation.
Beverage industry buys domestic
Only 44% of companies interviewed have purchased equipment originating outside of North America in the last two years. Of these purchases, the majority have been secondary packaging equipment.
Overall, beverage companies perceive North American manufacturers as providing good quality, reliability, performance, and value. In addition, they consider North American machinery to be more flexible, simple, and easy to service or maintain.
By contrast, they have found European machinery to be more complex, with interphases, systems, and manuals that are often too technical for operators.
Service improvements needed
Service is the area where beverage companies believe packaging machinery suppliers could improve.
Beverage companies have seen progress in spare parts delivery times. As one surveyed industry stakeholder says, "We stack common wear spare parts, and we have seen a significant improvement in delivery times. Now we are getting parts within 24 hours, while one year ago, we had to wait several days."
Though some aspects of service have improved, these companies have not had a timely response from machinery suppliers when there is a problem in their lines.
"Packaging machinery companies can improve by getting somebody on the phone that is knowledgeable of the equipment and who can respond quickly," the same industry stakeholder says.
They add that machinery suppliers should also train their service personnel on digital capabilities, explaining, "They send technicians who are knowledgeable about mechanical issues, but when problems originate from connectivity or software, they don't know what to do."
The industry stakeholder adds that service technicians should have access to better troubleshooting databases for better problem-solving capability. "Technicians have given us three different opinions on how to address the same problem, and they still haven't been able to resolve it," they say.
SOURCE: PMMI Business Intelligence, "2023 Purchasing Plans and Priorities"
Download the FREE executive summary below.