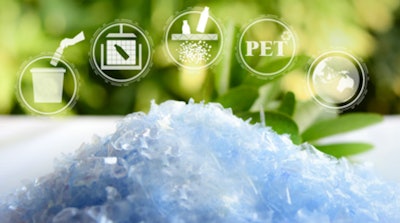 PMMI Business Intelligence/AMERIPEN: 2023 Packaging Compass
Demand for post-consumer recycled (PCR) content is far exceeding supply for these materials, according to PMMI Business Intelligence and AMERIPEN's collaborative report, "2023 Packaging Compass."
In a survey of 645 consumer packaged goods (CPG) stakeholders conducted for the report, many participants said they foresee a significant increase in using PCR content within their packaging within the next decade.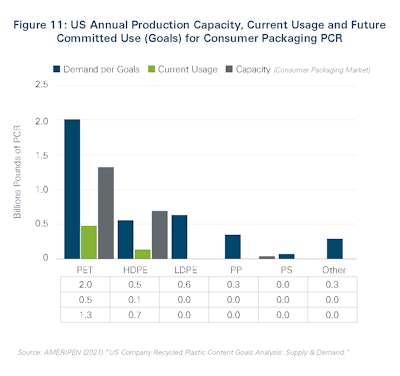 This interest in PCR aligns with increased state mandates for recycled content in voluntary goals signed by numerous companies, such as the Ellen MacArthur Foundation Global Commitment, to increase recycled content in packaging.
While access to and use of recycled content varies by material, a previous study by AMERIPEN examined corporate goals for PCR content in plastic packaging against available supply and capacity.
The study found that demand for PCR content far exceeded the available supply for almost all plastic resins. It also demonstrated that, in some cases, the U.S. lacks sufficient infrastructure capacity to meet potential demand.
For PET specifically, current PCR content usage (0.5 billion pounds) is about a quarter of the demand per goals and commitments (2.0 billion pounds). Current production capacity for post-consumer recycled PET also lags behind goals, at about 1.3 billion pounds.
This indicates that the U.S. packaging and recycling industries must consider the investment needed to match industry demand for PCR content within packaging.
Quality Control in PCR Content
Higher quality and regulatory requirements mean that the use of PCR content for food packaging can be more restrictive than using PCR content from packaging in other applications.
Quality of materials is one of the biggest challenges for packaging grade PCR content. Contamination from food, scents, and co-mingling of materials can limit the reuse of certain materials, rendering it difficult to produce a smooth paperboard, a resin free of scent, or to meet color qualifications.
Demand and supply pressure may remain tight until the packaging and recycling industries can resolve quality challenges.
Recycling Infrastructure Solutions
Finding ways to better sort materials so that different materials are directed to the correct end market is valuable. Flexible films may be inadvertently directed to paper lines, while multi-material cartons may be sorted with rigid plastics.
Investments such as optical sorters, robotic arms, and air jets are becoming priority investments for new MRFs. However, there's still a need to help finance upgrades to older facilities.
Chemical recycling is an emerging technology that could help reduce color or scent concerns in plastic resins.
Reverting materials to their original monomers could also simplify the regulatory process to obtain FDA-approved food contact resins for use in food contact packaging—currently a challenge for many packaging producers due to a limited number of approved facilities.
Design for recycling guidelines has emerged within the packaging industry to help ensure that labels, additives, and chemicals used in packaging are beneficial to recycling and do not hinder a package's recyclability.
These strategies, when adopted, help reduce the risk of contamination from packaging designs. Companies are making investments to change suppliers or products to ensure recyclability.
Source: PMMI Business Intelligence and AMERIPEN, "2023 Packaging Compass"
Download the FREE report below.