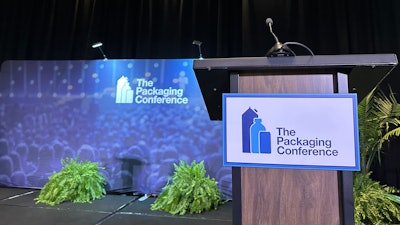 If you're ever curious about macro-trends affecting packaging, look no further than global management consulting firm McKinsey & Company. At The Packaging Conference, held this week in Amelia Island, Fla. Matthew Seidner, a Leader in McKinsey's Packaging Group, provided a 30,000-ft. snapshot of the current packaging landscape. More importantly, he shared how build resiliency to these potentially disruptive national and global changes.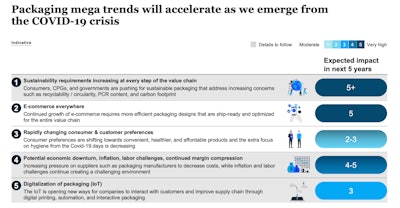 If you had sustainability, IoT/digitalization, e-commerce, and the economy, on your pack-disrupting bingo card, you're already ahead of the game—or you just follow the news. But even among a crowded field of megatrends trends, sustainability is still the elephant in any conference room devoted to packaging. Sustainability has been the top consideration for more than a decade, but gone is the era of "green is green," where sustainability-minded measures taken by packaging suppliers and their brand customers also positively impacted the bottom line. For large brands with high-volume products, packaging formats have reached their limits in terms of material reduction, light weighting, substrate optimization, and the cost savings those activities can bring. We're reaching a point of diminishing returns in further light weighting and reduction, and that's ushering in a different age of sustainability among CPGs.
"I think it's different because it's led by consumers right now," Seidner said. "It's not a cost savings initiative anymore. What we're talking about is how consumers are pushing brands and regulators to start making different kinds of changes that are more permanent. Frankly, sustainability is becoming more sustainable itself."
McKinsey generally divides the current state of sustainable packaging into three distinct buckets. Circularity encompasses recyclability and recycled content. Leakage references litter and harmful, sometimes irreparable environmental impacts on the environment—ocean plastic and microplastic, for instance. And some might say the third bucket—greenhouse gas (GHG) emission reduction—is the most important bucket since it addresses climate change.
"We have yet to find a single substrate for that can tick all three of these boxes; that gives you the best option when it comes to circularity, the best when it comes to leakage, and the best place comes to GHG," Seidner said. "That means that [brands and CPGs] have to make some trade-offs."
Brands and CPGs have developed sets of sustainability goals that draw from these three sustainable packaging categories and customize them to make the most impact. But according to a new McKinsey packaging survey of 10,000 consumers conducted in 2023, brands are falling behind on their own sustainability commitments. Worse yet, the survey says that 70% of them are not on track to meeting regional requirements, much less internal goals. Only 28% say their organization is well prepared to reach targets set by governments, and that proactive changes to packaging design have been incorporated.
Meanwhile, regulation is accelerating. Countries globally continue to introduce more sustainable packaging related regulations. And especially to Gen Z, Millennial, and urban consumers, environmental impact is important for making purchasing decisions. Among all respondents, compostable, plant-based, and fully recyclable plastic packages—even films—are viewed as the most sustainable packaging types in the U.S., which represents a shift in consumer opinion since 2020. Films didn't fare nearly as well three years ago, and compostables weren't even an option.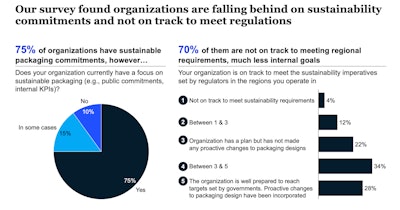 Consumer preference is always a sticky wicket, as what people say and what they do are often divergent. But even so, more than 90% of respondents say that they are willing to pay more for products that come in sustainable packaging. This should signal to brands that there's money to be made here by meeting the consumer where they want to be.
Digitization, IoT, and smart packaging
"Smart packaging is really starting to show up more across the entire value chain," Seidner said. "And we're seeing it around two areas, primarily."
First is in supply chain visibility unlocked with sensors that can capture data about each individual product, and store them in what could be called a digital twin. Then the second is in consumer engagement.
---
---
"This is still in its early days because we don't have all the infrastructure yet, we don't have all the cost structure yet, and we don't yet know all the ways of adopting this piece," he added. "There's a lot of experimentation here, and trying to do things beyond just the standard RFID. But it's starting to pay off upstream in the supply chain when we think about automated warehouses. And it's starting to pay off when we think about consumer engagement for anti-counterfeiting, for example. And we're seeing more investments in this area to try and drive that consumer engagement with the product, via smart packaging… And again, across this area of supply chain visibility, we've seen some pretty good implementation that's just getting launched right now.
Other megatrends taking their toll
E-commerce isn't far behind sustainability and digitalization as a packaging-disrupting megatrend, and there's frequent overlap between direct-to-consumer CPG plays, and more sustainable packaging that can still handle the rough-and-tumble channel.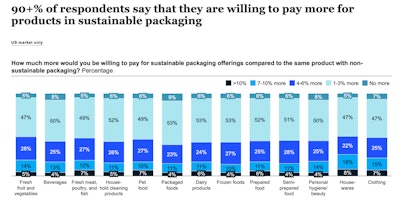 "We were at a tipping point in e-commerce about 15 or 20 years ago, when Amazon started getting really strong. And we're at another one now thanks to the pandemic," Seidner said. "We've recently seen grocery at about 20% of e-commerce. That has pulled back a little bit since then, but I'm sure many of you have ordered Instacart, or Kroger Direct, or Walmart, or Amazon Fresh; any of those. It had gotten up to that 20% of total sales versus around 3% before the pandemic. So, this is a trend that we think is going to stay and continue to accelerate."
Less permanent, but prominent trends that will impact the industry include rapidly changing consumer preferences and economic stress. Consumers are expecting more customization and personalization than ever before, resulting in shorter runs. And as an outgrowth of the pandemic, factors like hygiene have been elevated. It'll still be an important trend, though moderated compared to what we've seen at the height of COVID-19. Meanwhile, the threat of a recession, the labor shortage, margin compression, and inflation have all taken their toll on the packaging landscape.
What can brands do to become resilient to trends?
In view of the five-megatrend packaging landscape, Seidner suggested specific actions that brands should focus on to create resilience, capture growth, and navigate transformational change. The actions he suggests will steel brands, CPGs, and their suppliers against volatility and act as a bulwark against uncertainty.
"There are a few different priorities that we've identified in our discussions with our clients, and ways that you can prepare yourself to deal with what could be a slowdown, and what certainly as of pressure on margins across the board," he said. "First, as we already stated, is sustainability. Be sure you have a product portfolio that works for your customers, so that you can be investing where it matters for them and be able to serve them across all their needs, both regionally and globally. Second is around growth," he continued. "How do you win by identifying granular pockets of opportunity among your customer base?"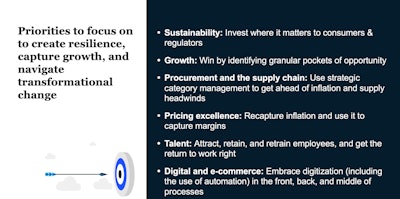 For packaging suppliers in the room, this would mean looking at your customer base and understanding which of your customers are actually winning in the market right now. Seidner suggests doubling down on those. Which do you think you're going to be winning in a few years? Which are the ones that are innovating? How do you partner with them? How do you get more of your CPG customers interested, and will you be able to help drive a level of engagement with them, and then ultimately with consumers to ride that wave of growth?
"And by the way, if you have some customers that are clearly not in great shape right now, then you might want to think about diversifying that portfolio of customers," Seidner said. "With regard to procurement and supply chain, the old playbook was where companies would focus their top three to five suppliers in a category. You need to go a little bit deeper and how to try to protect your margins and be in a position where you can secure your supply chain. So, go deeper into your categories, get your top 10, your top 50 categories have a regimented approach to procurement and to be out there having constant discussions with them."
Examining pricing is essential in this inflationary moment, and it's about more than just recapturing material prices. It includes thinking about how to recapture other inflationary costs, like labor.
"How do you look at freight? How do you start to decouple your pricing in such a way that you can protect yourself from fluctuations, and some of the things that are more variable?" Seidner asked.
Workforce is another critical element It is difficult to win the war for talent, but look for cracks in the tight labor market that can reveal opportunity. For instance, at the time of The Packaging Conference it's getting marginally easier to find talent, with some of the tech layoffs and others that might be coming. But unemployment rate is still at historic lows. So how do you attract, train, and retain new talent? And then how do you retrain the people that you have today to ensure that they have sustainable jobs going forward as well?
Finally, Seidner suggests that brands, CPGs, and their suppliers all embrace digitalization, and be ready with e-commerce.
"Figure what can you do with sensors and experiments to improve your supply chain and identify bottlenecks?" he asked. "And how do you engage with consumers in a way that's meaningful, and possibly even returns valuable, actionable consumer data to you? Also, how do you think about your processes internally? Have you looked at your way of integrating with your customers and engaging with your customers, managing your workflow across your facilities, and then ultimately, getting the product shipped out?"
According to Seidner, prioritizing these elements of your business will lead to resilience against a volatile, uncertain packaging landscape. PW
Companies in this article