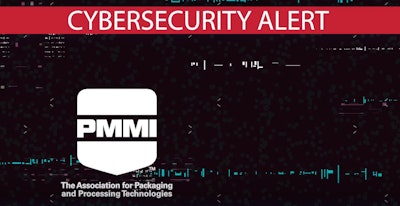 As conflict between Russia and Ukraine mounts, authorities are warning of imminent increases in state-sponsored hacking attempts to disrupt critical and essential U.S. infrastructure and industries and their supply chains. Threats have been sent and carried out against American organizations, including within the packaging and processing space.
---
---
PMMI specialists in IT, Andy Lomasky, and in OT, Bryan Griffen, conducted a podcast and video days after threats came in from Russia with the following five steps to keep your company and supply chain secure. Follow these steps to ensure best protection:
Patching and anti-malware—ensure that all of your devices, operating systems, and software are patched and up to date and that all have an anti-malware tool that is capable of detecting sophisticated threats, like ransomware, deployed across your organizations.
If you haven't already, implement access protections, such as multi-factor authentication, on as many of your logins and accounts as possible. Make sure your passwords are long and complex to prevent them from being easily cracked. Also remember to only provide access to what employees need to get their jobs done.
Scan your network—know what is on it and make sure that you know how to configure it to protect it, especially those hidden devices, like Wi-Fi modems. If you don't know how to locate these devices, ask for help before something happens.
Back up everything that's important to the operation of your business and have a good IT disaster recovery and business continuity plan. Know where your backups are stored and test getting your data back before there is an incident.
Train ALL of your employees on what cybersecurity threats look like, from phishing and smishing to spoofing to malware. Employees are your first line of defense on the front lines every day!
Avoid cybersecurity attacks damaging your software, operations, and communications. Take all necessary precautions today and don't let this information stop with you. Distribute these five tips within your organization to help ensure you are protected.
Companies in this article