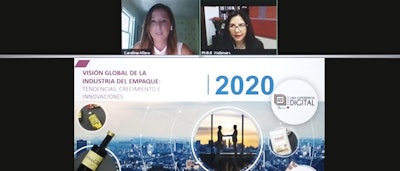 In a recent webinar of the series organized as part of EXPO PACK Mexico 2020: A Digital Experience, two researchers from Euromonitor International analyzed the packaging industry in Latin America and some of the pandemic's impacts on its future development.
The effects of the pandemic on supply chains and markets have created a demanding, changing scenario for the packaging industry worldwide. Hence, young researchers Carolina Alfero and Marshaun Montgomery attracted the attention of 530 attendees from different cities in Latin America, to hear them share information based on the "Global Packaging Trends" intelligence report developed for PMMI on trends, growth and innovations, with global coverage and projections for 2020.
Looking beyond the pandemic
Jumping ahead in time to imagine a scenario after the COVID-19 crisis was one of the tasks of Euromonitor International researchers in charge of the webinar, to outline the expected industry impacts for different types of packaging.
Key conclusions included:
• Flexible packaging: Changes in sizes of flexible packaging for snacks are expected, as preferences change to multi-portion formats for reasons of economy.
• Rigid plastics: The trend for rigid plastics is towards individual serving packages and, therefore, towards a reduction in packaging volume.
• Cans: Meanwhile, cans will be driven by their storage capability, and will remain stable in beverage packaging.
• Glass: According to the analyses, glass will be the most affected material due to the closing of commercial establishments.
• Paper and cardboard packaging: Finally, paper packaging, due to its economy and compatibility with e-commerce, will be widely used during the time and after social distancing measures are in force.
Forecasts for main categories of consumer goods that use packaging in the midst of the pandemic were said by the research firm to have an estimated probability between 38% and 48% by 2020, and the results are quite positive. "In the Euromonitor International baseline scenario, growth is expected for most of the key goods categories that use packaging in 2020, despite the impact of COVID-19," Alfero and Montgomery stated during their presentation. (See graph below)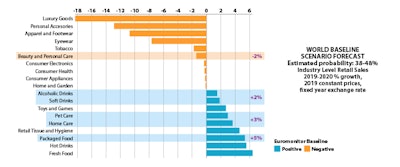 Looking at key goods categories using packaging, some of the main points were:
• Retail beverage packaging will be in high demand, due to current preventive storage, especially bottled water in PET containers.
• Increases in volumes are expected in all food categories in 2020 as a result of expanded eat-at-home opportunities.
• Flexible packaging will be in high demand to meet the increase in food purchases.
• The closings of beauty salons and the reduction of consumers' income for beauty and personal care products and services will lead to a contraction in the demand for packaging in this sector, especially in premium categories. Insufficient orders and financial pressure have led some manufacturers to reduce production or close plants.
Carolina Alfero offered attendees valuable ways to understand the current situation generated by COVID-19, pointing out the importance of finding ways to act and move forward. The first step outlined was studying previous experiences such as SARS, the H1N1 flu or the economic crisis and looking at how economies and governments reacted, followed by understanding the current situation, assessing customer needs and monitoring inventories daily.
Building scenarios based on experience and acquiring a "quarter-by-quarter" mentality was the third recommended step to overcome the moment, position firms in the short term, and subsequently grow by identifying new consumer expectations and possibilities with partners not previously considered.
These three steps were complemented with the call to "execute with confidence" by capitalizing on paradigm shifts and taking advantage of rising mega-trends, such as contactless interactions, social commerce, and sustainable business models, among other opportunities.
Packaging Globally
To prepare the study Euromonitor International used its Passport database, which has figures and analyses for multiple industries. The database offers accurate information on production and demand of packaging for final consumer products in beverages, food, beauty and personal care, pet food, and household care items.
The presentation included a description of the main trends in consumer behavior, detailing aspects such as an increased demand for packaging of products to consume outside home. Closely associated with this trend was the need for consumers to control food portions and the need to transport them, which has driven preferences towards smaller packages. Likewise, sustainability and recycling are increasingly relevant as global essential innovation elements in packaging design and production.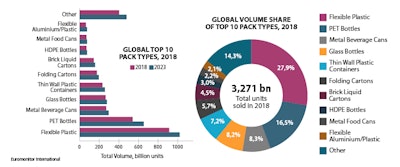 The speakers noted flexible plastic has the highest global use rates, thanks to factors like convenience, versatility, lightness and profitability in categories such as sweets, snacks, pasta, sweet biscuits and chocolates.
On the other hand, in 2018 the dynamic bottled water sector led the world in the volume of polyethylene terephthalate (PET) packaging. Consumption of bottled water is growing in all regions of the world as consumers reject sugary drinks, the presentation revealed.
Food and beverages are the sectors that consume most packaging in all global regions, followed by beauty and personal care items, home products, and pet food, the analyst concluded during the webinar.
The Packaging Landscape in Latin America
In the Latin American part of the study, the researchers identified trends driving the packaging market and highlighting the changing needs of producers and consumers. A first tendency is the increased use of packaging as a tool to communicate brand value. The speakers also highlighted CPGs' search for greater convenience and cheaper options, which translates into a polarization in the choice of packaging for their products. "Two very different trends are evident in Latin America in terms of packaging size. On the one hand, there has been a migration towards smaller containers (less than 100-201 ml), driven by the desire for greater convenience, experimentation, reduction in the number of members in households and a more accelerated lifestyle," explained researcher Alfero. "On the other hand," she added, "there has been a strong increase in the demand for larger packaging, driven by the search for a better value equation."
For a high-demand market such as beverages, trends reflect a considerable increase in the use of disposable containers, which represents a serious threat to returnable bottles in the soft drinks segment. The speakers also noted the use of cans is growing in segments such as energy drinks and beers.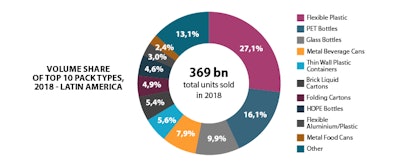 Three hundred and sixty-nine billion packaging units were sold in the region in 2018, and in 2023 consumption is projected at 415 billion units. Packaging share relative to the total is similar to that observed globally. Flexible packaging leads the market due to its versatility, ease to consume the product, and optimization of almost total use of the contents. PET also shows leadership in the beverage segment due to cost factors, low weight, recyclability and ease of opening and closing, among other convenience and functionality factors.
Responses to Consumer Needs
In times like we are experiencing around the world today, knowing the perceptions and needs of consumers, and understanding their changes and new demands, is crucial for business decisions. "There are new packaging technologies that reinforce the healthy image of brands," explained Carolina Alfero, addressing an issue that is now a priority in user preferences for consumer products. "As consumers seek more transparency on ingredients from brands, and value products with less processing, technologies such as modified atmosphere (MAP) reinforce those health attributes."
COVID-19 has severely affected consumers' time outside the home, and has led to changes in their preferences. Hence, cooking ingredients lead product categories with the greatest expected absolute growth for the period 2018 - 2023, at 5.1% growth and production volume close to 7 billion units. Likewise, the impact on domestic finances has led to the search for unit prices for the most attractive products. This has driven the use of multi-packages in a key category such as home care.
Analysis of the Regional Beverage Sector
Beer will be the product with greatest volume growth in Latin America between 2018 and 2023, with an additional demand of 7.3 billion packaging units, preferably in returnable glass bottles and cans. Research presented at the webinar, however, shows a plastic bottles use trend exclusively for the region. The boom in craft breweries has promoted this type of packaging, as well as metal barrels for larger offerings.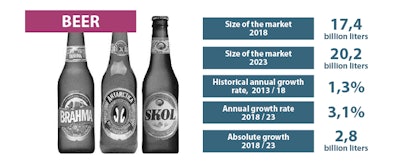 The conference also noted the preference of bottled water producers in Latin America for PET containers, with 5.221 million units in 2018. Due to the reduction in the size of homes and greater urbanization, as well as a greater concern for health and well-being, the offer of multi-packs and 500 ml capacity with thin walls containers has driven regional growth. Although less growth is expected between 2018 and 2023 relative to 2013-2018, there will nonetheless be an increase in the bottled water volume to 4.1 billion liters.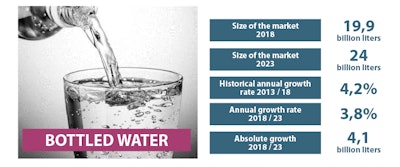 Higher taxes on sugary soft drinks have resulted in reductions in sales, and their producers are now looking for a better price equation that is driving growth in demand for PET bottles, along with cans, preferred by premium consumers, and glass bottles. It was pointed out at the conference that multinational brands are implementing an aggressive pricing strategy in Latin America to compete with local brands, through a strong investment in refrigerators and the offer of returnable family-size bottles.
A Second Series of EXPO PACK Mexico 2020 Webinars
At the end of the webinar, Jorge Garibay, Director of EXPO PACK Mexico, announced two important news for Latin American professionals in the packaging and processing industries. First, EXPO PACK México 2021 will be held on June 8 to 11 in Mexico City, as the meeting place for the region's industrialists and the largest technological offer available to the Latin American packaging and processing industry next year.
Garibay also reported that, due to the great reception of the webinars offered by EXPO PACK México 2020: A Digital Experience and Mundo PMMI, a second series will be forthcoming with topics and dates to be announced very soon.