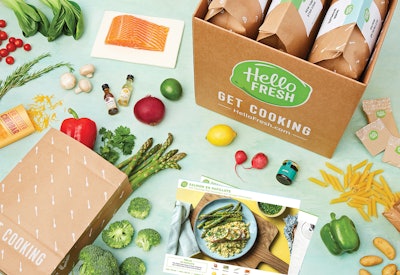 Meal kits have gained a lot of popularity in recent years, with several e-commerce brands now increasing their presence offline as well—essentially ending meal kits' subscription-only service. Consumer analytics firm Piplsay conducted a nationwide study of 31,635 Americans to find out how the meal kit phenomenon has grown in the U.S., if at all. It turns out the numbers don't bear out the buzz, and until recently, it appeared meal kit popularity had peaked. However, forced social distancing may rekindle Americans' early fascination with the phenomenon. Among its findings from before the pandemic crisis, Piplsay found that just 35% of Americans have tried a meal kit in the past year, with 11% of those trying them just once. Eighteen percent of those who have tried meal kits in the last year have subscribed to a delivery service. Of the 65% of Americans who have not tried them, 29% said they believe meal kits are too expensive, 23% said they are not interested, and 13% said they've never heard of meal kits.
Among those who have tried them, 32% bought the meal kits online, 28% bought them in-store,18% subscribed to a meal kit service, 14% bought them online and in-store, and 8% bought a restaurant meal kit.
The survey also showed that approximately 65% of respondents have cancelled their subscriptions over the last year. Why? Forty-seven percent said they were too expensive, and 17% said they got bored with it. When asked if they would be interested in signing up for a meal kit subscription service in the coming year, 50% said "no," 27% said "yes," and 23% answered "not sure."
But as stay-home orders rolled out in response to COVID-19, publications such as USA Today reported big bumps in meal kit subscriptions. A separate study conducted by Alix Partners LLC, one dealing more generally with online grocery shopping instead of meal kits in particular, found that 56% of young people (ages 18-34), 43% of middle-aged people (ages 35-54), and even 25% of those 55 and older have increased online grocery shopping since the pandemic. It's uncertain if these more recent factors will constitute a permanent turnaround of trends unearthed in the earlier study.
Among other key Piplsay findings:
• 50% of millennials have tried a meal kit in the past one year as compared to 41% of Gen Z
• 47% of millennials and 38% of Gen Z cancelled their meal kit subscription as they found it expensive
• 23% of women will not go for a meal kit subscription because of its high cost as compared to 16% of men
• Men prefer Amazon meal kits the most, while women prefer Hello Fresh delivery services
• Hello Fresh is the most popular meal kit delivery service with most Americans (23%)