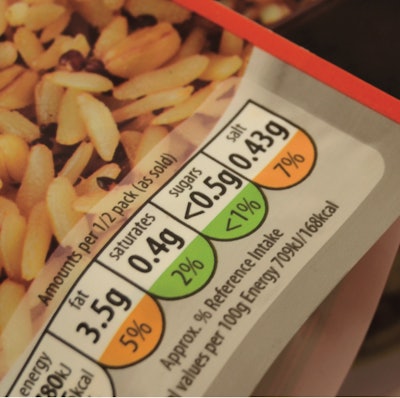 According to Go Clean Label, this trend is focused on "a return to real food and transparency through authenticity. Food products containing natural, familiar, simple ingredients that are easy to recognize, understand, and pronounce. No artificial ingredients or synthetic chemicals." Driven by the consumers desire for "natural" ingredients, food manufacturers and retail outlets such as Whole Foods, Aldi and restaurants such as Panera are compiling their own lists of ingredients that are not allowed in their stores or restaurants. Currently there are nearly 200 ingredients on the "non-clean label" list.
"Clean labeling has drastically affected our industry; we are answering the consumer need to be as 'fresh' as possible, but still be able to extend shelf life," said one Process Engineer at a Meat/Poultry processor.
According to the Maeve Webster of Menu Matters and Confidential Consumer, 2019 Poll, two out of five Americans actively seek products with the clean label designation, and while 30% of them are over the age of 55, 50% are millennials under the age of 35. Nearly three out of four consumers indicate they want to see nutritional information on the label that is easy to read.
Clean label is directly affecting product offerings, too. Said one Engineering Manager at a refrigerated foods manufacturer, "Clean labeling has led to lots of R&D to achieve a variety of formulations and new product rollouts." The consumer interest in foods with recognizable ingredients that are free from artificial additives and refined sugar is pushing food processors to reformulate recipes to include natural, healthier ingredients in all food categories. Fortified food additives are growing to add calcium, protein, iron, vitamins, minerals, fiber, and antioxidants to food, and sugar is increasingly being eliminated or reduced in foods, corresponding with a rise in natural sweeteners.
The report says there is also a renewed focus on leachables (compounds that migrate into a product over time, as a result of direct contact from the packaging system or a manufacturing surface). Non-GMO, and allergy-free are other big topics as labeling products allergen free, non-GMO, gluten free, organic, and antibiotic free is part of the clean label movement.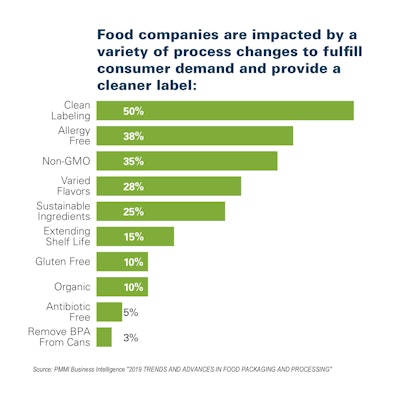 Source: PMMI Business Intelligence "2019 Trends and Advances in Food Packaging and Processing"
Download the FREE Executive Summary below, or PMMI Members can download the entire report here.
Make plans to visit PACK EXPO East in Philadelphia, March 3-5, to see on-trend food processing and packaging machinery and materials.