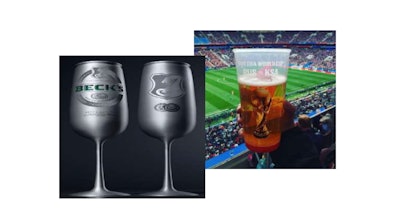 In Western-Europe, ready-to-drink tea is expected to have a 6.3% absolute volume growth through 2023 owing to the variety of flavors and the addition of nutraceutical ingredients, according to "Global Packaging Trendss," a new report compiled by Euromonitor International for PMMI Business Intelligence.
Other areas of growth include salty snacks. Though potato chips continue to hold a large share of this category, there is also a greater interest in rice and vegetable-based snacks due to their gluten-free features and perceived health benefits. Flexible packaging dominates the salty snack market, but a small base of folding cartons is expected to show the highest growth due to its appeal among the young population.
PET bottles dominated the bottled water category in Western Europe, with a growth of 3.8% from 2013 to 2018. The category has seen rising investments in recycled plastic bottles, which can be attributed to large manufacturers such as Coca-Cola and PepsiCo committing to educate consumers to recycle and encouraging deposit return systems to reduce the environmental impact of their products.
Technology integration help brands differentiate and promote their products, and Danone partnered with Israeli smart packaging start-up Water.io to add a special smart cap to its Font Vella natural mineral water brand. This smart cap tracks users' water intake and encourages them to keep hydrated. Aimed at personalization of everyday consumer goods, the company plans to launch the product in Europe and Israel.
Other areas of technological integration include World Cup smart collectible cups. Anheuser-Busch InBev launched collectible Budweiser cups that lit up in response to crowd noise during the FIFA World Cup. The "Light Up The 2018 FIFA World Cup" integrated marketing campaign was executed in more than 50 countries. Half of the cups were sold in World Cup stadiums, and the other half around the world.
Premiumization continues to be important, as Beck's worked to transform the image of beer drinking by creating Le BECK'S special edition beer can shaped like a champagne flute and intended to reflect superior quality with an enhanced premium perception.
Metal beverage cans became a more acceptable packaging format in alcoholic drinks, shaking off a previously held perception of being low-end. Moreover, the recyclability of these cans and their easier transportation due to lighter weight when compared to glass is expected to spur the growth of the category from 2018 to 2023.
Source: "Global Packaging Trends," Compiled by Euromonitor International for the Packaging Machinery Manufacturers Institute (PMMI). PMMI Members can download the full report for FREE, here.
Australian Packaging & Processing Machinery Association (APPMA)
PMMI, The Association for Packaging and Processing Technologies
UCIMA, Italian Packaging Machinery Manufacturers Association
Symop, French Association for Manufacturing Technologies
Make plans to visit PACK EXPO East in Philadelphia, March 3-5, to see on-trend packaging machinery and materials.