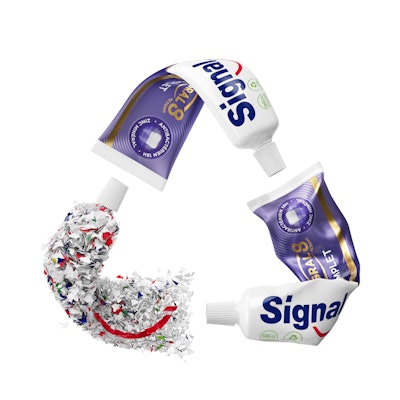 The recyclable tubes will be available later this year in France and India, two of Unilever's biggest oral care markets. Traditionally, most toothpaste tubes are made from a combination of plastic and aluminum, which gives the package its flexibility but also makes it difficult to recycle. The Unilever tube, says Babu Cherian, R&D Oral Care Packaging Director at Unilever, will not include aluminum.
"Our new toothpaste tubes are made from a multilayer structure that consists of different polyethylene grades and an EVOH barrier," says Cherian. "Based on the materials used, it's categorized as HDPE, which is one of the most widely recyclable plastics globally. As part of the design, we not only wanted to make sure the tubes can be readily recycled, but also used less plastic. That's why we developed the thinnest plastic lamination available on the toothpaste market at 220 microns. Most toothpaste tubes are currently made using plastic that is 250 - 300 microns in thickness."
The design has been approved by RecyClass, which sets the recyclability standard for Europe, as well as laboratories in Asia and North America. Meeting these rigorous requirements means the new tubes can be recycled within standard HDPE recycling streams.
Partnering with Unilever on the supplier side are firms including EPL, Huhtamaki, Amcor, and Dai Nippon. To encourage wider industry change, the innovation will be made available for other companies to adopt. This decision to share is similar to the one made in 2020 by Colgate-Palmolive when that firm announced it had developed a recyclable toothpaste tube. Cherian says the Unilever tube has been in development for more than four years and that the work began "before we were made aware of Colgate's technology. We are pleased to see many more companies within the industry work towards more sustainable packaging solutions. Our hope is that shifting our entire global portfolio to the new recyclable tubes by 2025 will encourage the wider industry to change."
To drive further change across the waste management industry, Unilever is working with global recycling organizations to help ensure that the new tubes are collected and recycled. This will be the case in France, where consumers can put the new tubes in their home recycling bin ready to be collected and turned into new products.
PACK EXPO Las Vegas and Healthcare Packaging EXPO (Sept. 27-29, Las Vegas Convention Center) will reunite the packaging and processing community, offering new products, technologies and solutions, while implementing up-to-date protocols for a safe and successful in-person event. Attendee registration is now open.
---
---