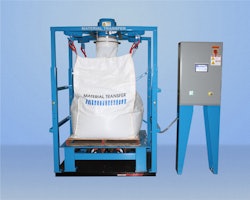 A food grade inflatable spout seal assures a dust tight seal to bag inlet.
Unit features a heavy-duty flat top densification system with twin electric vibrators and pallet retaining system. Material Transfer's adjustable, high output densification system quickly settles your products, maximizing fill volume and enhancing bag stability.
A gain-in-weight carbon steel scale system with a 2,500# capacity, along with the densification system, is programed and monitored using a remote NEMA 4 control panel with a PLC, HMI, and emergency stop pushbutton.
Companies in this article