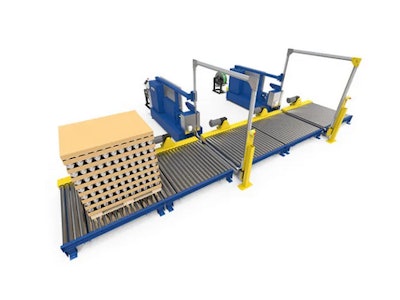 The USI-SoniXs is designed for use in various rigid packaging applications, strapping bulk loads of PET bottles, beverage and food cans, and paper tubes. The applications share the characteristic of being layered on a pallet with paperboard tier sheets supporting each layer. Loads are typically trailer height which may call for load stabilization during the strap tension cycle. The USI-SoniXs head uses tension equalization, pulling tension from the bottom up rather than over the top of the pallet load. Lighter-weight products like PET bottles can benefit from this as it allows high strap tension without distorting products along the pallet's top edge.
The heavy-duty strapping head indexes to meet the side of the load and can strap through pallet voids or under the product for maximum versatility.
EAM-Mosca's proprietary SoniXs® ultrasonic sealing technology creates a reliable, strong seal with increased cycle life, no warm up required, reduced cleaning, and preventive maintenance.
Companies in this article