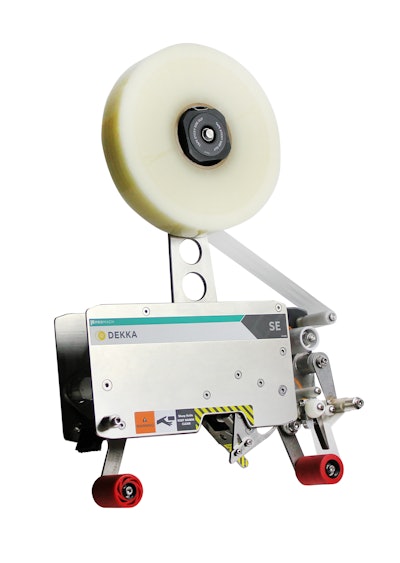 What makes this redesign significant to customers is that Dekka, a product brand of ProMach, took the "good" from its industry-leading tape head and made it even better. Dekka's SE V3 tape head is extremely flexible in accommodating the different tapes and corrugate materials found in today's packaging applications, while keeping the core focus of simplicity customers have come to appreciate.
"Dekka is a brand that focuses solely on tape heads, and all our products are engineered to best help our customers achieve their packaging goals," said Yukie Sezto, Dekka Product Manager. "Our new SE V3 Stainless Steel Tape Head is a reflection of this as it is designed to meet new packaging applications that our customers are embracing today."
Designed to have the flexibility to fit in any case packing, case forming or case sealing solution in the market, the Dekka SE V3 stainless steel tape head brings a 20% improved cutting performance for under-filled or recycled corrugate. This is particularly helpful in applications involving smaller cases with lightweight products, where the tensioning has to be lighter to avoid crushing the cases. By increasing the trajectory of the cutting, the tape head provides a deeper, faster and stronger cutting performance.
Another improvement is 14% longer wipedown arms with a new adjustable brush for greater product protection and case sealing. Extending the wipedown arms and adding a new brush with stronger bristles ensures the entire length of tape tabs receives evenly distributed pressure against the corrugate. 
The redesigned tape head also features a wipedown tension adjustment that can be changed over quickly and easily without the need for tools. This toolless tension change allows for fast, intuitive adjustments and optimization when variations in tape or corrugate appear.
Features and benefits include:
• Increased reinforcement points on tape head for improved build quality and extended product life

• On-machine labeled adjustment points for easier tape head setup and usability 
• Smart design, minimal mechanisms and open-side frame for tape loading in less than 20 sec
• Patented no-break tape advance pulls along the center line of the tape roll to decrease tape breakages 
• Independent knife guard and actuator lever to minimize exposure of knife for greater operator safety 
• Tape width: 2 in.  or 3 in.

• 2.325" – 2.75" tab length (additional lengths available)
• 80 – 120 feet per minute
• Tape roll size: 1,500 – 2,000 yard rolls
Available options
• Longer and shorter tape tab lengths
• Mirror image design – ideal for machine configurations that require access to tape head from opposite side
• Dekka Sentry Tape Monitoring System
• Horizontal mounting
Companies in this article