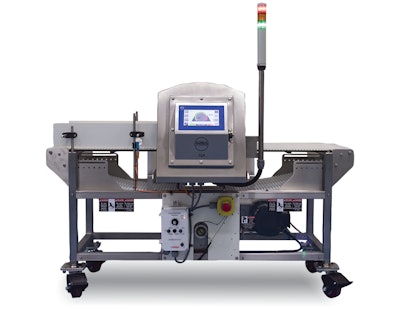 The horizontal search heads feature an IP69K rating as standard for the ultimate in robustness.
A new blue sealing helps make the machine resilient to a host of rough factory conditions, ranging from vibration and thermal fluctuations as a result of inspecting frozen products to harsh high pressure, high temperature wash-downs with corrosive chemical agents.

The IQ4 also offers Performance Validation System (PVS) testing, product speed control, connection to TRACS software for centralized data reporting, support for biometric security and robust support for FDA 21 CFR Part 11 compliance.
The IQ4 series is the result the collective experience of Loma, Lock Inspection, CINTEX, and BRAPENTA combined with 50 years of progressive customer-backed innovation. Employing their Designed to Survive® philosophy, Loma has delivered a superior metal detection sensitivity in a package that is easy to install, intuitive to use, easy to clean and maintain, and able to withstand the arduous production environments, while providing an unrivalled cost of ownership. Additionally, the IQ4 Metal Detectors are now UL® Certified for Safety, providing an unbiased safety assurance to interested parties in the United States and Canada.
When paired with the newly expanded line of Flex™ conveyors, the IQ4 Metal Detector is an excellent system for those needing flexibility in conveyor length and location. The Flex Conveyor offers users the ability to maneuver the system to different production lines as required. Available in modular length configurations from 60 in. to 72 in. and is now available in widths of 12, 16, and 20 in., the expanded line adds 350 and 550 mm wide head sizes to the already available 450 mm wide metal detector heads with height options available in 150, 200, or 250 mm high.
Companies in this article