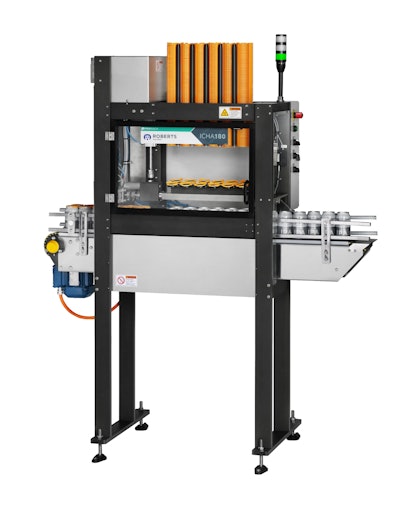 "The growing craft beer and distilled spirits markets are competitive, and our attractive multi-pack handles help products stand out on crowded retail shelves. When choosing a way to apply them, small producers need a high quality system that fits their budget. The ICHA180 hits that sweet spot – it's a fully-automated solution at a great price," said Roy Tetreault, Vice President and General Manager at Roberts PolyPro. "Craft brewers and distillers are passionate entrepreneurs who want to make beer and spirits, not worry about machinery. The ICHA180's plug-and-play design makes it a snap to install. It's simple, easy to use and gets the job done."
The ICHA180 is a space-efficient solution with a footprint that's only 24 in. wide and 60 in. long (61 cm wide and 152 cm long). The applicator, installed inline after the can seamer, features a two-lane conveyor that transports cans side by side. As cans enter the ICHA180, a sensor detects the presence of 12 cans and an air-activated flow gate extends across the conveyor. With 12 cans in position, the system applies either two sets of six-pack handles per cycle or three sets of four-pack handles per cycle. Then, the flow gate releases the multi-packs, which are discharged to downstream case or tray packing.
To change between four- and six-packs, the ICHA180 requires only a simple adjustment to the handle magazine and swapping out the handles, which can be achieved in less than three minutes without tools or change parts. When changing between 12- and 16-oz cans, no system adjustments are needed since the applicator stroke automatically accommodates either size can. The ICHA180 runs for approximately five minutes at 180 cpm before the handle magazine needs to be refilled.
Companies in this article