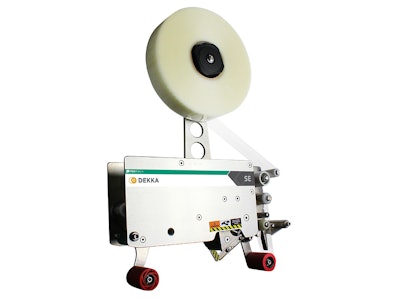 This enhancement not only results in overall better cutting, it also delivers considerably better results in applications where less tension is required or in situations where the machine must account for corrugated variance. Additionally, mounting of the blade has been changed so that tape travels more than half the distance before being cut, providing a 50% improvement in effectiveness compared to the original design. It enables the blade to pierce and cut the tape significantly easier, resulting in more consistent and cleaner cuts.
In addition to the changes in cutting, Dekka has improved both the tape applying and wipe down systems for a complete upgrade. The roller arm used for trailing end wipe down has been made incrementally longer to ensure an improved finish over the last generation design. Re-engineering and reinforcing key systems also ensure greater tape application consistency for higher quality sealing and longer service life.
The company also upgraded the overall user experience with new operational labeling and the incorporation of Quick Response (QR) bar code tags placed at various locations on the tape head. Scanning a QR bar code tag with an app-enabled mobile device makes cloud-based information on that section of the tape head immediately available for better operation and faster maintenance. Key features that customers have come to expect from the Dekka SE have been retained such as fast, simple tape threading and small size for ease of serviceability.
Companies in this article