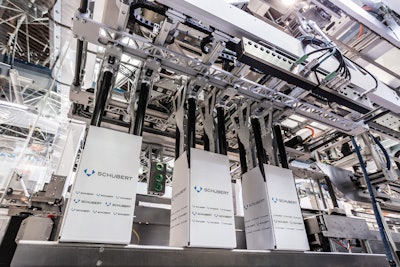 This new technology is ideally suited for products such as shampoos, which need to be filled and packaged with a high output. When changing formats, the carton magazine and the robot tools automatically adjust, offering manufacturers a high degree of flexibility in format selection.
The carton magazine is able to handle an extensive selection of carton sizes – ranging from 120 x 100 x 100 mm to 900 x 430 x 400 mm – and automatically converts between one-, two-or three-lane versions.
The compact TLM machine packs for instance cosmetics such as shampoo bottles in RSC cartons, which are erected and filled in several lanes. The bottles can be fed in groups and packed in shrink-wrap film. Alternatively, individual bottles can also be packaged. Highlights include the magazine, which can be flexibly adjusted via a positioning drive, and the erection tools, which can be adapted to different formats. This means that the tools can be used for all format sizes. Format conversions can be selected easily and quickly via the VMS packaging machine control system.
Companies in this article