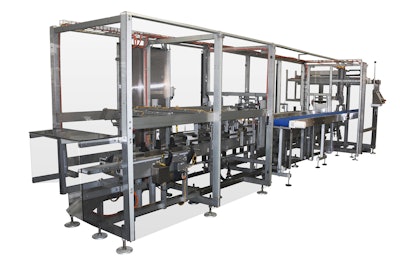 The VL-ILC is suitable for top load applications such as bottles (both glass and plastic), bags, pouches, and wrapped product. Numerous infeed systems can be designed such as pick and place robots (Delta 3 or Gantry), loading funnels, or manual loading. The VL-ILC has the flexibility to run auto-bottom cartons, corrugated cases, chipboard cartons and more.
All these features allow the VL-ILC to handle a wide variety of applications for industries such as liquor, household consumables, food and beverage as well as snack foods. Heavy duty framing, Allen Bradley servo motors and drives, transparent machine body and category 3 guarding with safety interlocks are standard.
The most recent application for the VL-ILC was handling bags of wine. Three fillers were producing bags of wine at a rate of 45 bags per minute. The bags were coming to the VL-ILC on three lanes of table top conveyor. AFA Systems developed machine logic to ensure that the bags were accurately synchronized before being loaded into the cases. The system used loading funnels to funnel three bags from three lanes per cycle. After the bags were loaded the VL-ILC would index to the top sealing area and top seal the cases. The cases would then be discharged downstream for further processing.
Companies in this article