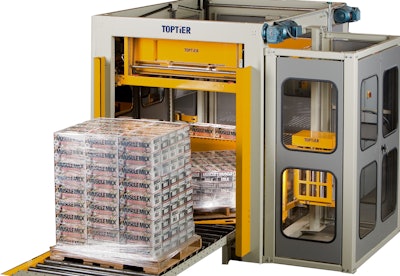 Film dispensing is highly refined for reliability using calculated film feed based on known load size. Proprietary capabilities provide automatic recover if film break occurs by re-starting film feed including auto re-attachment to the load and overwrapping area where the break occurred assuring load retention integrity. Manual intervention for film break is eliminated in nearly all instances for increased reliability and throughput.
Wrap head pre-stretch capabilities can reliably pre-stretch film at the upper range of film specifications reducing overall film use. Comprehensive menu driven wrapping parameters provide load containment flexibility for any load retention needs. When wrapping loads already built, film auto attaches to the load without any film tail clamp system using patent-pending technologies.
Film cut and wipe also provide performance previously not achieved. Regardless of load size from 52-in. x 52-in. down to 30-in. x 30-in. the wipe and cut system helps assure reliable film tail treatment without any adjustments.
Companies in this article