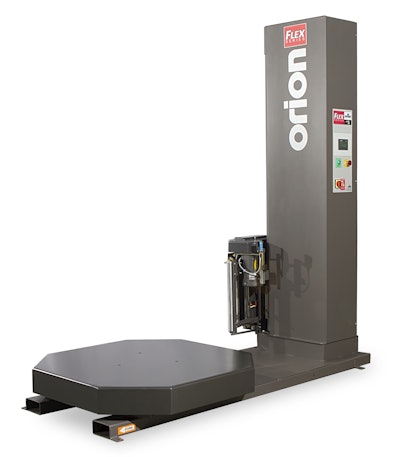 Orion Packaging will feature its Flex Series A (Automatic) and D (Deluxe) models with new wrap recipes at Pack Expo Las Vegas, September 23-25, Booth C-1914.
New wrap recipes on the Flex A and D models allow users to pre-program up to 5 recipes containing multiple parameters that provide greater control over wrap type, patterns and amount of material used. This allows operators to quickly change wrap specifications to presets to accommodate different applications, products or security requirements. Pre-sets also provide users with greater control over material use to reduce costs or increase security for specific applications.
All Flex models are equipped with Orion's industry leading pre-stretch film delivery system, InstaThread, which precisely elongates stretch film up to 260% before being wrapped on the load. Options are available to increase pre-stretch up to 350% for greater film efficiency. InstaThread also features an ultra-sensitive corner compensation mechanism to assure that film tension around the entire load is consistent for better load stability and economy. Orion supports its industry leading pre-stretch system with a lifetime warranty on pre-stretch rollers.
Flex Series stretch wrappers handle loads up to 5,000 lbs and deliver up to 40 loads per hour. For enhanced ease-of-use, Orion Flex models include a powerful PLC controller with a digital Human Machine Interface, low maintenance AC motors, "drop lock" safety system, a height sensing photoeye, forklift portability from front or rear, and easy "drop in" stretch film loading. Flex models include a structural steel base to provide years of durable service and reliability. By design, Flex models use many non-proprietary parts for easy, cost-effective maintenance. Additional options are available to meet specific customer requirements.
Orion's popular Flex line of stretch wrapping machines deliver performance and features unavailable on similarly priced machines in the market. Orion has combined its expertise from more than three decades of stretch packaging engineering and manufacturing excellence with cutting edge technology to provide customers with exceptional performance, durability and reliability in even the most severe environments.
For more information about the Flex Series of stretch wrappers, contact Orion at 800-333-6556, 320-852-7705 or visit www.OrionPackaging.com.
Companies in this article