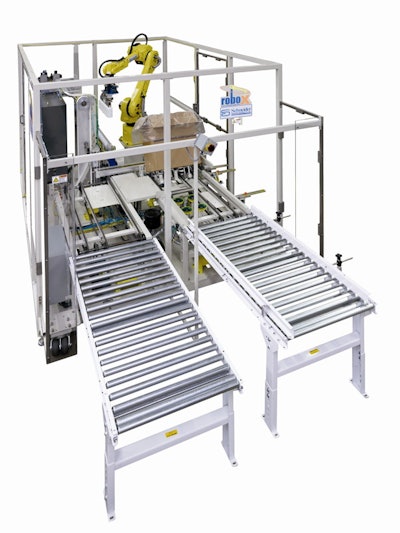 The Robox BPR packs a wide variety of bottles and configurations, packing one row at a time and orienting the bottle necks facing either up, down, or alternating necks up or down by row or even every other bottle. The Robox can also pack lay down layers on top of the case to maximize the number of bottles packed.
The system is available with a wide range of standard options for tooling, layer pad, bottle inversion, and liner bag handling. The system is also available in a variety of standard floor plans to minimize the footprint.
The Robox BPR utilizes a FANUC robot for the flexibility to accommodate multiple bottle sizes and pack configurations. Quick-change tooling allows rapid changeovers to maintain high overall equipment effectiveness even for short production runs. The Rockwell PLC and HMI simplify operation and maintenance. Like all Robox products, the system is completely self-contained and portable, making installation and startup easy.
Companies in this article
Videos from Schneider Packaging Equip. Co.