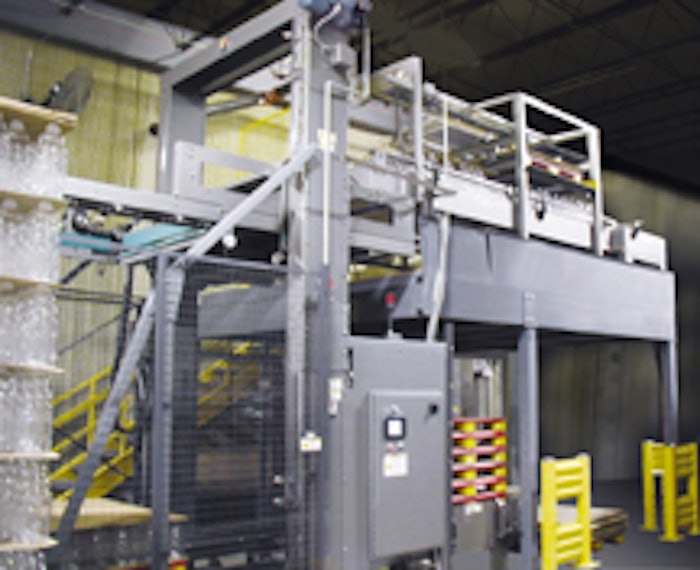 The depalletizer's clean, open profile ensures high visibility. The floor-level operator station makes it easy to control operation and review operating data.  The sweep carriage that transfers containers from the pallet to the transfer table has four containment devices to ensure bottle stability; two adjustable side plates, a rear sweep bar, and front support bar. The precision chain and sprocket sweep mechanism provides long-term reliability and is proven in hundreds of installations worldwide.  The elevator table is guided by 8-point location roller bearings and is counterweighted for smooth vertical operation to maximize container stability.
As the primary layer is swept from the pallet, the secondary layer is secured on all four sides by pneumatically controlled steel friction plates. Below, the tier sheet is held in place by grippers that hold it securely during sweep off.  The motorized support bar travels with the bottle load as during sweepoff, to prevent friction from causing bottle instability. The support bar is adjustable to ensure complete bottle containment throughout transfer.
This depalletizer runs glass, metal, and plastic containers interchangeably, with no optional change parts required. It can handle loads up to 110-in. high.
Optional features are available to extend depalletizer automation, including an empty pallet stacker, picture frame and slipsheet remover, full pallet conveyor, and container single filer.
Built with a channel steel frame with welded and bolted construction that eliminates vibration and ensures long machine life. It features 1-1/4-in. solid shafts on the pallet conveyor and sweep bar drive units, and 1-1/2-in. elevator table drive shaft for strength. Heavy-duty industrial roller chain carries the elevator table.
Companies in this article