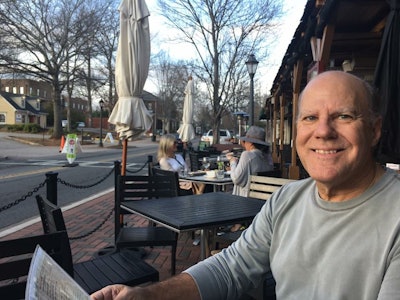 Charles Maxwell (Mack) Greene, Jr., 63, was called home on January 29, 2017, following a brief illness. Visitation will be held at 2:30 p.m. on Friday, February 3, in the chapel of Hope Presbyterian Church, with memorial services immediately following at 3:30 p.m.
Mack, the beloved husband of Diane Lovelady Greene, leaves children Matt Johnson (Jenni), Erin Greene Nunn (Brian), Brad Johnson (Kristen), grandchildren Baylor Johnson, Emerson Nunn, Molly Nunn, Sadie Jane Johnson, Collins Johnson, Graham Johnson and a 7th grandchild, due in July. He also leaves his parents Charles Maxwell Green, Sr. and Dorothy Greene, siblings Kathy Weyandt, Marsha Klimetz (David), Glenn Greene, brother-in-law Max Lovelady and family, nieces Rachel Chapman and family, nephews Chase Ransburgh, Ryan Cooksey and family and Daniel Jackson. He was preceded in death by Patricia Ingram Greene (mother) and Brandon O'Brien Greene (nephew).
Mack graduated from Columbia Military Academy and attended the University of Memphis. As a pioneer of the packaging industry, he founded Orion Packaging, Inc., and was most recently employed in sales for Associated Packaging. He served as a member of both Hope Presbyterian Church in Tennessee and Perdido Bay United Methodist Church in Florida. His passions were numerous and included music, golf, boating, horses, and politics.
His love for his family, church, and friends will live on through his memory, especially for his grandchildren, who will always remember their "Papa G" lovingly playing the guitar for them.
In lieu of flowers, the family asks that donations be made to St. Jude Children's Research Hospital at http://www.giftfunds.stjude.org/MackGreene.
Joe Angel, Publisher of Packaging World and President of PMMI Media Group, remembers Mack this way: "Mack was a dear friend and a mentor to me in business. His caring, selfless way was an inspiration to all who knew him. He will be missed, and our thoughts and prayers are with his family."
Companies in this article