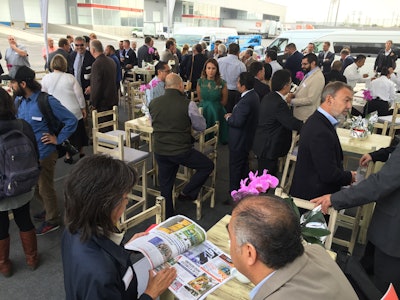 CSi Palletizing officially opened its Querétaro, Mexico Palletizer Assembly (PAC) center last week.
The third such CSi assembly facility, following locations in Romania and China, this PAC location strengthens the company's existing toehold in the North American market among global key accounts. It also aims to open up new markets among smaller end users and CPGs that may not have seen value in palletizing previously.
As one of the largest two or three palletizer producers globally, the company seeks to leverage economies of scale in order to significantly lower price barriers while maintaining consistent quality and reliability.
"There are two factors that lead us to North America at this point of time," says Jan de Bruijn, CEO, CSi Group. "First, minimum wages are rising; that's an important factor. But also important, we're decreasing the cost of palletizing. We actually have been doing that for a while, but now we're reaching the point where a lot of North American companies could really stand to gain in ROI in automating palletizing with robotics, and we have the price point to make that happen."
The Mexican assembly location significantly reduces delivery times for modular machines, which are designed and engineered in the Netherlands but assembled in Mexico, from as long as nine months to as short as nine weeks, depending on the machine. Modularity makes these machines highly configurable, enables efficient cell-based assembly and drives the company's whole palletizer assembly strategy that is the very essence of the PAC concept.
"Since 2006, so for a decade now, we have been standardizing, modularizing our palletizers. We still do a lot of engineer-to-order solutions, but more and more, a customer will see that we have the building blocks, modules, and we can configure a solution with that," de Bruijn says.
Modularization and configurability eliminate much of the new engineering, as well as the risk and throughput time that goes with it. Also, throughout the process, CSi can optimize the way in which machines are produced, perhaps even producing modules batches. Installation and commissioning time is optimized because it's standard; it's all prepared and preplanned.
"Specific to our large international accounts, Mexico is also important to us to augment our existing Romania and China locations. Our largest accounts are looking to standardize their palletizing equipment and will try to buy it with one supplier and then roll out across the world, to take advantage of economies of scale," de Bruijn says. "They have a huge number of production lines, so they can decrease the price. That's what we're doing with the global key accounts; define for them their standard, their corporate program, their modules, configure the solutions for them, so that they are very efficient, they are very low priced, and they're rolled out across the world. We have the PAC facilities to support that."
The Queretaro location was selected based on a combination of abundant capable—and oftentimes English-speaking—labor, and a lack of many logistical problems that a city the size of Mexico City can present. Several major U.S. airlines fly regular daily routes to the location. Brazil, the United States, and Indonesia are high on the list of future PAC locations.
The ribbon-cutting event hosted more than 100 customers and partners. It featured speakers on strategy, technology, and a formal tour of palletizer technologies and offerings, including virtual reality as a means to aftermarket support.
Companies in this article