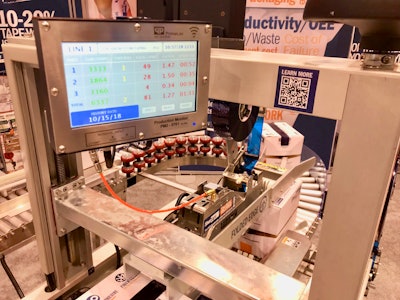 Shurtape Technologies, LLC is planning to expand this product line with the introduction of the new Prime Alert Production Monitor, which it previewed at PACK EXPO.
An evolution of the existing retrofittable Prime Alert Tape Monitoring System, the Prime Alert Production Monitor allows for connectivity for existing case sealing equipment as part of a larger Internet of Things (IoT) deployment. According to the company, the Production Monitor:
Provides shift by shift tracking of case counts, roll changes and case sealing faults
Monitors and displays 24/7, 3 shifts production data of case count, tape consumption, false count, failure rate, down time and maintenance cycle
Displays taping status for low tape, false/uncut tape, case jams and maintenance, providing both audio and visual alarms
Features programmable maintenance counters and alerts
Is designed with an HMI touch screen with password protection
Retrofits into existing case erectors and sealers utilizing ShurSEAL tape application devices that include the Prime Alert (PA1 or PA2) systems
Connects wirelessly to a plant-monitoring server with long-term storage of data and the ability to connect to existing networks.
Ability to provide real-time production reporting to mobile devices
Shurtape is currently in the Beta testing phase for this technology, which will become broadly available in the coming months.
Companies in this article