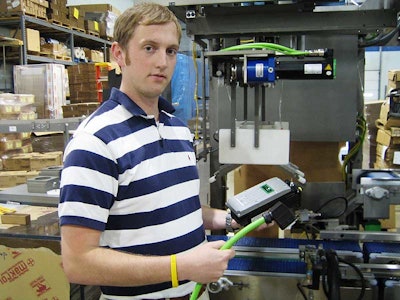 Janusz Tryba is Goodman Packaging Equipment's Senior Electrical Technician. With eleven years' experience, Tryba is adept at installing control systems in servo packaging machines. He's worked with different vendors' controls, including ELAU's PacDrive automation system.

But a new, modular servosystem recently introduced by ELAU, PacDrive Intelligent Servo Modules, was a revelation, as Tryba explained to Packaging Automation during a visit to Goodman's Waukegan, Illinois, facility last week.

"First, the motor is smaller and easier to install in tight spaces," he explained, "Everything about it is compact. And because the ELAU system doesn't require separate servo drives, PLC or terminal blocks, we save about 3 feet of cabinet space. Thirty percent of the enclosure space is totally gone."

Technology behind the savings

The servo modules consist of a servo motor utilizing new winding technology that reduces the size of the motor itself. Then, the drive electronics use new semiconductor technology which adds so little to the size of the motor as to be irrelevant.

What is highly relevant is the fact that there are no longer any servo drives with two motor cables each mounted in the cabinet. And, modular control software strategy and hardware architecture allow the automation controller to do the work of an entire PLC rack, I/O connections and servo interface modules as well as motion control.

'Huge advantage'

"Competitive servo drives require special clamps, feedback cables, drilling of two holes in the back of the enclosure for each motor power and feedback cable, and specialized tooling," Tryba explains.

"With ELAU, there's one cable. That's a huge advantage in time, labor and the opportunity to make mistakes. And there's no need to trace cables back to find which ones to replace."

"Everybody wants to go to smaller enclosures," he continues. "ELAU is the answer."

Aligns with lean manufacturing strategies

ARC Advisory Group agrees, having reviewed the new technology and highlighted the Goodman implementation in a recent research report providing a comprehensive value analysis.

The ARC report finds that the technology actually increases motion control performance while reducing costs as well as lead times. ARC notes that machine builders are realigning their resources to focus on their core competencies, and the servo module technology aligns with this business strategy.

For Goodman Packaging Equipment, this focus is embodied by lean manufacturing, which, properly implemented, streamlines production processes, component counts and supply chains.

80% installation time savings

He has been working on servo machines up to 13 axes, and "the time to install is cut by 80%." What he calculates used to take 20 minutes per drive is now enough time "to wire all the drives and power supply on a 7-axis machine."

And while a 13 axis machine would have 26 cables snaking through the machine from each servo motor to the centralized cabinet, with ELAU's new system there is just one cable from cabinet to machine.

"That one cable carries the low voltage DC, high voltage power and networks. The cable has 180˚ rotation for easy mounting. Connection is fast with a clamp. You don't have to open the motor case, you don't need a Torx driver, there is no complicated assembly, and aren't exposing any 24 gauge feedback wires that can be easily pinched.

"Likewise, connecting with the power supply involved no tools, just a quick connect cable And the plug only goes one way – you can't accidentally reverse the power leads.

World's first machine with Intelligent Servo Modules

Goodman introduced the world's first packaging machine using PacDrive Intelligent Servo Modules at PACK EXPO 2007. The robotic Three-in-One Case and Tray Former/Packer/Sealer can pick up to 100 ppm and pack up to 12 cases per minute with a changeover time of just 10 minutes.

The modular automation strategy complements Goodman's modular machine design strategy of tightly synchronizing the required functional modules within a unified frame.

Equally important is the modular approach to software development that Goodman and ELAU have employed. Much has been written in recent years of the performance, reusability and maintainability of modular software. Leveraging hardware and software modularity, Goodman is maximizing the flexibility of its own machine modularity.

About ELAU

ELAU equips over $1 billion worth of the world's best machines annually, with over 35,000 PacDrive systems already deployed in packaging machinery worldwide. PacDrive is the first truly integrated automation architecture, capable of performing the functions of PLC, motion control, robotics, temperature control, PLS, MES data interface and more in a single, standards-based software environment.

About Goodman Packaging Equipment

Since 1972, Goodman Packaging has been designing, manufacturing, integrating, and servicing pick and place equipment, as well as multiple peripheral components. Goodman Packaging's complete line of packing equipment automates the placement of all sizes of flexible or rigid packages into cases, trays or cartons in any pack pattern. Over the past 34 years, Goodman Packaging has offered complete case packing systems for top loading products either horizontally or vertically into the intermediate or final shippers. Each Goodman Packaging system is engineered to provide standard packaging equipment for the ultimate in flexibility. Furthermore, Goodman Packaging's research and development team will design custom equipment to meet their customers' specialized automation needs.

For more information, visit www.goodmanpkg.com and www.elau.com.



Companies in this article