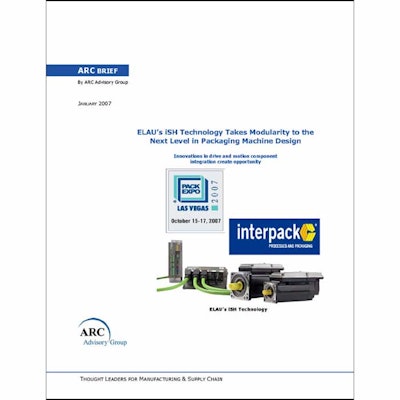 Analyst report urges packaging machine builders to adopt intelligent servo modules
ARC foresees strong market demand at upcoming trade shows for machines leveraging this modular servo technology that is 'light years beyond' previous attempts and urges packaging machine OEMs to deploy 'without delay to gain first-mover advantage.'
The new report form ARC Advisory Group, 'Taking Modularity to the Next Level in Packaging Machine Design,' describes breakthrough modular servo technology coming to the market from ELAU. The report states that to be competitive, "it is imperative to evaluate iSH (intelligent servo module) technology because otherwise an OEM's machine designs will end up lagging the state of the art in the market."
Upcoming trade shows make engineering timeline critical
Timing is critical because, the report continues, "It is our belief that at the next series of international shows, customers will be seeking out machinery that has leveraged the capabilities of iSH technology. OEMs should not be satisfied with what they have always delivered, because their customers certainly will not be." The trade shows referred to are PACK EXPO 2007, October 15-17 and interpack 2008, April 24-30.
Why machines must become increasingly modular
"Modularizing machine mechanical layouts (makes them) faster and less costly to produce….Machinery can be delivered with much less cabinet space along with easier maintenance….there is only one cable drop to each module integrating power, I/O and synchronized motion instead of thee separate cables….There is no daisy-chaining of servo modules, which would lead to a single point of failure for the network."
Achieving the vision of 'plug and play'
Pointing to the example of a robotic case packer, "this modular robotic cell concept becomes truly plug and play when iSH servo modules are connected to a centralized PacDrive automation controller." This argument becomes extremely powerful considering that single quick-connect cables can link up to four multiple robot cells to a single automation controller versus up to 12 controllers (one PLC or PAC, motion controller and robot controller per cell) and all their associated wiring and cable terminations.
'Light years beyond' and 'showing the motion control market how to design product'
The report summarizes the scope of this breakthrough with a historical perspective. "Over 10 years ago, the first primitive integrated drive and motor products appeared on the market from several suppliers where these early versions simply attached the drive onto the motor frame. Ugly, poor form factor and quite frankly a value proposition that was difficult to identify.
"ELAU's iSH Series has thankfully taken us light years beyond this and is showing the motion control market how to design product. They have taken the systems view to the integrated drive and motor solutions which effectively leverages all the benefits of bringing the components together.
"The design is innovative and deserves a closer look by packaging machine designers simply to appreciate the way they leveraged the latest silicon devices, addressed power distribution, and considered aftermarket maintenance and support."
ARC's conclusions
According to the ARC report, "OEM engineering managers should define their critical path to understand the potential of this technology and deploy modular machine designs leveraging iSH technology without delay to gain first-mover advantage at upcoming trade shows."
As for packagers, "Consumer goods manufacturers should evaluate iSH technology to determine the impact of increased flexibility and maintainability in their packaging operations."
About ELAU
ELAU, a company of Schneider Electric, equips over $1 billion worth or over 6,000 of the world's best machines annually. Currently over 35,000 PacDrive systems are deployed in packaging machinery worldwide. PacDrive is the first truly integrated automation architecture, capable of performing the functions of PLC, motion control, robotics, temperature control, PLS, MES data interface and more in a single, standards-based software environment.
For more information, visit
www.elau.com
or email
info@elau.com
.
Companies in this article