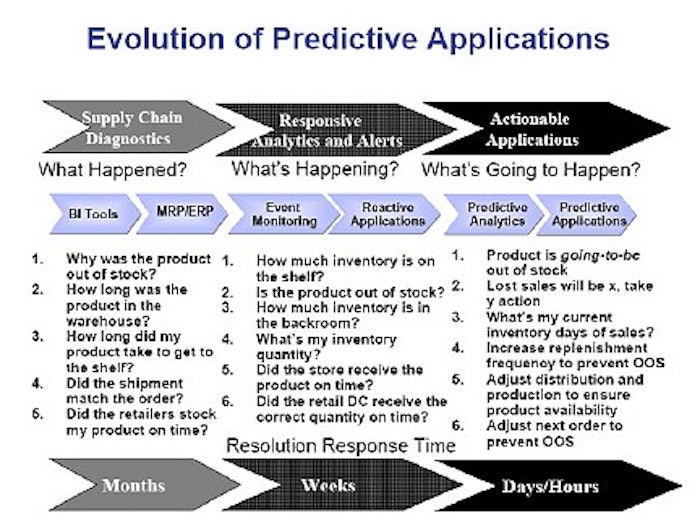 Ray Hagedorn, who was involved with Sara Lee's launch into RFID to meet Wal-Mart's mandate, spoke at the Worldwide Food Expo in Chicago in late October. With more than 25 years' experience as a senior level information technology executive, Hagedon is president and chief executive officer of Premier Executive Consulting Group.
Among his opening slides was this quote attributed to David Greenberg, Intel's RFID program office manager : "By itself, RFID/EPC is little more than a fancy bar code, it can't reduce out of stocks or slash fraud. Only when you turn the data into actionable, executable information does it become powerful."
RFID at Sara Lee
Sara Lee, he says, was the first provider of frozen and refrigerated foods to ship RFID-enabled products into Wal-Mart's facilities.
At Sara Lee, it was originally calculated to cost $1 to tag each case, based on initial tag costs of 50¢ apiece. By January 2005, the time when he left Sara Lee, per-tag costs had been halved, he said. He also noted that Wal-Mart would not permit RFID costs to be passed along into the product cost.
"Don't let tag costs stop you," he admonished the audience, "there is opportunity [in RFID] out there."
Wal-Mart's stated goal of using RFID to address out-of-stock situations—product unavailable at the retail shelf when a consumer wants to buy it in the store—would prove a boon both to the retailer and to the packagers. A conservative estimate is that reducing out-of-stocks at shelf level can increase store sales 1%. For Wal-Mart, that would represent $1 billion in increased sales.
One of the differences versus Universal Product Code symbology is that cases can be individually identified, and eventually that identification will reach down to item level. "That opens up tremendous possibilities," he said.
He also commented on the advantages of RFID for product recalls, which he stated is something companies cannot avoid. "If you know the serialized components, then you can pinpoint what you need to go after and, ideally, where it is."
Other key points from his presentation:
Sara Lee had 100% read rates on cases when the pallet was set in motion during stretch wrapping. Reading the inner cases on a pallet load is a huge problem, however.
Although the Wal-Mart mandate calls for 100% reads on cases and pallets, that's not possible due to the physics involved. He pointed to "trusted receipts" among the supply chain partners—trusting that the cases that couldn't be read were actually present.
Hagedorn was shocked on his first visit to the backroom of a Wal-Mart facility at how disorderly and haphazard it was "in the real world."
Predictive analytics is the wave of the future. One of the key points Hagedorn made was regarding predictive analytics versus responsive analytics. He said it was the difference in the following three scenarios in regards to supply chain visibility:
What happened? What's happening? What's going to happen?
Current technology can address the first, RFID is being looked at to address the second, but forward-thinking companies should take a look at the third—predictive analytics. Hagedorn said predictive analytics provides actionable intelligence in terms of adjusting lead times, service levels and distribution and production levels (chart shown). "An early test indicated a 6% increase in forecast accuracy," he said.
Hagedorn also addressed tags embedded in packaging materials: "It's a fact that major companies are having their materials suppliers looking into this," he observed.
He also cautioned that RFID should not be "owned by information technology," he said, "otherwise it won't work for you. It has to be a business manager."
Lastly, Hagedorn presented a short video of a Sara Lee RFID installation backed by a soundtrack of James Bond 007 theme music. It showed an RFID-enabled Fox IV applicator using a Printronix printer-encoder for creating smart labels using Alien Technology tags. The RFID setup was in a refrigerated area. Pallet loads were depalletized, cases were run through the system, and then manually repalletized and stretchwrapped for shipment. Sara Lee reported 100% read rates on pallet loads of 28 cases.
Companies in this article