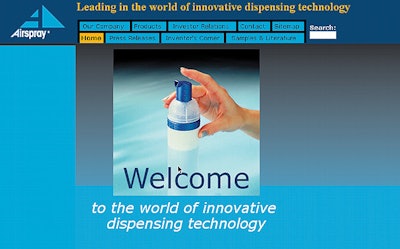 This newly enhanced Web site has more product application information and financial background on the company. The site now includes information on the company's water-resistant line of instant foaming dispensers.
Currie Machinery
This relaunched Web site features information regarding the company's high-infeed palletizers, case elevators, slip sheet dispensers, and low-infeed palletizers. Ordering capabilities and price quotes are also available.
Hueck Foils
The updated Web site is easier to navigate with pull-down menus. Features full-color photographs and includes industry-related information. Locations on the site include a corporate profile, production information concerning the company's flexible packaging materials, information on services, news and events, and contact information.
K 2004 Trade Fair
The K 2004 International Trade Fair for Plastics and Rubber is now equipped with this new Web site, which purports to be a portal for the plastics and rubber industry. Provides current trend and market information from the international plastics and rubber sectors. A list
of international manufacturing and user associations as well as an international trade press directory is included.
OPM, a Sympak company
This new Web site showcases the company's palletizing and horizontal wrapping machines. Information is available in both Italian and English.
Trinamics Inc.
This newly launched site was upgraded to include information on the company's line of cartoners, sleevers, erectors, and case packers. Detailed product and system information is accompanied by photos.
World Wide Packaging
This Web site was updated to include expanded information about the company, its products, and its range of capabilities. Portions of the new site are devoted to product lines, including color photographs and item numbers, locations and contacts, current news, and a
special request form for inquiries.
Companies in this article