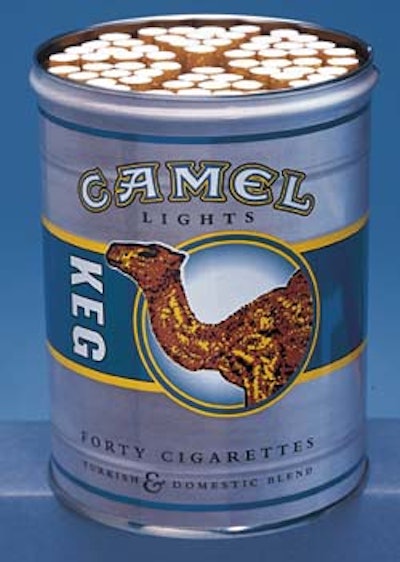 Cigarettes in a keg? Why not, says R.J. Reynolds of Winston-Salem, NC. In February, the firm began selling both 40- and 60-count Camel and Camel Lights in the "Camel Keg:" a steel tin with a snap-fit lid and bright graphics printed offset in seven colors. So far the packages are available only at 7-Eleven stores nationwide. "The idea is to [have the package] break through the clutter," says Reynolds spokesperson Ellen Matthews.
The Swiss firm of Hoffman Packaging Solutions, represented in North America by Independent Can (Belcamp, MD), supplies the two-piece Clic-Clac® can. Reynolds fills the cans in its Whitaker Park plant in Winston-Salem. It uses automated equipment developed in-house, including an overwrapper that wraps filled cans in clear film.
The steel lid snaps shut over the can finish. That makes the package reclosable, and, says Matthews, helps keep the smokes fresh.
Matthews doesn't say what the can costs Reynolds. And because local, state and federal taxes cause cigarette pricing to vary considerably from one region to another, she declines to specify a suggested retail price. A 40-count can purchased in a 7-Eleven store in the Chicago suburbs cost $8.89.
Will Reynolds broaden distribution? Matthews says the firm is waiting to see how it fares in the 7-Eleven stores before making that decision.
Companies in this article
Videos from Independent Can Co.