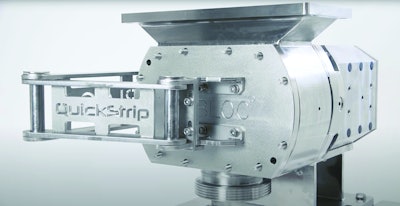 Unibloc Pump displayed its QuickStrip positive displacement pump (1) for fluids, which features an all-stainless design with no rotor bolts or O-ring, helping eliminate the most common causes of foreign material entering the process stream and reducing damage during sanitation.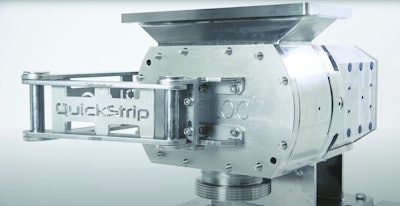 According to Unibloc Pump Sales Engineer Pelle Olsson, the pump has a sanitary swing arm that comes out from the side of the bearing housing and holds up the front cover. "This is both a safety and a sanitary design," says Olsson. "It keeps the front cover off the floor and free from damage."
A unique feature of the rotor design is that it has no rotor bolt. "It's designed for manual clean or COP applications in the food, cosmetics, or pharmaceutical industries," says Olsson. "The rotor comes out with your fingertips. It's all stainless steel. There is no O-ring behind it, and there are no O-rings on the rotor bolt."
With fewer components than other sanitary pumps, QuickStrip pumps can be assembled and reassembled with no tools, minimizing wear and tear during sanitation cycles.
---
---
Brand new at PACK EXPO Las Vegas was the FCM Colloid Mill (2) from Fristam Pumps. Designed for products such as sauces, dressings, mayonnaise, and a range of oil and fat emulsions, the new system saves time between batches because it's never necessary to open the mill between products—either for product change or for cleaning.
The FCM system has a variable gap adjustment that lets the user easily change the gap for more or less shear, reducing fat particle size as necessary, explains Jim McCoy, sales manager for Fristam Pumps. It is not necessary to move the inlet or outlet ports or even pause operation. The system also enables hands-off clean in place (CIP), simply adjusting the gap to its maximum setting to CIP through the mill.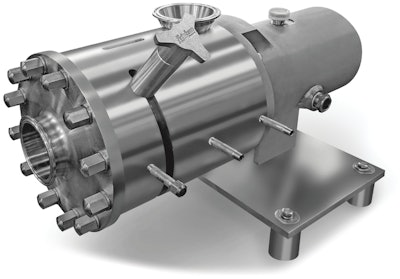 The FCM's variable gap makes it possible to dial in the particle size needed for shelf-stable emulsions. It allows for consistent particle sizes with a tight distribution.
A flagship product introduced at PACK EXPO Las Vegas six years ago returned to the 2021 show sporting major upgrades, including new mechanical, illumination, and intelligence capabilities that improve several aspects of performance. The Veryx 2.0 line of digital sorters (3) from Key Technology feature a new mechanical layout, next-generation LED illumination, enhanced laser scanner technology, new software driven by artificial intelligence (AI), and more. The upgrades provide improved detection of defects and foreign materials in the product stream, and they also deliver that performance over a longer period of time without degrading.
In very aggressive food production environments, the optical sorter is subject to water and other materials splashing against sensors, causing debris to collect on both sensors and lights, notes Marco Azzaretti, Director of Marketing at Key Technology. "Over time, the challenge is to operate the same as Day 1," he says.
The system's optimized mechanical layout addresses this. The sorter's architecture houses all utility components within the frame, eliminating the need for an external enclosure. All door seals have been updated to a new patented design, and additional sanitation upgrades further ensure Veryx 2.0 can withstand harsh operating environments over long production cycles.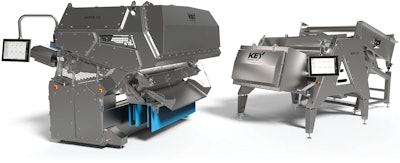 All new technology for the LED lighting system delivers higher-intensity illumination with less scatter and reduced shadowing effects, Azzaretti notes, improving the sorter's detection capabilities. The LEDs also have twice the lifetime of previous generations, he adds, which helps to reduce maintenance and energy costs of the lighting system.
Veryx 2.0 also features Key's enhanced laser scanner technology. New digital receivers improve resolution while delivering a signal that is more accurate and consistent. "It's a next-generation technology that has an improved signal quality," Azzaretti explains. "It gives improved contrast between foreign and good product."
On the software side, new AI algorithms are helping to improve Key's FM Alert monitoring tool as well as its Sort-to-Grade (STG) software. With FM Alert—which sends alerts if foreign materials are found in the product stream and records a time-stamped image of each critical foreign object detected by the sorter—AI techniques help to analyze captured images to further improve the accuracy of its record-keeping. The STG software categorizes every product defect and the dimensions of every object and automatically makes optimal accept/reject decisions based on the target quality spec defined by the operator. Here, AI helps to achieve more accurate dimensional grading of the product by digitally separating clumps of products into distinct objects for evaluation.
Also new from Key Technology is Discovery, a suite of data analytics software that enables Veryx 2.0 and other Key equipment to collect, analyze, and share data while sorting product. Because the sorter sees every object flowing through the production stream, it can reveal patterns and trends that not only improve the sorting itself but can also help illuminate upstream and downstream processes.
"Increasingly, customers are using our sorters as information centers for the whole process line," Azzaretti says. "They're able to capture more information than just what the machine needs for its core function, and they can provide valuable insights to customers."
Discovery provides actionable information to help processors optimize product quality, maximize yield, reduce downtime, and minimize labor. As one example, if sorting diced or formed product, the system could detect how the shape profile has changed over time, Azzaretti notes. The system could alert an operator further up the line about a possible problem with the dicer or former.
Azzaretti also points to the ability for customers to use information from detailed quality reports to pay suppliers of raw input. With a pay-for-performance scheme, food processors could pay suppliers based on how clean or dirty the product is, he adds.
Anysort U.S.A. showcased its new cloud-based VR164+, an infrared color sorter (4) with Hawk-Eye recognition technology for kernels of walnuts, pecans, almonds, and pistachios. The infrared technology detects the differences in density for shape and size sorting purposes. The feed chutes are grooved to aid in the control of the product distribution into the recognition area for clearer and more accurate sorting. The machine uses one-button remote start and stop.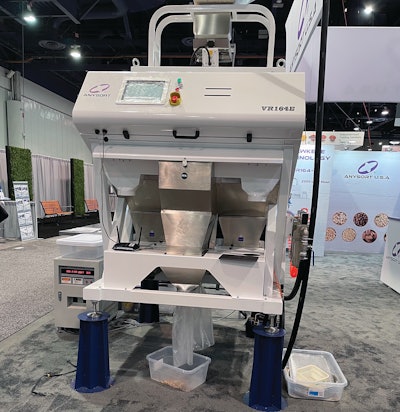 The cloud-based VR164+ provides real-time online service to customers, allowing certified technicians to log in to assist with troubleshooting. The machine offers international advanced multi-spectral analysis technology, along with Hawk-Eye recognition technology, and intelligent shape-sorting automation. Programmed with an intelligent shape-sorting function, utilizing a multidimensional space algorithm to identify and sort by shape, length, and thickness, this machine accurately recognizes and removes plastic particles, glass, animal waste, insects, sunflower gum, rocks, dirt, and other impurities.
Each machine has its own suggested processing speed and capacity per hour that is affected by the type of the raw materials. Anysort provides a suggested processing line with its machines and helps customers handle large amounts of materials.
"You load in the nuts into the hopper, they're fed down the chute, and pass through our Hawk-Eye technology multi-spectral cameras," says Michelle Johnson, Sales Director, Anysort U.S.A. "They recognize 20,000 lines per second 16,000,000 colors. The nuts are then separated into the accepted or rejected bins."

Companies in this article