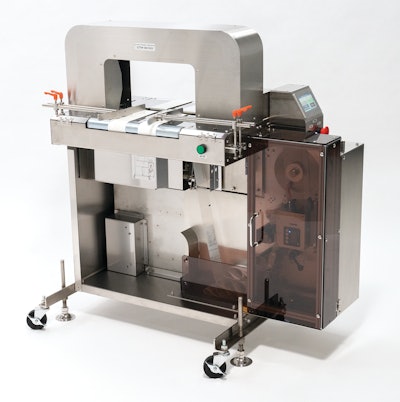 Banding equipment was a highlight at the PACK EXPO booth of Primark America Corp., but it was banding with an innovative added functionality. Incorporated into the equipment (1) is a direct thermal printing system, which means that each band applied also serves as the package's label.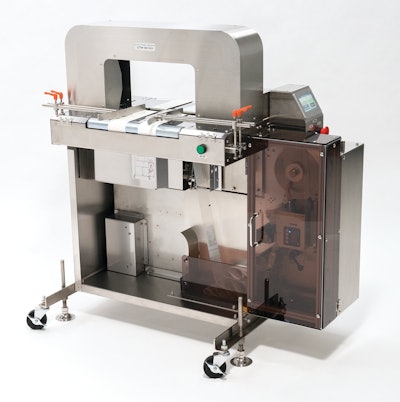 The banding can be applied to single packs, like a mix of berries in a thermoformed plastic bowl with snap-on lid. Or it can be used to bundle two or three primary packages together. Either way, the key benefit is that with direct thermal printing, users of the equipment don't have to inventory pre-printed banding materials or labels. This would be especially appealing to, for example, a company selling six varieties of salads. Rather than inventorying preprinted banding material for each variety and having to change that material for each one, just run the same unprinted OPP material for all six varieties and simply change data at the HMI when you go from Salad #1 to Salad #2.
The banding material used in this application is currently OPP, though a recycled polyester is being looked at now. Two models are available. The CTW-B50 is semi-automatic in nature. The operator manually positions the container or containers being banded and hits a foot pedal to activate the bander. The more automated CTW-BC50 (shown on previous page) includes a conveyor infeed and no foot pedal.
---
---
At the PACK EXPO booth of Signode it was the SGP strapping machine (2) that was featured. It's designed to maximize productivity, with the model at the booth simulating a pressurized washdown environment.
As the company reports, "The SGP automatic machine delivers a fully automated inline solution or can be used as a stand-alone machine when combined with idle conveyors. It features a close strap arch system with heat seal and cycle counter, and it utilizes an automatic strap feeder and automatic strap end ejection for cycles without product."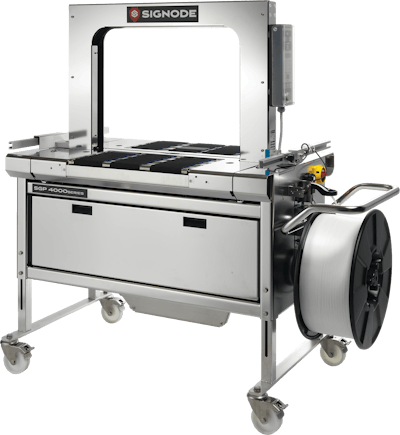 Food manufacturers are looking for systems that can handle cleaning and disinfecting, said Mike Stein, VP Global Marketing and Product Management, Automation & Packaging Technologies at the Signode booth. The SGP's TüV-certified stainless-steel versions with IP 56 rating accommodate such harsh environments, with electronic components protected from high-pressure water jets.
Capable of speeds to 65 plastic straps/min, the system is designed for integration with conveyors or standalone use. It incorporates an adjustable conveyor height for flexibility and a fold-out belt conveyor system for component access. High-efficiency components and few wear parts aim to simplify maintenance.
The HMI control panel is an electronic control system with Siemens S7-1200 PLC mounted on the strap dispenser side. It has a graphic display for programming and operation including strap spacing, and it displays error messages to allow for fault diagnosis and correction. The control system features a basic photocell for detecting and positioning the package.
Also featured at the Signode booth was a system designed for high-capacity storage and retrieval in warehouse environments. Signode's StorFast Automated Storage and Retrieval systems (AS/RS) feature carts that automatically and quickly move pallets in and out of storage positions in the warehouse, along with StorFast's range of robot-based depalletizing, palletizing, and material handling solutions.
The AS/RS boasts enhanced capabilities this year, operating at twice the speed of the previous generation with improved control for acceleration and deceleration of the robotic carts.
The technology is suited to many sectors—it accommodates ambient, cold storage, and deep-freeze applications. As Don Overberg, Director of Strategic Accounts at Signode, explains, "Customers using this type of product have warehouse space constraints, and the [AS/RS] helps them optimize that space… with how they handle, pack, and store material." The AS/RS works within building constraints regardless of layout and floor plans, in some cases precluding the need for expansion or relocation.
An all-electric Aisle Cart transports a pallet to (or from) an assigned row, the Row Shuttle then "undocks" from the cart, carrying the pallet to store (or retrieve) from a specific row position. Signode reports that the movement of both the cart and shuttle is automatically controlled by system software using PLC technology communicating to a main controller. The Storfast system is intended for high density areas, using two aisles per level, resulting in greater flow of goods in and out of storage simultaneously.
The enhanced StorFast components have improved robustness to handle pallets weighing up to 4,400 pounds. The company notes that with individual cart movement, energy consumption is considerably lower than crane-based systems.
---
---
Companies in this article