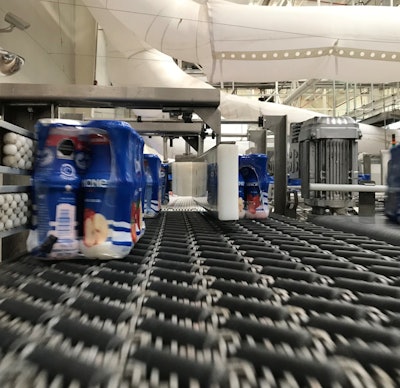 Increasingly, consumers understand variety as a better purchasing experience, one that food processors have been addressing by combining diverse product references within a single pack. In supermarket and store shelves, customers appreciate the convenience of finding their favorite flavors in multi-packs, with added economic benefits in most cases, on top of greater convenience.
However, this alternative imposes technological and processing challenges on production facilities, while demanding the development of specialized technological solutions for packaging lines. The technical adaptations needed to positively respond to these challenges calls on the participation of different specialists to configure every step to offer a variety of products in multipacks and avert jeopardizing their company's productivity.
In Mexico, Danone has accomplished this mission for its Danup and Danone branded yogurts, by building a productive synergy with two companies, Hybernya Industrial and Festo, that resulted in the assembly of an industrial automation solution which takes products that come out from their yogurt production lines and automatically diverge them to eight different lines to combine into a variety of flavors and create multi-assorted presentations. At the Irapuato Industrial City, within the State of Guanajuato, Mexico, they began the adaptation of machinery and systems that would allow for this process, backed up by the work of a team of professionals from Hybernya Industrial, a 100% Mexican company dedicated to the development of end-of-line engineering projects and from Festo, the renowned multinational German-born supplier of intelligent solutions for productivity and competitiveness through factory automation with pneumatic, electrical, control and process technologies.
A market-wide innovation
This solution, developed by Danone's plant at Irapuato, has become a milestone for the yogurt packaging industry in Mexico, given that before its inception there was not an equipment in the whole country which could manage this modality of multi-assorted packaging. These types of processes were conducted manually by operators who would grab products from each line and take them to the packaging machines. What was the challenge? "To streamline production and delivery times for two flavors of both Danup and Danone brands in multipacks, for which we developed a pioneering and disruptive solution in terms of separation and product handling of the two flavors simultaneously", pointed out Stefanny Villareal, Senior Engineering Manager for Danone Mexico.
The line's structure integrates mechanical elements provided by Hybernya Industrial with Festo's control and electromechanical axes to build a configuration which supports three essential pillars of OEE (Overall Equipment Effectiveness): "availability, quality, and performance", as highlighted by Hector Ramírez, F&P Applications Engineer at Festo Mexico, while explaining that various areas within the companies were involved in this project as a multidisciplinary endeavor.
Following an initial conversation to understand the exact requirements Danone had, the project's reach and how to achieve it, the alliance was sealed, and technical and performance parameters were set. "Hybernya and Festo own cutting-edge automation technologies and offered us a technical solution that suited our different requirements including space availability, adequate delivery times and production speeds, generating a low carbon footprint, and optimal maintenance", the Senior Engineering Manager from Danone told Mundo PMMI.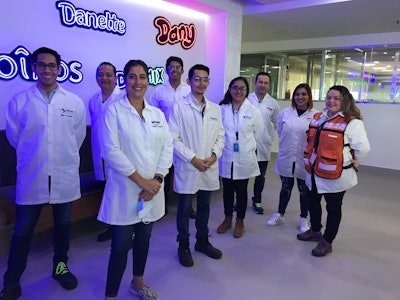 Line efficiency
After scaling the Project and building prototypes, Hybernya Industrial and Festo identified the scope of their participation and started developing the solution by integrating specialty components from each company. Based on a stars system developed by Hybernya where each one picks up one bottle with different flavor as they run through, to achieve the desired combination and then places it on the line, one after the other.
From there, products reach a robotic cartesian double-axis diverter, made by Festo, classifies bottles with the different yogurt flavors in a uniform and automatic fashion to drive them towards eight separate packaging lines. Thanks to the performance of this new solution, Danone and Danup yogurts today reach supermarkets and other points of sales in six, eight, or twelve-unit multipacks.
The processing speed can reach 1.000 bottles per minute; an added line-optimization feature is the product's stability all along its transit on the conveyor belt, which has made stoppages due to bottle overturning virtually unnecessary. As Monserrat Leycegui, Marketing Chief for Hybernya Mexico, told Mundo PMMI: "The interpolation of the two axes to ensure bottle stability, along with equipment automation that eliminated counting, speed, or precision margins of errors" are the most remarkable aspects of this development.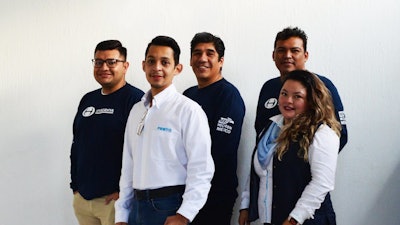 Furthermore, the launch of this solution removed previous reprocessing steps, consisting in double-packaging with shrink-wrapping materials, an improvement that translates into lesser waste rates. Also, important financial and commercial benefits were gained: "The process of filling and forming for two-flavored multipacks was automated, which contributed to accelerate the final product's delivery times and providing our clients with a value-added package, including two favorite flavors at a competitive price", stated Stefanny Villareal.
Shared know-hows
The aggregate of experiences played a key role in successfully culminating this project, designed for Danone's assorted multipacks. The long-standing relationship between Festo, Hybernya Industrial, and Danone has facilitated an optimal development of solutions in accordance with the manufacturer's requirements and the consumer's demands. "Danone requested from us to develop this solution because we were a strategic partner of theirs in Mexico. Every Danone production line in Mexico has built-in Hybernya engineering, design, and manufacturing developments", commented Monserrat Leycegui.
On the other hand, Festo is recognized in Mexico and across the world for its problem-solving abilities in a wide range of industrial and manufacturing areas, providing precise knowledge and by means of efficiently planning and installing reliable equipment and lines. "The synergy between Hybernya's mechanic knowledge and Festo's supplying of controls contributed to the solution's throughput, meeting Danone's standards", said Adzuira Sahad Ortiz, Automation F&P Consultant for Festo Mexico.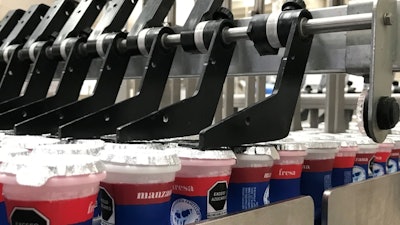 Monserrat Leycegui also underscores the value of this collaborative work. "Due to the synergy present between Festo and Hybernya, we found a way to build a great team. The speed of their systems and the precision of their machines is what helped us achieve an adequate line distribution of mixed products towards our eight final lines", explained the Marketing Chief for Hybernya Industrial.
With the future in mind
The implementation of this automated multipack process at Danone Mexico encompassed programming of velocities, installing sensors which send signals to identify each one of the flavors to be included in each package, and the development of logical programmable controls, drivers, and robust plug-and-play electromechanics, among other systems and features. This, in addition to Festo's and Hybernya's support during installation and setup, allowed for an optimal performance of the lines. This automatization and technification focus also led to a significant number of Danone workers avoiding repetitive tasks and developing new skillsets and activities within the company.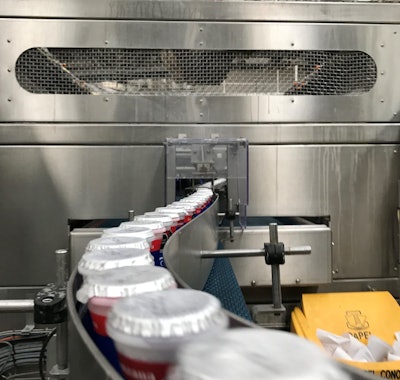 At the same time, this initiative marks an advancement of the concept of Industry 4.0, by adding communication protocols into the equipment which moves the company ahead towards this model, as stated by Adan García, head of the Food and Packaging Division of Festo Mexico.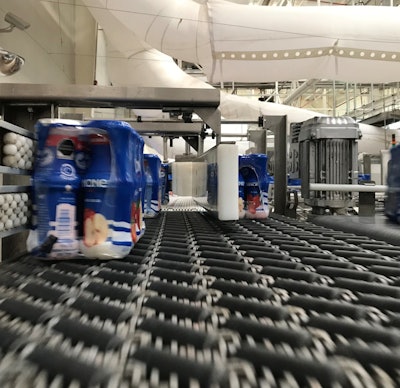 On his part, Hector Ramírez, Applications Engineer of Festo Mexico, pointed out that the existence of these protocols opens up the possibility to scale this integration to an Industry 4.0 model in the future: "Danone is currently migrating towards that scheme in a way that, if they want to implement solutions as these, they can do it with electric equipment".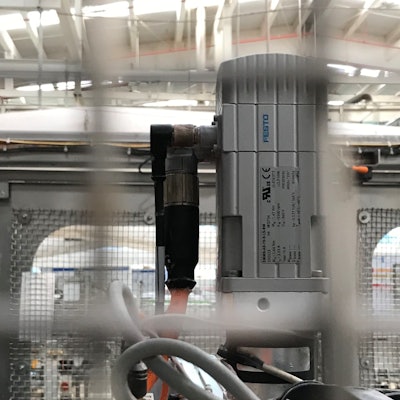 For the time being, the benefits are evident and truly positive, as confirmed by the Senior Engineering Manager of Danone Mexico, Stefanny Villareal, when she answered Mundo PMMI's question about the market differentiation that this multipack assorted flavor solution has sprung for Danone Mexico. "This project, besides being a breakthrough in automation for yogurt processing, has allowed Danone Mexico to provide its clients with a variety of multipacks at a very competitive price and with optimized market delivery times".
Companies in this article