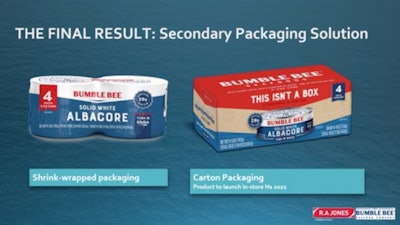 R.A Jones and Bumble Bee Seafood PACK EXPO Innovation Stage
Navigating a major shift in packaging formats can be a challenge, and Jeff Wintering, Chief Technology Officer of R.A Jones, a Coesia company, and Leslie Hushka, Senior VP of Global Corporate Social Responsibility at Bumble Bee Seafood, spoke to PACK EXPO Las Vegas attendees about how Bumble Bee partnered with R.A Jones to help them achieve their sustainability goal with new multipack cartons, which will be rolled out in 2022. Today, 96% of all Bumble Bee product packaging is readily recyclable. The shift from shrink wrap to paperboard will help the company move to 98% in 2022.
Below is the transcript of this presentation, edited for length. To see the presentation in its entirety, visit the PACK EXPO Innovation Stage page.
Purpose and Goals
Leslie: First, I wanted to start by setting some context for Bumble Bee's programs. Today over three billion people rely on seafood as their primary source of protein, and it ties directly to Bumble Bee's purpose, which is feeding people's lives through the power of the ocean. To deliver on that purpose, we've organized our activities around three pillars: our people pillar, our planet pillar, and our product pillar. Underneath our planet pillar, we have created our seafood future platform and a suite of activities organized around three areas. In the fish area, our efforts are focused on providing sustainable solutions and ocean inspired alternatives. In the people area, our activities are emphasized on ensuring everyone connected to our business is treated in a fair, ethical manner and has an opportunity to thrive. In our oceans area, our efforts are focused all around creating healthier Marine ecosystems. This is where our packaging efforts lie. Specifically, our goals are to create readily recyclable packaging for consumers, to ensure that those materials are kept out of landfills, and more importantly, don't end up in the ocean.
As we looked at our packaging, 96% is readily recyclable, and it's that last 4% that we focused on. We saw a big opportunity in this, in our multipacks that we deliver to consumers. On an annual basis we produce 26 million multipacks, and they are wrapped in polyolefin shrink. This material is not readily recyclable by consumers. In many cases it's difficult for consumers to separate the cans from the shrink wrap. This is essentially 2% of our packaging, so we viewed this as a great opportunity for us to look for a new solution.
---
---
Next, we looked at, "what are consumers seeking in this area?" Over the last five or six years we've seen a dramatic trend with consumers, really focusing on ocean plastic as the top environmental concern. It actually trends higher than their concerns for climate change. We did some more detailed research with the Shelton Group and learned that 60% of consumers are factoring recyclable packaging options into their purchasing decisions. 76% feel better about themselves when they recycle packaging. But importantly, 63% of [consumers] believe that it is the manufacturer's responsibility to address recycling concerns and make it easy for them to recycle that packaging.
We also looked at our direct customers - retailers, in terms of what their goals were for packaging. Importantly, we saw nine of our top 12 retailers have commitments in this area, specifically to move all plastic to 100% recyclable, reusable, or compostable options. Most of these customers aim to do this by 2025. So, these two things really led us to a solid foundation for making this change. As we started to look at this opportunity, we realized it was going to be complex. Not only were we talking about 26 million packaging units that we had on an annual basis that covered 20 different SKUs, and multiple customers all across our regions. It would involve a change in existing equipment and materials, and that was going to create challenges. In the past we had concerns and production delays due to some of our equipment and knew that the equipment, and training, and other factors would be critical for us in making this selection.
As part of our steps, we knew that we would need to identify an external partner to guide us through this process. We really focused on three areas that would be critical for us in ensuring success. One, ensuring that we could get equipment that met our needs across all of these parameters. Two, we would have a partner that could provide us the right support, and service, and training, and guide us through this process. Last, someone that had the experience and that could guide us through not only our current packaging but provide us opportunities to continue to evolve our packaging and look at new opportunities in the future.
The Multipack Cartoner
Jeff: Our partnership with Bumble Bee began with a factory visit, and the understanding of what Bumble Bee's needs were. What they explained to us is that they wanted to move from shrink to carton board and ultimately replace their shrink machine with a multipack cartoner. Key to them was packed flexibility. They had many different SKUs with many different stack heights and two different can sizes. They needed to run up to 2000 cans a minute or 285 cartons a minute on the smaller pack sizes. They also needed a machine that could accommodate three to four changeovers a day since their production needs required many short runs. Ideally, the ability of a supplier to integrate additional equipment into the line to minimize its footprint was needed.
This information was brought back to the Jones engineers, and they looked at the solution and came up with a design. We knew that we had the right machine for Bumble Bee, our Meridian XR. We had to make sure that it would fit. Key to Bumble Bee was minimal disturbance to their factory layout, the conveyors, and the additional equipment around where our machine would go. We made suggestions as to how they could modify their infeed conveyors to deliver cans into our cartoner. While we worked on the floor plan, we positioned the machine to optimize material flows into the work cell, all the while keeping codes and standards in place for proper clearance around the machine.
After we made sure the machine would fit, we worked with Bumble Bee on carton design suggestions. Bumble Bee had never placed their cans in cartons before. So, they needed suggestions on how to optimize the flap construction on the cartons, so the cartons would run reliably in our machine. We also did physical load testing to minimize risk, and speed verification, ensuring competence in Bumble Bee that we could run the speeds and the stack heights through the cartoner with stability at loading. There are many standard features with the Meridian XR. It is a server driven machine which allows for reliability and a minimization of drive components. It has an ergonomic low-level magazine for a better operator experience as they load cartons into the machine. Its airframe carton opening allows for many different carton sizes to be opened as well as different board constructions.
---
---
It also has overhead carton squaring. It has down-can sensors on the infeed, which will alert the operator if a stack of cans fall over and thus stop the machine. It is a cam operated loading wheel that articulates during the final loading process to ensure the cans are correctly placed into the carton. It also has cycle stop flap closing. If the machine were to stop, we don't waste any packages with glue that's been applied. It also comes with an integrated laser coder. The packages are coded while inside the machine ensuring the highest quality coding on the package for readability. Finally, it comes with full access guarding. It allows the operator easy access into the machine from an operational standpoint and for any maintenance needs.
We did customize the machine for Bumble Bee. We took our six-lane infeed and changed it to four lanes to accommodate the larger can sizes that Bumble Bee needed to run. All the while protecting future pack sizes with the fourth lane that we added. Airframe opening was modified to run their smaller carton sizes. We increased the range of the machine by allowing a smaller width carton to be run on the machine due to the lower stack heights. Overhead carton squaring was also modified to ensure that their taller can configurations ran reliably through the machine and produced a square carton.
Our six- and 12-inch dual transport system, which is critical for the high speeds, was modified to accommodate their small pack configurations as well as their large pack configurations. Finally, we integrated a can count verification system in the machine, which helped reduce the machine's floor plan. We are verifying that we have a full can count in the package before we discharge from the machine.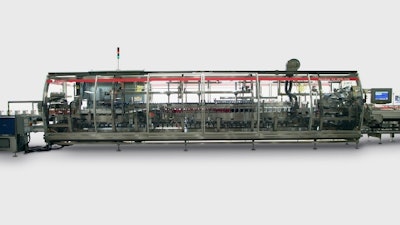 Added Features Partnering with Bumble Bee allowed us to suggest additional machine features needed for their production needs. The first was Acc-U-Change. Acc-U-Change provides for reliable changeovers in a vertical startup, which is critical for the multiple changeovers that Bumble Bee needs to do throughout the day. Change points, as well as change parts are verified by the machine control, and the machine will not start until the machine is properly set. Fault Zone Lighting was provided on the machine to help direct the operators to the location of the fault. Five zones are provided within the machine and the proper one highlights depending on where a fault may occur. Future Count Flexibility is also with the machine. We can run additional SKU sizes for Bumble Bee when their need requires.
We also can run different cart board types in the machine, from chipboard, to recycle board, micro-flute, and heavy chip board constructions. Full life cycle management is also available to Bumble Bee. We can provide parts, service, training, and modernization support. So as Bumble Bee needs change with the machine, we will be there to support them and keep the machine running.

The Final Product
Leslie: We're pleased to share with you the solution that we've come on up with, and the new box that we have created. You see on the left hand of this slide, the previous shrink-wrapped multi-pack, and on the right-hand side you see the new box that we've landed on. That we are moving forward, and we'll be launching this packaging in stores at the end of the first quarter, and really completing the rollout across our entire multipack line in the first half of 2022.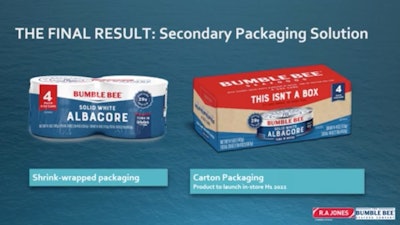 Once we landed on the solution, we really wanted to go back to consumers and our customers and test how this packaging performed with them. When we looked at first appeal, we saw a marked increase in the appeal of the box over the previous shrink wrap packaging, 21% to 34%. Including more appeal as compared to competitor's packages on the shelves. Consumers also reflected an increased intent to purchase the package in the new format. Finally, when we tested consumers about their environmental views of this new package, we saw a dramatic increase from 13% to 54% in terms of the customer's response to the recyclability of this new package.
This also provides many opportunities for retailers. The way the box is designed, it can be placed in a vertical or a horizontal orientation on the shelf, allowing more efficient use of shelf space. This opportunity to package vertically allows us to put multiple SKUs in the same space that we have on the shelf today, providing opportunity to deliver multiple types of products to our consumers, with the same shelf space. The graphics that we're able to deliver on this type of packaging are much more eye catching and user friendly and got a strong response from our retail partners.
In looking at this journey that we've gone through together with R.A Jones, I would suggest to you some general learnings that you could apply to your packaging opportunities in your journeys. First spend a significant amount of time trying to identify your problem and your specific challenge, connect that problem to what your goals are as a company. What your sustainability goals are and what your customers are seeking at as well. Speak with external experts. What opportunities are there? What solutions may exist that you may not have considered with your existing set of packaging? Collaborate with those experts to develop your own solution, not only a solution that works for today, but one that can adapt to your future products. Then last but not least, just get going. We found early in this relationship that the opportunity to test and trial a number of different types of packages really led us to co-create something that was better than the original vision that we had.
---
Interested in learning more about sustainable packaging? Download our FREE PDF below:

Companies in this article