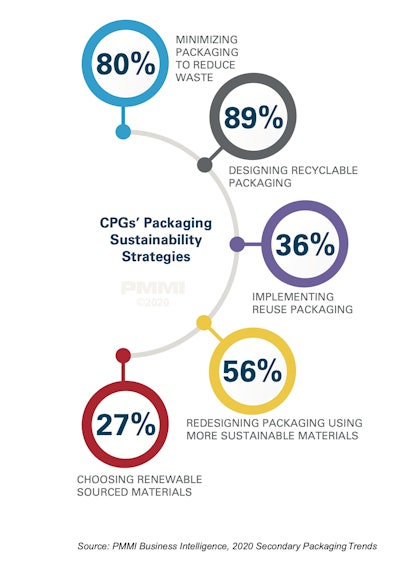 Recent consumer trends such as demand for sustainable packaging options, convenience packaging, and SKU proliferation, mean more package variety and more crowding on-shelf. Because of this, many manufacturers are switching up packaging configurations and building in value propositions to their secondary packaging.
According to a report by PMMI Business Intelligence, there are four secondary packaging requirements that retailers have today:
·     Shelf-ready cartons for easier product display
·      Multi-packs / variety packs
·      Biodegradable or recyclable materials
·      Traceability and product security
Shelf-Ready Cases
Shelf-ready display cases have seen growth in recent years in response to both consumer and retailer demands, and while not a new concept, this growth is perhaps the most significant to secondary packaging because it adds a new layer of complexity to the end-of-line strategy. Manufacturers adopting shelf-ready displays need to ensure that the bottom half of the case, which will remain on the shelf with the products, is properly branded, and that graphics survive the distribution supply chain in a shelf-ready state.
This growth may also be playing a role in brand manufacturers' growing interest in automated vision inspection systems, which can assist in detecting graphic and labeling defects before the secondary package exits the production line. With 75% of report respondents pursuing shelf-ready strategies, the challenges created by the popularity of this format remain top of mind.
Other Alterations
Beyond shelf-ready displays, many brand manufacturers are altering their secondary packaging to better suit the needs of their customers. Reasons vary depending on the market, channel, and individual product, but the trends are an industry-wide occurrence. Format changes mostly revolve around goals of material reduction, seeking more sustainable packaging, and improving efficiency in line operations. With those goals in mind, manufacturers are making changes to their secondary packaging strategies such as: moving to display-ready or wraparound cases (75%), replacing their corrugated boxes with shrink film (30%), eliminating cases in favor of rigid trays (45%), and adjusting how they seal their corrugated cases – be it with glue or with tape (50%).
Direct Print Gaining High Visibility
To alleviate potential errors in labeling, including printing, inventory management, and application, manufacturers are now looking to print information directly onto the secondary packaging. Direct printing is often a request that originates from retailers looking to improve inventory tracking and product identification, and 85% of manufacturers reported that they are investigating printing directly onto secondary packaging.
---
---
Sustainability
The primary force behind the sustainable packaging trend is the consumer. In a recent survey of online shoppers conducted by CGS, 68% of participants stated that the sustainability of their products is a top concern. In addition, 59% of consumers polled by Globalwebindex stated that they would pay an additional cost for more sustainable packaging options.
As reported in the 2020 PMMI Packaging Sustainability Report, modifications to packaging strategies are widespread across the CPG industry, with manufacturers taking several different approaches to make their packaging more sustainable. Some of these initiatives include minimizing the amount of waste generated by packaging (80%), designing packaging that is fully recyclable (89%), implementing re-use packaging (36%), redesigning packaging to utilize more sustainable materials (56%), and choosing materials derived from renewable sources (27%).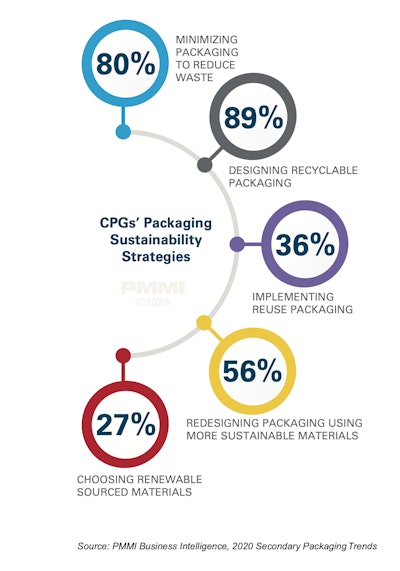 Returnable/Reusable Packaging
While usage of returnable and/or reusable packaging has been limited, manufacturers are interested in the model, and 50% of participants reported that they are exploring returnable and/or reusable secondary packaging as a potential option for the future.
The returnable/reusable space has seen additional innovation in the last few years, with a variety of formats being introduced that cater specifically to the evolving structure of the CPG market. One example is the development of returnable and reusable flexible mailers, which are designed to address sustainability concerns generated by the expansive use of corrugated in the e-commerce space. These focused strategies will play a vital role as the retail and CPG industries continue to explore the e-commerce channel.
Secondary Packaging in the Retail Channel Continues to be Sustainable, Printable, and Trackable
SUSTAINABLE
·      Recyclable materials
·      Reusable containers
·      Right sized
·      Corrugated and film combinations
PRINTABLE
·      Better quality inks
·      Materials that are print-ready
·      Easily scanned
·      Reduction in labels

TRACKABLE
·      Smart technology
·      Readable coding
·      Visual inspection
·      Integrated supply chain
Download this FREE report below.
Source: PMMI Business Intelligence, "Secondary Packaging Trends"