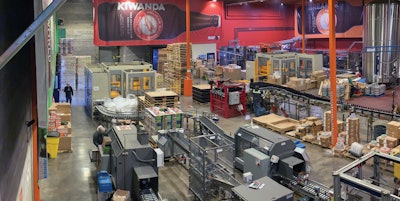 Pelican Brewing Co. was born at the beach in Pacific City, Ore. in 1996, the brainchild of three enthusiastic young folks Mary Jones, Jeff Schons, and Darron Welch whose thirst for great beer overshadowed their understanding of what it would take to build a brewery. They did it anyway.
Now 24 years older and wiser, Pelican Brewing Company is a craft beer industry leader with fans throughout the Northwest and the world. The brewery's physical footprint now spans its original, laid back beachfront pub and brewery in Pacific City, a more upscale restaurant and brewery in Cannon Beach, Ore., and—where most of the magic happens—a high-production brewery plus tasting room in Tillamook, Ore.
Pelican's reputation is built on extremely high quality above all other factors, and the company has the awards hardware to prove their devotion in this department. Packaging plays a key role in quality by way of dissolved oxygen (DO) pickup during the fill. The less DO pickup during the handshake between the bottle fill and capping, or between the can fill and seaming, the higher the quality and the longer the shelf life of the beer. That makes packaging much more than just a delivery device for Pelican. So when the company was planning and specifying equipment for its current production facility in 2016, quality-conscious filling was the first concern.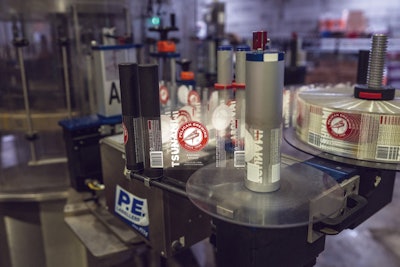 But once the primary packaging automation was up and running, producing the ultra-low DO brews at a rate of 200 bottles/min, a second factor swam into view—end-of-line labor. With filling lines humming along, manual palletizing became a daunting, ergonomically unfriendly, tiresome task, and Pelican's Marty Bills realized backbreaking labor wasn't the best deployment of his operations team. With limited space, adding a palletizer and stretch wrapper may have been tough, but they had planned for the eventuality of automated palletizers. The resulting two packaging lines, one for bottles and a second for cans, thus have a dual focus: quality on the front of the line and efficient, small-footprint palletizing at the end of the line. Here's how they did it.
The packaging lines
Pelican opened its new 15,000-sq-ft production facility in 2016, and immediately began planning packaging all new lines—little of the legacy equipment would make the move. But while the facility now features two complete, soup-to-nuts packaging lines, their installation was more of a graduated process.
The bottling line installation was first to come together, integrated in 2016 in partnership with David Weller of Pacific Packaging Systems Inc. It consists of a Ska depalletizer at the front of the line that feeds empty glass bottles into a rotary labeler by P.E. Labelers (Pelican labels empty instead of filled bottles). Bottles are filled on a 30-head rotary KHS filler and capper, then run through a Filtec fill-height detector. Bottles are laser coded with batches and dates on Domino coding and marking equipment.
Secondary packaging for bottles consists of a Pearson box shop, which does the carrier and case erecting. Erected paperboard carriers are fed into a Hartness case packer that receives the filled and capped bottles, places them in the erected six-pack carriers, and places those into corrugated cases. The most common format is 12-oz. bottles in six-pack paperboard carriers, which are packed two-by-two into a 24-count corrugated case. A less common format is a 12-pack format of 22-oz bottles. Cases run through a Pearson top sealer before palletizing, which initially was done by hand. But automation frequently begets more automation downstream, and a rule of thumb in craft brew is that once you're getting to speeds of about 200 containers/min, that's the point when end-of-line automation starts making sense. And 200 bottles/man was the cruising speed for the upstream filler and case packing equipment.
"When we first started up that line, our volume was low enough where we only needed one operator hand palletizing, but we grew so quickly that we needed a second operator before long," says Marty Bills, Director of Brewing Operations at Pelican. "I think by January 2018, we were just beginning to realize that we were stacking more than 3,000 cases per day. We could get by doing that with two guys in January, but by the heat of the summer, that would become really grueling and even damaging on operators' bodies."
End-of-line automation
Even in a 15,000-sq-ft facility, it's not always easy to be adding large pieces of equipment to existing lines. Luckily, Weller and Bills had designed the line with the eventuality of a palletizer in mind. In fact, they had one specified that would save them some space. They selected a TopTier model TTL 30 low-level infeed palletizer with concurrent stretch wrapping capability for the bottling line, eliminating the need for a separate traditional, pedestal-style stretch film wrapper. Where there would otherwise be two standalone systems, the TopTier does it in one, saving both cost and footprint. A pallet dispenser and some exit conveyance are also onboard on the TTL 30, and all of the palletizing, stretch wrapping, and pallet handling is fully automatic. An operator can use a single HMI to adjust the pallet pattern and the pre-stretch film's load containment tension.
"The TopTier palletizers have been great," Bills says. "They allow us fast and careful handling, and they're directly adjacent to our docks. We don't store much inventory here on-site—we have 30,000 sq ft of storage south of town for that. That's where our bottles and cans reside, as well as materials like corrugated and carriers, plus we have cold storage. So here we load direct-to-trailer and ship it four miles down the street. They warehouse it and ship to our distributors from there."
The palletizers are capable of handling line speeds of upwards of 400 cans per minute, or 1.5 to 1.75 layers per minute in palletizing parlance, so Pelican has room to grow into them or speed up if need be.
Watch the palletizer/stretch wrapper in action in the video below.
[Note, text continues after video]
Move into cans
Pelican's bottling line was fully dialed in—from depalletizers to end-of-line automation—by mid-2018. But that time frame coincided with consumer demand veering toward craft beer in cans instead of bottles. Counterintuitively, this actually worked in Pelican's favor—other breweries were moving into cans so quickly that a void for bottles was created. Pelican happily filled that void. Getting shelf placements at retailers was comparatively easy in bottles, and the brewery was able to grow its bottle profile while everyone else was shifting to cans.
"We thought, 'Wow, that makes us look pretty smart,' and even though we knew it was mostly an accident, we were willing to take it," Bills says. "But we also knew the writing was on the wall that we'd have to start offering cans."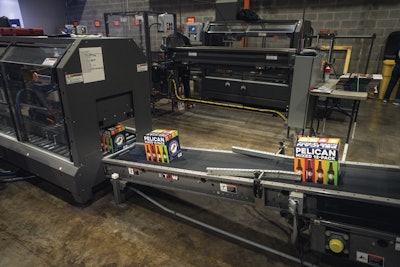 Plus, the recent can trend in craft beer isn't just a fleeting consumer fad to be weathered. Retailers prefer cans because they can put more SKUs on the same shelf space, a factor that trickles down to distributors who sell into retail. As a brewery, Pelican listens closely to its distributor partners, and all signs were pointing to cans.
Pelican first experimented with mobile canning but Bills never felt fully comfortable with them due to inability to closely control DO. After all, that translates directly to the brewery's hallmark quality. So, Bills again contacted Wells at Pacific Packaging Systems in 2019, and the two began drawing up plans for a canning line that would fit. This time, though, they didn't wait on end-of-line automation. Expecting to be immediately running close to capacity, a TopTier palletizer—the same model in fact—was on the end of the new packaging line when they first fired it up.
"Why would we put in a fast, new line, only to hand stack?" Bills asks, having learned from the first bottling line installation.
Leap to rotary filller
Most brewers new to canning tend to start with smaller, slower in-line fillers maxing out around 40 cans/min, learning to crawl before they learn to walk. But with fill-quality the most important factor at the front of the line, and oxidized beer being Pelican's mortal enemy, Bills had a sense that a rotary filler could do a better job with DO than in-line fillers. This led Pelican to jump into the deeper end with canning, choosing a CFT rotary filler with an electrostatic can rinser on the infeed. The filler is capable of speeds up to 300 cans/min and features an automated clean-in-place (CIP) set up. Just upstream of this filler sits a Codi upper level depalletizer, plus conveyance by Bevco.
"This filler's DO levels were fantastic out of the gate," Bills says. "What I really appreciated about CFT is they came here with a new valve design, but the integrating technicians decided they didn't like it. So CFT came out and did another round of valve retrofit, and we never saw any cost. They put us down for half a day for the whole retrofit. Those refitted valves have been super stable, it's a great valve design. We're spinning a lot of cans out there now."
Downstream of the filler, cans are batch and date coded on the bottom with another Domino coding and marking system, thermal inkjet this time.
The highest volume format on this line is the typical 12-oz printed can. These are cartoned into six-packs by a Switchback can-wrap cartoner. Four six pack cartons at a time are then tray packed, also on Switchback tray packing equipment, in corrugated 24-count trays, which are then palletized on the new TopTier.
A newer, more experimental format is a 19.2 oz tall boy-style, a convenience store single-serve option. These are placed in lightly branded 12-pack cases that are palletized directly, with the expectation that cases will be broken down for c-stores and sold as singles.
"The 19.2s are really popular right now, and we pack four of our leading brands in that," Bills says. "That business is growing, but I think that our marketplace is still trying to decide what that right package size is."
The line is configured to also handle 16-oz cans, and Bills says Pelican might be testing that can format in the coming year.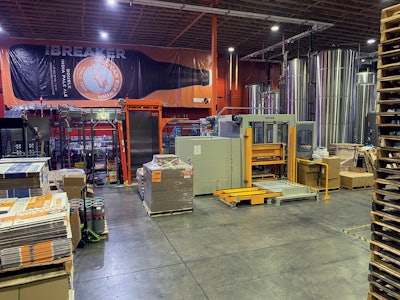 Customer service a factor
Aftermarket service and support is critical for most capital equipment investments, and these palletizers are no exception. And this type of equipment relies on some components that are subject to damage or wear.
"When the photo eyes are damaged, that's something we've asked for [TopTier's] help on," Bills says. "Service and support are readily available over the phone or in person. If the sensor gets damaged and we don't know what's going on, they're very helpful. And when we get in over our heads, they're not very far away [TopTier is located in Portland]. I think it's only happened once where, as one of the systems was putting the first layer on the pallet, we kept crunching cases. It had something to do with the first slide-off. They came right out to the brewery and solved the problem. They knew the problem—they knew just how to adjust everything and got us back in alignment and basically worked with us throughout the morning to make sure that it was doing everything else we needed to do. It was really slick."
What's next
The beer landscape—especially draft/keg—is in limbo due to the pandemic, with restaurants not doing the business that they previously were, and tap houses being more closely restricted. But Pelican is adapting fast, and the canning and bottling lines are cranking. In fact, Pelican moved to seven day per week brewing in February 2020, just before the COVID-19 outbreak, and they haven't had to tap the breaks yet.
"I think we all thought that when we put in a 15,000 square foot facility, that that would last us 20 years." Bills says. "And here we are a few years down the road and we're thinking of yet another facility."
Pelican owns some property nearby, and its owners are already thinking if that could possibly serve as a space for new-product development. Or maybe that could be converted to ready-to-load cold storage, reducing some shipping and improving some logistics. Pelican leadership is just starting to look at these options, and probably would have been much deeper into it if COVID-19 hadn't happened.
Another iron in the fire at Pelican is a rotary keg filler, and Bills has a specific KHS model in mind. When the foodservice business rebounds, and with it, draft beer in kegs, that might be a next piece to the puzzle. The facility's existing lines and power systems are already designed to accept it.
"I think we're in a great place, we are where we want to be," Bills concludes. "We've got great new products coming out in January and February of this year that our customers are really excited about. The other project we have going is I'm just finishing integration [late October 2020] on a 100-barrel brewing system. We were turning our 30-barrel, six turns a day, seven days a week. Before COVID hit, we had already started on this new brewing system to supply beer. Once this is complete and fully product-tested, we'll be balanced with our two packaging lines and our keg line for the foreseeable future."
Companies in this article