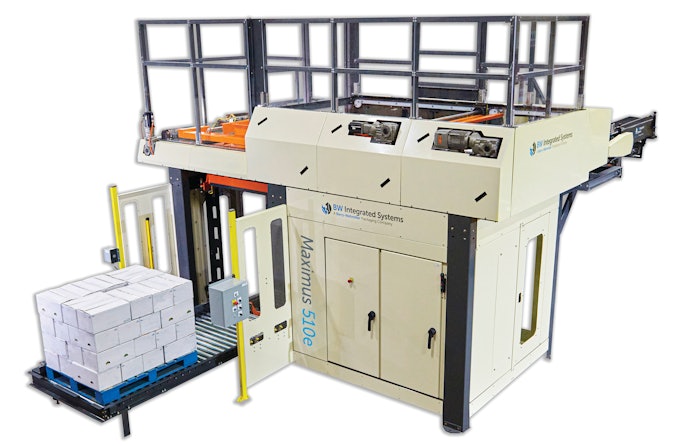 For more than 50 years, BW Integrated Systems, a BW Packaging Systems company, has been a market leader in palletizing solutions for a variety of industries. During that time, they have developed an astute grasp on the palletizing market by listening to customer needs, hiring industry-leading palletizing experts, and continuously developing pertinent palletizing solutions. Through this process, BW Integrated Systems identified an opportunity to add a smaller, more flexible high-level case palletizer to its product portfolio.
In response, BW Integrated Systems has developed Maximus – a mid-speed case palletizer that meets several growing demands for palletizers including greater flexibility, a smaller footprint and reduced operational costs, among others. The state-of-the-art operator interface and compact footprint are among the industry-leading features, but what makes Maximus truly remarkable is that it is 100% electric. 
Making its debut at PACK EXPO Connects, Maximus is the product of customer insights and the top palletizing experts in North America. This palletizer reflects innovative thinking and the experience of a very knowledgeable team. It is more reliable and costs less to operate than other mid-market case palletizers. With Maximus, BW Integrated Systems expects to revolutionize the 30-70 case-per-minute palletizing market. 
To view the demo in its entirety (available through March 31, 2021), and add BW Integrated Systems to your MyConnects Planner, click here.
Companies in this article