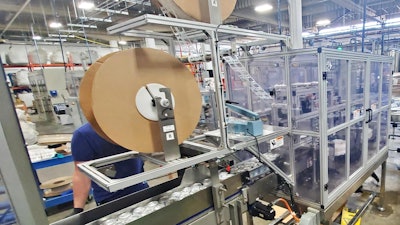 Based in London, Ontario, Canada, Black Fly Beverage Company produces a range of ready-to-drink alcoholic beverages alongside its co-packing services, beverage alcohol production, and packaging sales. With customers across Canada and the USA, the business was looking to automate its previously manual multipacking process for its range of cans.
A G2 multi-packing applicator from WaveGrip, a Berry Global company, was selected for the project, and Black Fly hasn't looked back. The system was specifically designed for medium-volume can multipacking, and at Black Fly, the applicator is packing regular and sleek 12-oz cans and regular 16-oz cans in both four and six-pack cartons, at speeds of up to 245 cans-per-minute (cpm). Operating 24/7, the G2 has replaced a previously manual process and is expected to deliver payback within six months.
"When it comes to the multipacking of cans at mid-range volumes, our research showed that the WaveGrip G2 is the only practical solution in the marketplace," says Martin Kamil, Vice President of Finance and Operations, Black Fly. "Installation was both quick and easy, with the G2 operating straight out of the box. Our multi packing is now fully automated, delivering significant savings both in terms of output and the ability to re-deploy labor elsewhere in the business. We are delighted with the results we have achieved to date."
---
See it Live at PACK EXPO Connects Nov. 9-13: Efficient Pouch Cooling in Submerged Agitated Chilled Water, by Lyco Manufacturing, Inc. Preview the Showroom Here.
---
As well as the improvements in production, the sustainability of the WaveGrip carriers and their continued material development played a large part in the decision-making process for Black Fly.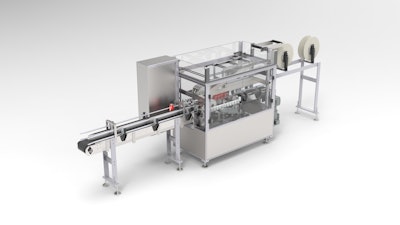 Weighing less than 4g for a standard six-pack, and according to the company, using less material than any other multipacking solution, WaveGrip is the lightest carrier on the market. Additionally, all WaveGrip carriers are fully recyclable in PE film collection streams and meet current U.S. Packaging regulations.
"Knowing that WaveGrip was a part of Berry Global was another important factor in our selection of the G2 applicator," Kamil says. "We felt reassured that the supply of carriers would grow with our business and through the strength of the wider group, we knew we would have access to the latest material developments and sustainable multi-packaging options."
The company says the WaveGrip G2 is competitively priced, can run multiple pack formats, and significantly reduces downtime with its quick changeover times. With the ability to handle both standard and sleek can designs, it has speeds of up 400 cpm for standard, and 325 cpm for sleek carriers.
Designed and engineered by manufacturing partner Massman Automation Designs's automated secondary packaging equipment, the G2 is part of the WaveGrip range of applicators, which also includes the G1, an entry level machine capable of speeds of 80 cpm and the larger G3 model which can handle higher volume packing over 2000 cpm.
"Overall, we have been extremely happy with our choice of WaveGrip," Kamil says. "From the build quality of the machine through to its consistent 24/7 performance, we would highly recommend the G2 to others looking to automate their multi-packing for cans."
Companies in this article
Videos from Massman Automation, a Massman Company