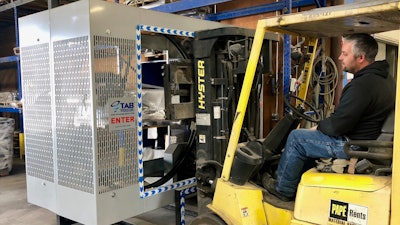 Business continues to boom at Oregon Powder Coating, Tangent, Ore. The regional supplier of powder coating and sandblasting services has grown into a nearly $3 million per year operation with 16 employees serving a range of automotive and agricultural among others. As the company's production volume of powder-coated metal parts and other finished products increased, so did demands on its packaging department to ready finished orders for delivery. An average of 30 pallet loads per day needs to be wrapped and secured for delivery via the company's own fleet of box trucks. Pallet loads had long been raised by forklift and two workers hand-wrapped plastic film around and under the pallet load, bending and reaching as they passed the roll back and forth, carefully keeping the load from falling while avoiding contact with the pallet. Though no one suffered a serious, reportable injury, owner Steve Lewis fielded a number of complaints about how performing this manual process hour after hour was causing back soreness. And while this wrapping procedure is commonly used throughout the metals industry, he set out to preemptively address the situation before anyone could get hurt. "As we got busier, I could see our guys were working faster and it was only a matter of time before something happened," Lewis says.
Lewis also needed to protect his finished products. Though the powder-coating process provides extended wear and weather resistance that allows products to be installed outdoors, powder-coated parts are also sensitive to scratches and scuffs due to mishandling, especially when a part slides or rubs up against another part. Of the roughly 600 pallet loads delivered each month, an average of a part per month would be rejected due to damage caused by the pallet load shifting in transit. It's an impressively low rate; but at an average of $200.00/part with 12 parts per pallet, the cost to recoat a rejected order could exceed $2,000.00, on top of the cost of delaying other orders in process and paying overtime that cannot be billed to the customer. Lewis recognized the manual wrapping process invited inconsistencies in the wrapping that allowed this damage to happen.
"Sometimes, the wrap was too tight and would allow the film to tear, other times the wrap wasn't tight enough and would allow the parts to slide about," he says. "We need to keep the parts secure in place to ensure they arrive safely in the same pristine condition as when they left the building."
Lewis was also concerned that as volume increased, the time and labor required to palletize, wrap, and package each order needed to be addressed to meet tight lead times. Two to three workers typically spent five minutes to wrap each pallet load, sometimes longer, depending on the shape or type of product. Sometimes, pallets were left waiting for wrapping until a worker returned from lunch or a break, which would also leave the other workers idle. The inefficiency in the packaging department tugged at Lewis, who had established a very efficient production process upstream. He investigated a variety of packaging solutions such as horizontal, turntable wrappers and orbital wrappers.
"The turntable wrappers only wrap the products to each other," says Lewis. "We needed to secure our products to the pallet and keep them from sliding off the pallet, so I kept looking."
After reading about a new type of automated orbital wrapper in a trade magazine, Lewis happened upon the company's booth at a trade show and watched it in action. "I immediately liked the idea that one lift truck driver could manage the entire wrapping process without leaving the seat," says Lewis of the TAB Wrapper Tornado. The patent-pending orbital wrapping machine is manufactured by metal fabrication, warehousing, and logistics company TAB Industries, LLC. It automatically wraps plastic film 360 deg around and under the pallet to affix the load to the pallet, creating a single, secure, weather-resistant load that resists shifting in transit. To operate, the forklift driver centers the pallet load in the wrapping ring and presses the start button on the optional wireless remote control from inside the cab. The TAB Wrapper Tornado then automatically wraps the pallet load in multiple layers of film, cuts the end, and signals the end of the cycle, all while the pallet load is raised on the forks. Then the forklift driver simply moves the wrapped pallet to the delivery truck or to the warehouse rack for temporary staging.
Since installing the TAB Wrapper Tornado, the company has not incurred a single injury in the packaging department and Lewis hasn't heard a single complaint about back issues from any of the five machine operators. "All of our lift truck operators think it's much easier than hand-wrapping," says Lewis. "I don't think any of them would ever want to go back to doing it manually, it's just a great machine."
The TAB Wrapper Tornado has also streamlined the wrapping process, reducing it from a two- to three-person job to a one-person job, and freeing workers to manage other tasks such as part production, quality assurance inspections, and even paperwork. As the process now moves faster, more smoothly and with improved efficiency, the company delivers the same number of pallet loads but without the frenzy of activity in the packaging department, according to Lewis.
"Now we can focus more time and attention on part inspections to catch and resolve problems before they become costly problems," says Lewis, "and we've done this without hiring anyone, it's just by using the TAB Wrapper." Lewis estimates the new wrapper, by cutting the wrapping process from five minutes or more to one minute or less, saves 1-1/2 hours per day per person, "which adds up to a quantifiable savings pretty quickly," he adds. And with its consistent, automated wrapping, not one of the thousands of pallet loads wrapped on the TAB Wrapper Tornado has been returned due to product damage.
"We put so much work into the powder coating process up front that it's critical our efforts aren't lost at the end of the line in packaging and delivery," says Lewis. "The TAB Wrapper Tornado has helped streamline our business, save on labor costs, and ensure our products arrive safely every time. It's one of our best investments and we're very happy with it."
Companies in this article