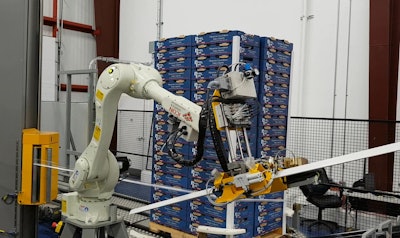 It can happen to any company: settling for a less-than-ideal or optimized packaging process because it's an industry norm or because that's how it's always been done—or a combination of both. So it was for Jakov Dulcich & Sons, a table-grape grower, packer, and supplier in McFarland, CA. However, several years ago, the company departed from tradition and brought grape packing in from the fields and onto the plant floor, automating its operations in the process.
Family-run Dulcich was founded by Croatian emigre Jakov Dulcich, who came to the U.S. in 1960. The company is best known for its Pretty Lady table grapes, which, along with other varieties from Dulcich, can be found in most supermarkets across the country. Its grapes are also exported globally to countries that include Australia, Indonesia, Vietnam, Thailand, and Mexico. The company is now led by sons Nick and Peter, who oversee 6,000 acres of vineyards and a multimillion-dollar, state-of-the-art storage and distribution center.
As Jacob McCaa, General Manager of Dulcich, explains, the company is somewhat of a leader in the area of in-house packing. Traditionally, grape packing takes place right in the fields, as workers manually pick grapes from the vines and bring them by wheelbarrow to another person who cleans, weighs, and packs them in the vineyard. But changes in the industry prompted new thinking at Dulcich.
"Table grape growers have a traditional way of doing things," says McCaa. "A lot of people don't want to change what they're doing because it's always worked. But with wage laws changing in California and with new food safety regulations, we realized we had to start thinking differently about our packing operations."
In 2017, Dulcich began packing grapes in-house, using a single packing and weighing line from U.K. supplier Marco Limited that was later expanded to four lines. Now, operators pick loose grapes from totes filled in the field and pack them in clamshells, punnets, or bags on tables that incorporate digital scales. After that, the primary packs are manually case packed and conveyed to the palletizing area—initially a manual process.
Among the advantages of in-house packing, Dulcich can now pack its grapes in a more controlled environment, ensuring a high level of food safety. It also gives the company the ability to guarantee the weight of the packaged product. "We're trying to eliminate some of the overpack you see in the field, so we're not giving away grapes. But we're also guaranteeing the customer gets the right weight," says McCaa. "For example, we sell a 1.5-pound bag of grapes to Target. Now we can ensure their package is going to be at the weight they're selling it for in the market."
When installing the three additional lines, Dulcich decided to automate palletizing as well. "Peter [Dulcich] and I started to do some math to figure out what we could do to improve efficiency levels, and we realized there were a lot of people stacking boxes," recalls McCaa. "So the first thing we thought to do was to get either a robotic palletizer or some other different type of palletizer to automate that part of the process."
Automated palletizing was an entirely new realm for Dulcich, as it would be for any grape grower used to packing in the field. Therefore, the company didn't have many resources in other grape packers to guide them. "The hardest part was that there were no real set examples," says McCaa. "There were other industries and commodities that were doing it, but grapes are a little different because of their delicacy and the way you have to handle them."
Grape boxes are also unique in that they are designed with tabs that interlock when one case is packed on top of another. "So, if you don't get the tab directly into the slot from the next box, your pallet starts to fall," says McCaa.
In selecting a palletizing system, Dulcich not only needed one that could handle the delicate product without damage and stack the tabbed boxes precisely, but also one that could fit in a designated footprint, could keep up with the speed of the lines, as space for accumulation was limited, be flexible and programmable for four different case sizes and two pallet patterns, and integrate a corner board/stretch-wrapping station. Cost, McCaa adds, was not as much of an issue, as "the owners wanted this done in a certain way with the outcome they wanted."
Learning that ICON Robotics had experience with grape boxes, Dulcich looked to them for the best solution. ICON recommended robotic palletizing with two Kawasaki CP-180 four-axis robots and a Kawasaki RS020N six-axis articulated robot for corner-board placement.
Now, rather than being manually placed on a pallet, cases are picked by the robots using an end-of-arm tool customized by ICON that is fitted with finger-like paddles that first squeeze the sides of the boxes, and then the ends, "like a hand grabbing," explains McCaa. As opposed to some other robots that drop cases onto a stack, the Kawasaki robot gently places the boxes one on top of another, preserving the integrity of the grapes. A photoeye in the robot head allows it to precisely stack the tabbed boxes so they interlock securely. Robots pick two or three boxes, weighing a total from 20 to 22 lb, at one time, as Dulcich uses a "two-three pallet pattern," says McCaa.
Each robot is fed by two packing lines. At any time, the four lines can be packing different grape varieties and/or package types that each are stacked on their own dedicated pallet. For example, if Palletizer 1 is being fed by lines A and B, the robot will take a case from the conveyor leading from line A, put it on a pallet to the right, and then pick a case originating from line B and place it on a different pallet to the left. The process continues back and forth like this until both pallets are complete.
Once the pallets are fully loaded, they are conveyed along a single "backbone" that carries them to the corner-board applicator/stretch wrapper station. The addition of corner boards to the pallets gives them the stability needed for stacking in cold storage. During this process, while the pallet sits on a turntable, the Kawasaki CP-180 robot picks a corner board from a magazine and places it on the nearest edge of the pallet, after which a small plastic arm comes up from the turntable and pinches the bottom corner of the board to hold it in place. The turntable then rotates a quarter turn, and the process repeats until all four corner boards are applied and all four corners are pinched by the stretch-wrapping arms. Once the film has wrapped around enough of the pallet to hold the corner boards in place, the arm releases.
During stretch wrapping the table rotates, and the film is wrapped around the load—first from the bottom to top, and then from top to bottom. Dulcich uses a banded wrap, comprising 2-in. bands of film, rather than a film that covers the entire load, resulting in gaps that allow the grapes to breathe. Once a pallet is wrapped, it is ejected from the turntable, and an operator picks it up with a forklift and moves it to a storage cooler.
According to McCaa, depending on how clean the grapes are and how quickly operators pack the grapes, each line can reach speeds to 425 boxes/hr, resulting in five pallets/hr/line. "It actually moves pretty quickly," he says. "It's pretty hustle and bustle."
At the same time that Dulcich automated palletizing, it also added robotic depalletizing at the beginning of the line, installing another Kawasaki CP-180 four-axis robot from ICON to pick the plastic totes of grapes fresh from the field from a pallet and place them onto a single conveyor that leads to the four packing lines. There are four different totes on four lanes from which the robot can pick that correlate with the four packing lines. Signals are sent to the robot from areas on the conveyor line that tell the robot when a line needs more fruit sent.
Since Dulcich moved from manual depalletizing and palletizing, McCaa says the company has seen a number of improvements. "Productivity went way up, since these robots don't take breaks, they work all day, every day, and they never stop," he says. "It also moved some of the jobs we had. Now, instead of people stacking cases all day, we have a few people we can pay a bit more to supervise the robots. Injuries have also been reduced, as we don't have operators trying to stack 20-pound boxes all day.
"Also, we used to have to take the pallets to a different area for corner-board application and stretch wrapping. Now, everything is within the same footprint, so as it comes out of the robotic cell, it's completely ready to either get shipped or stacked. There's no other place you need to take the pallet afterwards."
Read the full article, "Packagers Realize ROI with Robotics," here.
Companies in this article