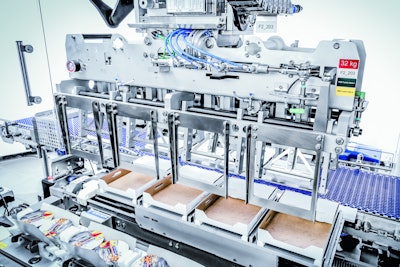 Juustoportti, a producer of dairy products located in Jalasjärvi in western Finland, was looking for an innovative solution to enter new retail markets. Over the past 50 years, family-run Juustoportti has evolved from a small dairy producing cheese into a company with more than 150 employees and an annual turnover of approximately 40 million euros. Over time, the company added to its selection of traditional Finnish cheeses a wide range of dairy products such as yogurt and quark, positioned under its own brand as well as under private retail brands. The Jalasjärvi site uses production technology that is among the most modern in the country.
In 2014, Juustoportti received an inquiry from a major retail customer to pack yogurt and quark in two- and four-count multipacks. Previously, they had packed yogurt and quark cups of varying diameters in standard cartons that each contained 10 cups. Juustoportti now had to find a machine to handle the request from its retail customer that would be able to package cups in paperboard sleeves as well as six-count cartons, in addition to the 10-count carton.
Juustoportti chose to partner with Gerhard Schubert GmbH Verpackungsmaschinen, which provided a customized, modular machine concept that allows for the flexible packaging of various pack formats and sizes.
Modular machine provides flexibility
Juustoportti owner Timo Keski-Kasari connected with Schubert for the first time at the Anuga FoodTec show in Cologne, Germany, in 2014. There, he shared with them the packaging challenge to be solved. In response, Schubert developed a detailed concept with various proposals and invited Juustoportti to its plant in Crailsheim, Germany.
Following a reference visit to the Alois Müller dairy company—a long-standing Schubert customer—Keski-Kasari was sure he had found the right partner in Schubert. Juustoportti opted for a TLM packaging line consisting of three modules that together allow for paperboard sleeve wrapping or carton filling and tray packing. The key components of the system include four TLM-F2 two-axis robots, two TLM-F3 three-axis presentation robots, and two Transmodul single-axis, rail-based transport robots. Together, Schubert says, these components ensure high flexibility in a small footprint.
The packaging process begins as filled and sealed yogurt or quark cups are carried in a row on a conveyor belt. By means of a grouping chain, the cups are pre-grouped in clusters of eight. During the infeed, a camera check ensures that cups without covers are rejected.
In the first module, a TLM-F3 robot removes the paperboard sleeves from the magazine and transfers them to the erecting robot. This TLM-F2 robot positions the open sleeves in a holding device on a Transmodul robot, which carries the sleeves to the next sub-machine. Simultaneously, the clustered cups are conveyed to the loading station.
In the next sub-machine, a TLM-F2 robot picks the clustered cups and places them in the sleeves. These are closed in the third module. Meanwhile, a TLM-F3 robot picks up the tray blanks and transfers them to an TLM-F2 robot, which accepts and erects them. The final TLM-F2 robot then closes the sleeves and transfers them into the awaiting tray. Since the system packs the cups in sleeves and then immediately puts them into the trays, the Schubert system requires significantly fewer interfaces than similar solutions, resulting in higher efficiency.
Another special feature of this project is the way in which cups are placed in cartons of 10. The cups had to be positioned in the cartons so they would not slip during transport. The Schubert solution consists of folding the bottom of the carton so that the individual cups are fixed on four sides—a unique solution proposed by Schubert's packaging development team.
Formats packaged on the TLM system include a four-pack sleeve of 75 x 60-mm yogurt cups, two-pack sleeves of 95 x 42-mm and 95 x 58-mm quark cups, six-unit cartons of quark cups, and 10-unit cartons of yogurt.
The system produces approximately 128,000 cups over two shifts, with a four-pack sleeve running at 200 products/min, a two-pack at 160/min, and single cups at 200/min.
Companies in this article