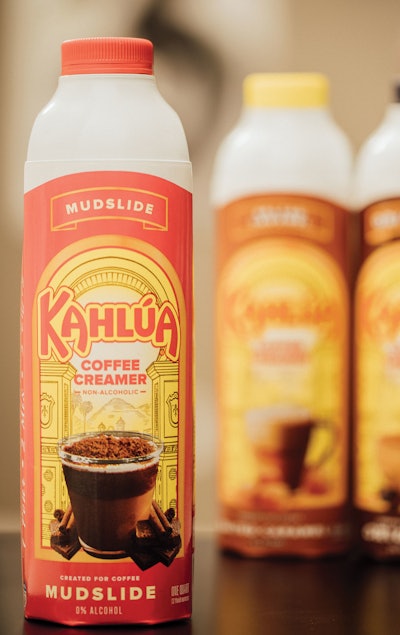 Gossner Foods Inc. is a growing, family-owned dairy product co-manufacturer with two locations in the Western U.S. Production facilities in Heyburn, ID, and the original location in Logan, UT, combine to produce a fifth of the nation's Swiss cheese, mostly via private label co-manufacturing channels.
But since 1982, the Logan location has also been home to an ultra-high temperature (UHT) milk facility producing shelf-stable milk products. Milk is heated to 285º F to sterilize it, a step beyond pasteurization, and is then packaged aseptically.
In 2017, the company added North America's first Tetra Pak A6 filling machine, designed to form, sterilize, and fill the 32-oz. Tetra Evero Aseptic carton bottle. With this new line, Gossner is carving out a niche in a burgeoning market, and chipping away at a currently tepid U.S. appetite for shelf-stable dairy products. By and large, Americans don't yet abide milk they perceive to have been left out of the refrigerator, even if they know it's safe.
"Almost every region outside the U.S. has embraced the notion of shelf stability in traditionally fresh foods, especially with dairy," says Kelly Luthi, Vice President of Aseptic Operations, Gossner Foods. "In recent years, the U.S. has begun to come around to shelf-stable packaging for plant-based products, chicken broth, and some other things, but not quite yet for dairy. But we feel like it's continuing to grow, and because the market is so new, there are still a lot of opportunities out there that we're trying to get ahead of. Ultimately, the goal is to get people to drink more dairy, and shelf-stable UHT milk is a route to doing that."
Four focus areas
While many regional American notions about what constitutes fresh milk currently preclude shelf-stable formats from breakfast and lunch, the core daily usage occasions, that's certainly not the only liquid dairy game in town. Gossner is taking aim just outside of the center of the daily-use milk bullseye to find inroads to adoption.
"It's interesting to see all the different types of dairy-based drink products that they have in Europe—there have to be 20 or more. There are products to help you go to sleep, products to help you wake up, and everything in between. And they're all in dairy-based, milk-based products that are given additives to give them their function," Luthi says. "With the help of Tetra Pak, we identified four different areas where we could succeed here in the U.S."
The company's four-pronged strategy spans all age groups. Fortified, milk-based drinks addressing bone health and osteoporosis prevention have a strong pull to women. In fact, baby boomers in general are looking to vitamin- and mineral-fortified dairy drinks to maintain health. Also, dairy drinks with specialty formulas promoting fast recovery and nutrient replacement are increasingly accepted in active lifestyle and sports communities, where sweeter options once reigned. Lactose-free products for the lactose intolerant tend not to carry the same consumer preference for cold or chilled, and the market segment targets a consumer that, out of necessity, tends to be more informed. Finally, parents of toddlers or young school children are drawn to the health implications of fortified milks, plus the convenience of refrigerator-free transportation.
Importantly, shelf-stability doesn't preclude these products from being sold in a refrigerator, chiller, or cooled grab-and-go case. This can reassure guarded consumers without sacrificing supply chain and inventory advantages that shelf stable products carry for retailers.
Thinking beyond retail, Gossner sees potential for aseptic, shelf-stable milk products in areas like e-commerce, though shipping costs tend to far outstrip the cost of the milk itself. The company also works with meal-kit purveyor Hello Fresh, competitor to Blue Apron, and sees long-term legs in that market.
"And to be honest, we've wondered whether we should launch—either under our own brand or a brand for whom we private label—a version of this 32-oz. Tetra Evero Aseptic package with just regular UHT milk," Luthi says. "We've actually gotten some decent responses when we've pitched it, and we think it would work in the right market, maybe on the East Coast or in Florida. I don't think we're ready for daily use shelf-stable milk nationally, but if we pick our spots, it could work. The Tetra Evero Aseptic design just looks and feels like a milk carton."
Matched goals
Tetra Pak's European experience with the Tetra Evero Aseptic design, alongside its research into the U.S. market, revealed opportunities that closely tracked with Gossner's targets.
"The idea behind Tetra Evero Aseptic is to meet new needs in the market that are driven mainly by demographics, ease of access to information, and changes in the value chain that generate new behaviors," says Pedro Gonçalves, Vice President of Marketing, Tetra Pak. "People need different things than they used to. We need to be able to address those needs, and we need to stand out when addressing those new needs. Evero was designed to meet consumer nutritional, sustainability, and lifestyle needs. We see those same factors reflected in what Gossner is trying to do."
Tetra Pak identified several modern trends to which it believes the Tetra Evero Aseptic is well suited. Convenience, functionality, and the "whole-self" health concept are all mirrored in Gossner's target markets, making the two companies a good fit for the Tetra Evero Aseptic enterprise. More specifically, with Tetra Evero Aseptic fitting nicely into categories like value-added and enriched milk, flavored milks, dairy-infused coffee, dairy creamers, and dairy alternatives, it became clear to Gossner and Tetra Pak that goals were well aligned. Plus, the Tetra Evero Aseptic scratches a growing sustainability itch in the U.S. that's slowly catching up to Europe's.
In a peer-reviewed Life Cycle Analysis conducted by Ifeu (Institute for Energy and Environmental Research) in Germany in 2010, the package showed a 24% to 30% lower carbon footprint versus PET and HDPE containers of a similar weight. The body of the carton bottle is constructed of Forest Stewardship Council (FSC)-certified paperboard, and the components of the container can be easily separated by the consumer for recycling.
"We have a strong environmental profile. As any carbon-based package, Tetra Evero Aseptic has a high percentage of renewable material—most of this package is made from renewable material. But we can't just look at the material, we have to look into the whole value chain, and how it impacts the value chain. For instance, by maintaining roll-fed paperboard design, the Tetra Pak A6 machine saves a lot on logistics. Also, our sourcing is all from FSC, it's always certified material," Gonçalves says. "That's how we see the environmental question. It's not only in the package itself, but in how we affect the whole value chain until the moment we recycle the package."
Taking the plunge
Gossner has long partnered with Tetra Pak on flat-packed lines of juice box style-packages and lactose-free formats, but the larger, carton style package more recently came onto its radar.
"Ten years ago, in Europe, company owner and president Dolores Gossner and I first saw a carton called Tetra Top, which uses an injection molded top like Tetra Evero Aseptic now does," Luthi says. "We liked the looks of it, we liked the size of the opening for a good pour. It looked more like a refrigerator-ready package—just without it needing to be refrigerated. We really felt like it could be more mainstream, and look more like what customers had conventionally purchased in the past."
A few years later, in 2011, Tetra Evero Aseptic debuted in Spain's Corporación Alimentaria Peñsanta S.A. (CAPSA). After some market research and strategizing, Tetra Pak and Gossner agreed that it was time to strike in the US market.
"It's just been crazy, the amount of interest in this package, but it just didn't seem like any brands wanted to be first to secure machine capacity," Luthi says. "So, it was a little bit like the movie line, 'If you build it, they will come.'"
And come they did. First it was Diversified Foods and its Kahlua-brand coffee creamer. Shortly thereafter it was High Brew's coffee drinks. Interest only continues to grow, and new brands are looking for machine capacity.
The Tetra Evero Aseptic design
The package structure combines the body of a liquid carton with the top of a plastic bottle. It is designed to combine the environmental advantages of a paperboard-based carton with the easy handling and pouring benefits of a bottle.
The carton body is a multilayer laminated construction of polyethylene, aluminum foil, and paperboard, supplied in rollstock. The neck material is made from a white low-density PE, while the closure, available in a variety of colors, is made from polypropylene.
"The package itself is a selling point," says Tab Damiens, Chairman, Diversified Foods, licensor of Kahlua-branded coffee creamers. "It's innovative, and no one in our market has anything that's close to this. We feel this package style will open up a huge number of consumers that have not ventured into the shelf-stable category. So, we are extremely excited about the launch of the product as well as the package. We're staying with the high-end products, obviously, since the package lends itself to high-end products."
Forming the Tetra Evero Aseptic carton in the Tetra Pak A6​ machine
Tetra Evero Aseptic carton blanks are separated into single units inside the machine, so Gossner can take advantage of roll fed materials' distribution and storage efficiencies. During operation, rolls of printed carton material (9,000 packages/roll) are loaded manually into the machine. The dual-lane filler accommodates two rolls on each side, or four rolls total at any given time. When one roll is finished, the system automatically changes over to the next thanks to an automatic splicing unit. Running at about 10,000 packages per hour, at 9,000 packages per roll with an automatic splice, manual roll replacement is only needed once in roughly every hour and 45 minutes of uptime. The machine can produce 40 million packs per year at the run rate of 10,000 per hour, or 5,000 on each side of the dual-cycle machine.
"Both sides are still operating on the same filling tank," says Ulf Attevik, Business Development Director, Tetra Pak U.S. and Canada. "But the dual-cycle nature allows Gossner to run two different types of paper board on the same product, or two different brands at once, as long as they're filling the same product. This can be useful for regional store brands where the only difference is the logo on the paperboard, for instance."
In the first process, a strip of plastic from a reel is applied to the edge of the rollstock material that will later weld the two sides of the package together. Next, the material is cut into individual sheets from which the cartons will be formed. Sheets are then wrapped around a mandrel wheel onto which the caps have been applied, and the edges of the carton are welded together using electronic high-frequency induction sealing. Sensors recognize and reject any packages containing a splice between two rolls. The mandrel with cap and carton body is then indexed to the injection-molding station, where the plastic bottle portion of the package is constructed.
For this step in the process, Tetra Pak developed a new injection-molding process. Attevik notes that a typical injection-molding process takes from three to six seconds, but by simplifying the process, Tetra Pak reduced that time to less than 1.5 sec.
"This is the fastest injection molding in the world, as far as I know," he says.
Simplification was achieved by creating a mold with only two parts—inner and outer—and integrating the injection-molding module into the filling machine itself. In addition, the carton sleeve is present in the mold when the hot plastic is injected, meaning that the three separate components—plastic cap, plastic top, and carton body—are fused and sealed as part of the process.
According to Attevik, while the mold is simple, the engineering required to deliver it was not. "One of the most complex challenges involved development of the 'hot runner,' which injects the plastic into the outer mold," he says. "To ensure consistent quality, the plastic must be injected symmetrically and heated to 210°C. If the temperature is too low, then the seal might leak; too hot and the molded top might deform. We're pushing through the exact same amount of melted plastic granulate, at the exact same temperature, so it's the same every time."
Applying a systematic failure-mode approach to identify any factors that could negatively affect the equipment, Tetra Pak engineers and an external specialist created a unique hot runner using four inlet valves to deliver the plastic symmetrically and at precisely the right temperature. The resulting system allows for the manufacture of very thin-walled plastic tops with reduced running time and the need for very low forces. Low force reduces the injection-molding cycle time, which increases capacity while reducing wear.
Sterilizing and filling formed cartons
After the carton, bottle, and cap are fused together, the preformed package moves to the machine's aseptic chamber, where it is rotated so its open end is facing up, and the carton bottle is sterilized.
Tetra Pak came up with a completely new gas-phase sterilization method for the uniquely shaped Tetra Evero Aseptic carton. According to Tetra Pak, with a traditional brick-shaped aseptic carton, materials come "flat-packed," meaning they can be aseptically sterilized before they are formed into shape. In a flat-packed process, rolls of carton material pass through a hot liquid hydrogen peroxide bath that kills off bacteria. The hydrogen peroxide is then removed from the packaging material using pressure rollers and hot air. But the Tetra Evero Aseptic is preformed, not flat-packed, requiring a different approach.
According to Attevik, most existing technologies for sterilizing preformed shapes have relied on a gas-condensation process, where gas is allowed to condense on the material surface. But this requires that it remains within very specific operational limits, which can be complex and difficult to control. The alternative gas-phase sterilization approach, where packages are preheated to avoid condensation, offers benefits, but Tetra Pak says it had never been applied to a carton bottle before the Tetra Pak A6 machine.
Tetra Pak engineers applied the gas-phase sterilization technique in new ways. Packages pass through a unique aseptic chamber in pairs where they are exposed to hydrogen peroxide in gas phase. Hydrogen peroxide comes into contact with the whole preformed package, both inside and out, removing any contaminants that might have been present before entering the aseptic chamber. The gas is forced into a cyclonic action to contact the inside of the carton all the way to the bottom, which is actually the neck finish because the bottle is in an inverted position. Then the gas evacuates up the middle center of the package, away from the internal walls, and is then vented from the package.
To deliver this solution, Tetra Pak used advanced modeling techniques to develop a completely new form of aseptic chamber, in which a uni-directional airflow creates a "virtual barrier" between the sterile zone and the non-sterile zone, protecting the critical aseptic area.
After the peroxide gas is vented from the package, the carton bottle is filled via four filling heads—the dual-line filler design has two sets of four heads working in tandem, so eight heads total, with four per lane.
"We can trace every Tetra Evero Aseptic carton from this line back to either one of these two lanes, so if there is an event, we can check if it was filled in the left or right lane," Attevik says.
Each head operates differently. The first filling head in each lane sprays the milk most aggressively at the highest volume, and the remaining three heads progressively fill more slowly and less. This graduated filling method eliminates bubbles and reduces splashing near the end of the fill, which would make the bottom of the carton wet and difficult to seal.
Finally, in a two-stage process, the bottom flaps of the carton are folded along pre-creased demarcations, and the carton is then sealed using HF welding. Filled, sealed packages are then rotated 180 deg to stand upright and exit the machine onto outfeed conveyors that keep the output of the two sides of the machine separate.
Exiting the Tetra Pak A6 into downstream equipment
Immediately after exiting the filling machine, packages are coded via two Domino A300 ink-jet dating units, printing best-before date, batch number, and any other traceability-minded information a Gossner customer may request. At a fixed time or according to volume increments, the conveyor automatically diverts a package to a separate lane, for package integrity and microbiological product testing.
After coding, each lane of packages exits the filling room and moves into secondary packaging, first entering one of two Tetra Pak Accumulator Helix 30 machines. The units provide first in, first out accumulating and can hold up to 40 minutes' worth of product.
In the case of both lanes running a single package brand and style, which is most common at Gossner, a converger will then merge the two outfeeds from the Tetra Pak A6 filling line into one lane. It has to do so to match the infeed speed of the next piece of equipment, a modified version of the Tetra Pak Cardboard Packer 30 Speed.
This case packer is designed specifically for the Tetra Evero Aseptic carton. In its current configuration, Gossner uses the case packer to pack wraparound cases in 2x3, 2x4, 2x5, and 3x4 formats.
Integrated Fanuc robotic palletizers organize Tetra Evero Aseptic packs into stacks five layers high. The number of packages/pallets varies depending on packaging pattern and pallet type. Pallet wrappers from Wulftec and Lantech complete the packaging line.
Right sizing
In a world that seems to be moving toward the single-serving size, the first question that potential customers ask Luthi and Gonçalves alike when looking at Tetra Evero Aseptic design is invariably, "Is that going to come in different sizes?"
"Well, depends on demand but the 1-L [32 oz.] size, we believe, is the right one for the proposition, or the need that we have today in this diversification of the market," Gonçalves says. "And why not? It's very common today that in a single family, everyone will have a different need."
He depicts a family where kids might be playing soccer and needing to recover from a game with an energy boost. Or other less active older siblings might be looking to lose weight. Or there might be vegetarians in need of vitamin additives or fortifications. Or maybe parents are seeking to build bone health.
"Our research shows that we have a lot of different kinds of families, and there's a need to create a different diet for each member of the family. You don't do that by buying large amounts of food. You're going to use smaller amounts because you have to dedicate that for different needs inside the family. But you can't single-serve everything, that's too much packaging waste. That's where the size comes in. We believe, and Gossner believes, that 1 L [32 oz.] is the right size to have this kind of portion to address those needs," Gonçalves says.
Beverage growth accelerates
Anew report conducted for PMMI Business Intelligence by ITR, the Quarterly Economic Outlook Planning Report for First Quarter of 2018, says U.S. beverages, coffee, and tea production transitioned to an accelerating growth trend in September 2017. Production was up 0.4% compared to the year-ago level and is trending along the lower end of the forecast range.
Leading indicator evidence suggests that production will return within the forecast range during the next quarter. The forecast is unchanged since the previous report.
Expect production to generally rise through year-end 2019, albeit at a slowing pace in 2019. The coffee and tea production component of the broader U.S. beverages, coffee, and tea production is slowing in growth. But in general, U.S. beverage production is accelerating upward on a year-over-year basis (quarterly data). Look for opportunities in the beverage production industry, which includes soft drinks and distilled beverages, to take advantage of growth in this sector.
Download the entire 20-page free report, covering a variety of industries such as food, personal care, beverage, pharmaceuticals, and medical device, at pwgo.to/3348.
Companies in this article