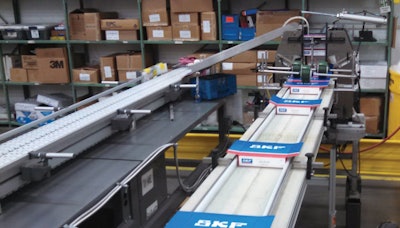 Increased production, reduced labor costs, and improved carton appearance were all achieved recently at CoLinx, LLC, when a versatile and small-footprint cartoning machine was installed.
Operating out of Crossville, TN, CoLinx is a distribution and logistics operation that also does packaging and shipping. The products being cartoned in this particular case are bearings used in the power transmission products industry. These come in a variety of sizes, they're packed one per carton, and they can weigh as much as 35 lb each. Once cartoned, they get palletized and sent to a distributor.
For long runs of 1,000 pieces or more, CoLinx has automated systems in place, and this part of their packaging remains the same. But for runs that involve 70 parts or less, the firm had been relying on operators to manually load a bagged part into a carton and then put it through a strapper to close it. In addition to the cost involved with such an approach, says CoLinx General Supervisor Kris Henderson, the straps would occasionally break. Clearly there was room for improvement in their short runs. The solution swam into view in a meeting Henderson had with packaging equipment representative X-Cel Systems (Phone: 931/456-6889).
"Tom O'Handlen of X-Cel introduced us to the Econocorp Twin Seal," says Henderson. "It proved to be ideal for our application because it offered an economical machine that had a small footprint and was very versatile to handle our many carton sizes."
Since the Twin Seal was installed about a year and a half ago, bearings are manually bagged in a material that includes a rust inhibitor. The operators then manually place the bagged bearing in a manually erected carton and put the carton on the infeed conveyor leading to the cartoner. The cartoner operates on an upstacking basis. That is, when the carton first enters the machine, it pauses in a station where glue fingers daub dots of glue on the left and right flaps. The carton is then upstacked into a compression chamber immediately above. After a few seconds of dwell time, the carton is upstacked again so that it can slide down a discharge conveyor for conveyance to manual palletizing.
"With so many customers going to smaller order sizes, I had to find something quick to set up and easy enough to learn that I could take an employee with minimal experience and turn 'em loose on it," says Henderson. "It's worked out great. Get it tuned in and it just goes."
In use at CoLinx are cartons made of either E-flute corrugated or of 27- or 32-pt paperboard. Their cartons can range in size from a minimum of 122 mm L x 48 mm W x 122 mm D to 242 mm L x 56 mm W x 242 mm D.
"It's a semi-automated cartoner, so you still need people to operate it," says Henderson. "But in our case it's one or two instead of five. Big improvement."
Watch additional video related to this article at pwgo.to/1569
Companies in this article