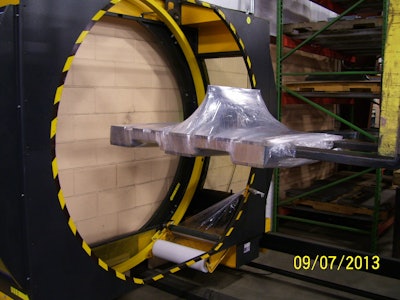 Improving warehouse efficiencies is a top concern for many manufacturers today. With a 70,000 square foot steel fabricating facility in Fairless Hills, PA, Waste Gas Fabricating's challenges were no different. From laser and plasma cutting to forming, machining, and delivery, the company provides a one-stop-shop for all steel fabricating needs. In 2012, with increasing production demands and a strong commitment to their customers of ongoing cost reduction through operational efficiency, the company set out to expand their shipping and receiving departments. The additional space allowed Waste Gas to incorporate more racking to support its over 400 customers. It also created a more productive shipping and receiving department. The new layout also gave room for a new piece of equipment—ITW Muller's 87M Yellow Jacket orbital stretch wrapper.
Just one month after the warehouse renovations were complete, the Yellow Jacket was on the floor. The new stretch wrapper replaced the need to hand wrap over 500 skids a week. Increased productivity and the ability to service their customers more effectively were immediate benefits of the machine. In addition to the positive impact in their operations, they enhanced the safety environment of their employees. Hand wrapping is a tedious process that can cause employee injuries. Lifting the 30-50lb rolls of film every day and bending in awkward positions to apply the wrap can lead to back strains or pulled muscles. Waste Gas, which is an OSHA "SHARP" certified company, knew the Yellow Jacket would eliminate employee injury from hand wrapping and also help improve productivity.
"With the Yellow Jacket we are now wrapping 4 skids in the time it took to wrap only one by hand," says Kyle Cloman, President/CEO, Waste Gas Fabricating Co., Inc. "Coupled with the fact the job can be done by one employee instead of 2-3, we have already seen a return on this investment and paid for it in savings."
The Yellow Jacket also allows for greater wrap consistency. Applying the right amount of film tension and wraps to a load is a challenge to do manually. To put it simply, most stretch wrapping machines have a tension adjustment that affects how tightly the load will be wrapped. It is important because if you don't apply enough tension then you run the risk that the loads will topple over in transit. If you apply too much tension it can "squeeze" the film too tight around the load and damage the product or increase the probability that the film will break. When film breaks occur it is common for operators to "fix" any stretch wrapper issue by lowering the tension. By applying just the right amount of tension, manufacturers can rest-assured that they are reducing product damage while simultaneously lowering film costs. With hand wrapping there is also a tendency to apply extra wraps to ensure stability, therefore increasing material costs. In addition, employees will naturally tire throughout the day, so that tension applied in the morning is often greater than tension later in the day. The Yellow Jacket eliminated any inconsistencies from hand wrapping and helped Waste Gas considerably save film.
"We continued to use the same stretch film as before, but the machine allowed us to cut our film waste by nearly 50%," says Cloman.
However, incorporating new machinery can cause trepidation among employees. There is usually some level of uncertainty when new equipment comes into a facility. Training and implementation can take considerable time and effort too. But the Yellow Jacket is truly intuitive--a fact that was not lost on Waste Gas.
"We decided to install the Yellow Jacket ourselves," Cloman continues. "We had it assembled and wrapping in about 3-hours. It is really easy to use and the guys in the shop love it. We've nearly tripled our business over the years and the Yellow Jacket is helping us meet customer demand. We could probably use a second one soon."
Companies in this article