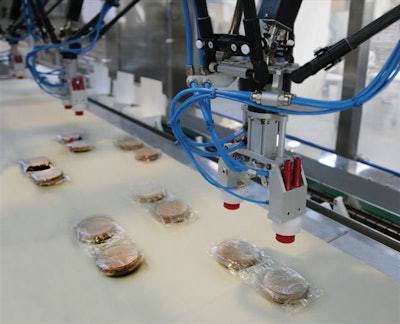 Located just south of Johannesburg, Karan Beef is a leading supplier of high-quality beef products in South Africa. In recent years, the firm has seen so much growth in sales of its frozen hamburger patties, an upgrade in packaging operations was essential.
Karan turned to USS Pactech for the packaging equipment it needed. That firm represents both Cama Group and PFM, two well known Italian packaging machinery OEMs that Karan identified as the answer to its requirements. From PFM came three Zephyr flow wrappers. And from Cama came the following: a Model FA 024 carton forming machine, four in-line Triaflex Delta Robots, and one Model CD 058 carton closing machine.
"We had a limited space available in the plant out of which we needed greater production," says Gavin Paton, Technical & Production Manager at Karan Beef. "Before this equipment arrived, we were putting the factory through 20-hour days to keep up with demand. Now we get more production out of a single-shift day. And we have capacity available that will let us continue to grow. On top of all that, we have been able to put 45 people into more meaningful positions elsewhere in the company."
The individual patties, each one weighing 50 g, are frozen in two spiral freezers just ahead of the three flow wrappers. Karan always wraps the patties in pairs in a single layer, one ahead of the other. Clear biaxially oriented polypropylene is the film applied by the PFM wrappers.
As Figure A shows, the six key pieces of packaging equipment are arranged in a tight configuration that lets both frozen beef patties and cartons flow smoothly into the robotic cell and lets filled cartons flow into the carton closer. Each of the three Zephyr wrappers is set to handle 200 patties/min, and the robotic cartoner accepts their combined output of 600/min. But if one flow wrapper should go down, the other two compensate by ramping up to 300/min each.
Conveyor transition
The flow-wrapped patties enter the Cama robotic cell on three conveyors, each one connected to a flow wrapper discharge upstream. Parallel to the conveyors carrying the patties is a single conveyor carrying cartons from the Cama carton erector upstream. Because Karan needs to pack the patties in about seven different formats, the carton erector takes modular magazines that can be quickly plugged in. So a new carton size means a new carton magazine.
Cartons can be either paperboard, E-flute corrugated, or B-flute corrugated. One carton designed by Cama has a gusset-type reclosure feature that foodservice institutions and catering companies find useful.
A vision system identifies the randomly positioned flow-wrapped patties and sends that information to the Siemens controller. The controller then sends outputs to the Bosch Rexroth servo drives and motors that actuate the robots so that their end effectors can accurately pick paired patties by way of vacuum pickup cups and place them gently in the waiting cartons. Carbon fiber composition makes for lightweight arms that are quick and precise. According to Cama, because all machine functions are integrated in one control system, the number of interfaces and component costs are reduced. This integrated approach also simplifies operator and maintenance engineer training.
Looking back now that the robotic solution has been up and running for about a year, Paton says "It's been a brilliant project. Perhaps the biggest challenge we had was getting technical staff working in the factory to understand that these machines are like your TV set at home. Once a TV set is installed and connected, all you do is switch it on and select your channels. It was a matter of getting them to overcome their need to intervene. They had to realize that these machines work without human intervention other than having to change the modular carton feed magazines and some tooling when there is a carton size change. The machines are even set up for remote diagnostics with Cama or PFM people in Italy. Cama and PFM provided a terrific solution."
Companies in this article