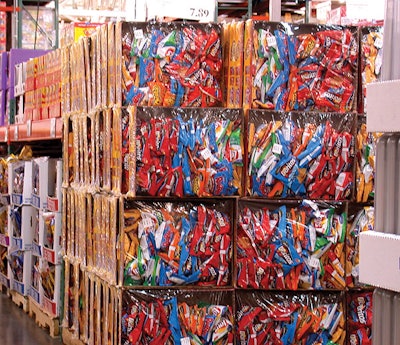 Costco Wholesale president Jim Sinegal once said that retailing is part show business and part sex appeal. That's why the packaging that carries products through the retail chain has to be a whole lot more than copy on a brown box.
One tactic retailers use to deliver excitement in their stores is to create a "treasure-hunt" atmosphere. It means surprising the shopper and delivering new experiences throughout the store. Simon Williams, CEO of the New York-based Sterling Group, sees it as the "the pinball effect that keeps customers bouncing back and forth throughout the store." The Sterling Group is a leading brand consultancy.
Right now, the treasure-hunt approach is being used at both ends of the retailing spectrum—in upscale club stores such as Costco and, at the other end, in dollar stores. Importantly, packaging can be a tactic that helps sell brands in the treasure-hunt environment.
Costco is a recognized master of the treasure hunt. It rotates merchandise enough so that each shopping trip is different, according to the report "Club Store Packaging & Beyond," published by Packaging Strategies.
A typical Costco store carries 4ꯠ stockkeeping units (SKUs), and about 1ꯠ of them change regularly as part of the treasure-hunt philosophy.
How can packaging support that kind of merchandising strategy? Williams, whose company has a strong track record in packaging design, sees five tactics that packagers can use to support the strategy and gain sales.
Display packages in bulk
"People need to be almost assaulted by the display. It's not just about the carton. It's about engaging the consumer. It is about having people stop, contemplate, and buy," explains Williams.
That factor is driving a growth in the use of display pallets in the United States. The concept is to build visual impact while keeping the retailer's tasks to a minimum. Mass merchandisers simply want to drop pallets on the store floor without investing staff time in setting up displays.
"You need to arrest people, you need to interest people, and you need to convert people," Williams continues. "The treasure-hunt philosophy is not just pile it high and sell it cheap."
One example is the display pallet for snack multipacks that Frito-Lay uses for club stores. Each individual pack holds 42 single-serve size snacks in a printed, solid fiberboard tray. The variety pack is aimed at entrepreneurs who own vending machines, but the variety pack also appeals to larger families. The tray is overwrapped with a high-gloss, high-clarity film that adds to the visual impact.
Trays are displayed upright on the pallet, displaying the spectrum of colors from the individual snack bags to build the visual impact. It creates a high-impact bulk display that drives purchases.
Intensify messaging
"The traditional solution is typographic, but human demonstrations need to be considered. Packaging by itself is a silent salesman, and often, you need to start a dialogue," Williams explains. "You have to connect to the consumer in a relevant way."
That is a tall order for packaging, which is essentially a passive media. However, recent examples have pushed packaging into a more active role. Consider Flex-A-Min dietary supplement from Arthritis Research Foundation, Bohemia, NY. This marketer has used a "blinking" box; it employed technology with a battery printed inside a carton that powered a small light that pulsed on the shelf to attract attention. The marketer has also used a lenticular lens on cartons to create simulated motion, also intensifying the message.
Another packaging technique with the ability to involve shoppers is the fifth-panel carton. General Mills, Minneapolis, used a striking fifth-panel carton for Franken Berry cereal to involve consumers. The carton's fold-out panel featured a die-cut "slash" where a monster's claw appears to have ripped the package. It builds a connection beyond just the visual and intensifies the message.
Leverage merchandising zones
"Packaging has to disrupt...it needs to disrupt because if we shop a store regularly, we begin to have blinders on as we go around the store," Williams explains. "But you also have to be careful, because it can't be invasive. There is a balance between standing out and aggravating people."
Within any retail stores are merchandising zones where a package can intrude on a shopper's consciousness. One example is the "Wall of Values" tactic used by Midwest grocer Cub Food. It creates a zone of specials just inside the front door. Wal-Mart's "power alley" is another example of a merchandizing zone.
One packager who takes advantage of opportunities in these zones is Malt-O-Meal, Northfield, MN. It is the largest packager of bagged cereals in the United States and has been using display shippers as a merchandising technique. The corrugated shippers sport four-color graphics, either litho-laminated facings or direct print on the corrugated.
The largest Malt-O-Meal bins hold as many as 72 bags of cereal and four fit on a standard grocery pallet. They become a self-contained promotional display that the retailer can simply drop into a merchandising location.
The colorful graphics attract attention. They are a "billboard" in the aisle—the shipper is covered in a color image of the cereal. Sell copy is simple; it is the cereal's brand name and Malt-O-Meal's primary selling point, "50% more." The colorful graphics add cost, but, according to Malt-O-Meal, greater volume offsets the increased cost.
Observes Williams, "This is a shouting world we live in. Packagers have to develop and create impactful displays that deliver a reason to buy. Price is valid, but you have to have something else, too."
Keep it simple
"Consumers can be over bombarded with messages," Williams says. "The more complex it gets, the more the consumer has to decipher. If we offer consumers a deal or offer and we complicate it with small print, then the consumer remembers only the small print and rushes off."
Williams' nomination as a striking example of packaging simplicity that drives sales is the line of cleaning products from Method Products, Inc., San Francisco. Starting in 2002 with dish washing soap, the company has grown from a startup to a marketer with products in such outlets as Target, Albertsons, Rite Aid, and Wegmans, along with other major retailers.
Its first package—for dish soap—was a simple, straightforward container conceived by designer Karim Rashid. Since then, the company has extended the concept of simplicity into household cleaners, hand soap and laundry products, and all of its packaging focuses on simplicity.
Connect with shape and structure
"Shape and structure are really important to a treasure hunt. Familiar is good, but it doesn't necessarily break through," Williams explains. "The eye takes in color, but shape is a way of getting people to look at your package."
The environment of superstores and club stores may be increasing the value of shape. In these stores, aisles are wider and shoppers approach shelves from farther away than in traditional grocery and drug stores.
"When you see an object from afar, the eye probably detects shape before color," Williams states. "Both are critical factors in creating the beginning of a dialog with the consumer."
Economics often drive packagers to stock shapes, Williams continues, noting that it is far less expensive to use a stock container than create a new one. "That decision alone makes you part of the herd," he concludes.
The packaging for POM juices from Los Angeles-based POM Wonderful is, in Williams' opinion, one of the more effective uses of shape today. The package's theme is stacked pomegranates and it has helped the company earn space on grocery store shelves.
Effectively using the five tactics requires an understanding of the distribution channels through which packages are sold. The examples cited above indicate that these tactics can boost sales with the power of packaging when used effectively.
See sidebar to this article: Get Ideas From Packaging Competitions
Companies in this article