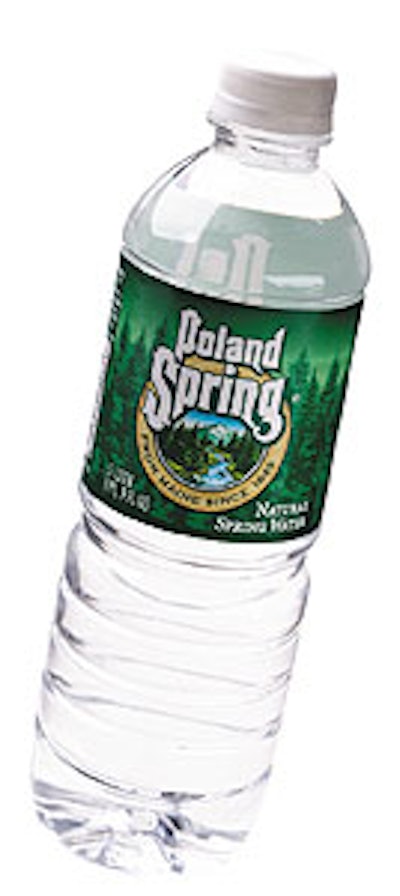 Traditionally, training's been a 'stand here, watch me, don't touch that or I'll break your fingers' environment," asserts Val Lovelace, training manager at Poland Spring Bottling Co. in Poland Spring, ME. But at Poland Spring, that negative training perspective simply doesn't exist. Credit top management's progressive long-term thinking for creating a corporate environment that values training for its role in increasing packaging equipment efficiency and developing and retaining skilled employees. "The training program at Poland Spring is a total team effort," Lovelace points out. Hired in 1998 as the blow-mold supervisor at this bottled water company, Lovelace was later promoted to training manager and put in charge of training and development at the plant. Lovelace brought 20 years of U.S. Navy experience in electronics, maintenance, and curriculum development. She also worked as a production supervisor at a hot cereal plant for Nabisco in Minneapolis, where packaging was a key responsibility. Lovelace helped the Poland Spring plant initiate its on-the-job packaging training program (OJT) in 1999. Training at the plant extends beyond packaging, encompassing everything from leadership for top management to procedures for floor sweeping. In other words, it's a "wall-to-wall" training approach, in which OJT plays a leading role.
A closer look at OJT Since Poland Spring initiated its OJT program, about 140 people have taken part. OJT is available to all hourly manufacturing personnel, which number around 320 employees. If an employee already has the skills necessary to perform his or her job, OJT is not necessary. An employee would go through OJT to learn how to operate a machine in which he or she had no previous experience. OJT is for blow-molding machine workers, those who operate and maintain packaging machinery, and forklift drivers. Lovelace is responsible for training and personnel development. Donna Hendry and Randy Browne assist her as technical trainers. Beneath them on the plant's training hierarchy are 25 to 30 "certified trainers," chosen from the plant "through a selection process that brings out the best and the brightest," Lovelace says. OJT curriculum and testing is developed in-house by Poland Spring and Perrier Group of America. Lovelace explains that it is based on Robert F. Mager's Criterion-Referenced Instruction (CRI) methods, which she learned during her 20 years in the Navy. Lovelace describes the methods in simple terms as "a structured, organized version of show-and-tell. We show you how to add a label roll to a labeler, for instance. Then we let you practice that until you're comfortable doing it. When you're ready to do it on your own, you must demonstrate that skill back to us. It's a pass-fail test that shows if you can do it. When you do, we sign you off as having acquired that skill. There is no written test," she notes. The curriculum is divided into safety, operations, quality training segments, and basic troubleshooting. From these four subjects, specific packaging training modules might last anywhere from a day to a month. Modules teach employees on equipment such as blow molders, fillers, box erectors, case packers, case sealers, multipackers, shrink wrappers, and palletizers. OJT is necessary for workers when they're assigned to operate a machine that's new to them. "An operator may end up having to run four or five different machines on a line," Lovelace asserts. "So OJT would provide training for basic equipment operations, troubleshooting, and quality check procedures on each of the machines."
Driven by market growth "The need for training was recognized here—back in the '95-'96 timeframe," says Lovelace. This plant went from running seven packaging lines to 10 pretty quickly, in an effort to participate in the fast-growing market for water in single-serve PET bottles." She continues, "at that time, the company sales were growing at an annual rate of 40 to 50 percent, and it had made a huge capital investment in expanding this facility and in purchasing equipment for it. Two new packaging lines were installed in '98, as were eight new blow-molding machines to produce bottles from preforms." (For a look at the role of equipment vendors in training mechanics at Poland Spring, see story, p. 69). Unfamiliarity with that new equipment resulted in machine efficiencies of a mere 35% at the start, Lovelace estimates. Poland Spring, owned by the Perrier Group of America, knew it had to get its plant operators and mechanics up to speed on the new bottling and blow-molding machinery. Poland Spring management also was convinced that training its employees would deliver broader benefits, though they wouldn't be as measurable as equipment efficiency numbers. These include company morale and retainment. Retainment of skilled employees isn't so much a concern because of a small labor pool in a city as sparsely populated as Poland Spring, according to Lovelace. Instead, it's a concern because skilled workers may be approached with job offers from other businesses.
Justification "A lot of times, training is viewed as a 'nice thing to do,'" Lovelace says. "But it's not a nice thing to do. It's a necessary investment. One of the hardest parts about justifying an investment in training [for packaging] is that it's hard for a company to tell what it's getting back in terms of efficiency, increased morale, and better-trained employees," she continues. "All of these things are very valuable, but you can't always hang a dollar sign on them. That makes companies squeamish about investing in training. But here at Poland Spring, we've started to turn this from an art into a science by doing a return-on-investment analysis." The "science" begins on an annual basis with a needs assessment for capital projects and development of a training budget for packaging. "This process involves management and managers in production, maintenance, and quality control," Lovelace states. She says that when the plant creates its annual budget for training, it ranges between $200ꯠ and $450ꯠ. "We have a substantial training budget, which is something I would highly recommend to manufacturers," Lovelace says. "We look at the money it will cost for us to develop our OJT training, the wages to pay our employees while they go through the training, the costs to bring in vendors, and costs for training materials." She estimates that last year slightly more than $400ꯠ was invested in training, including materials and labor costs. That training continues to pay dividends. "When we were operating at 35-percent efficiency on our equipment, it was terrible," she admits. "Now we're running at close to 70 percent." She credits training as instrumental to that leap in efficiency, though she can't directly correlate the two in terms of a specific efficiency percentage number increase. By virtually doubling packaging efficiency, the company increased its bottled water output, according to Lovelace. That's led to increased sales, another factor that helps deliver a return on the company's investment in training. "Training has also cut the number of breakdowns on the line by lengthening the time between failures," she points out. "We've also reduced our problems in the blow-molding area significantly, because new people had lacked training and didn't know how to handle problems on the equipment." That base of knowledge cuts to the heart of the Poland Spring packaging training philosophy. "Yes, our management knows there's an investment for training," Lovelace acknowledges. "But there's also a sizeable financial investment if we don't train our people. We're just going to pay for it in a different way, be it in reduced efficiency or productivity, or in broken machinery that shouldn't have been broken. If we invest that time in an employee up front, we believe we won't have to invest so much later."
For more on OJT training guides, see: packworld.com/go/guides
See sidebar to this article: Packaging at Poland Spring